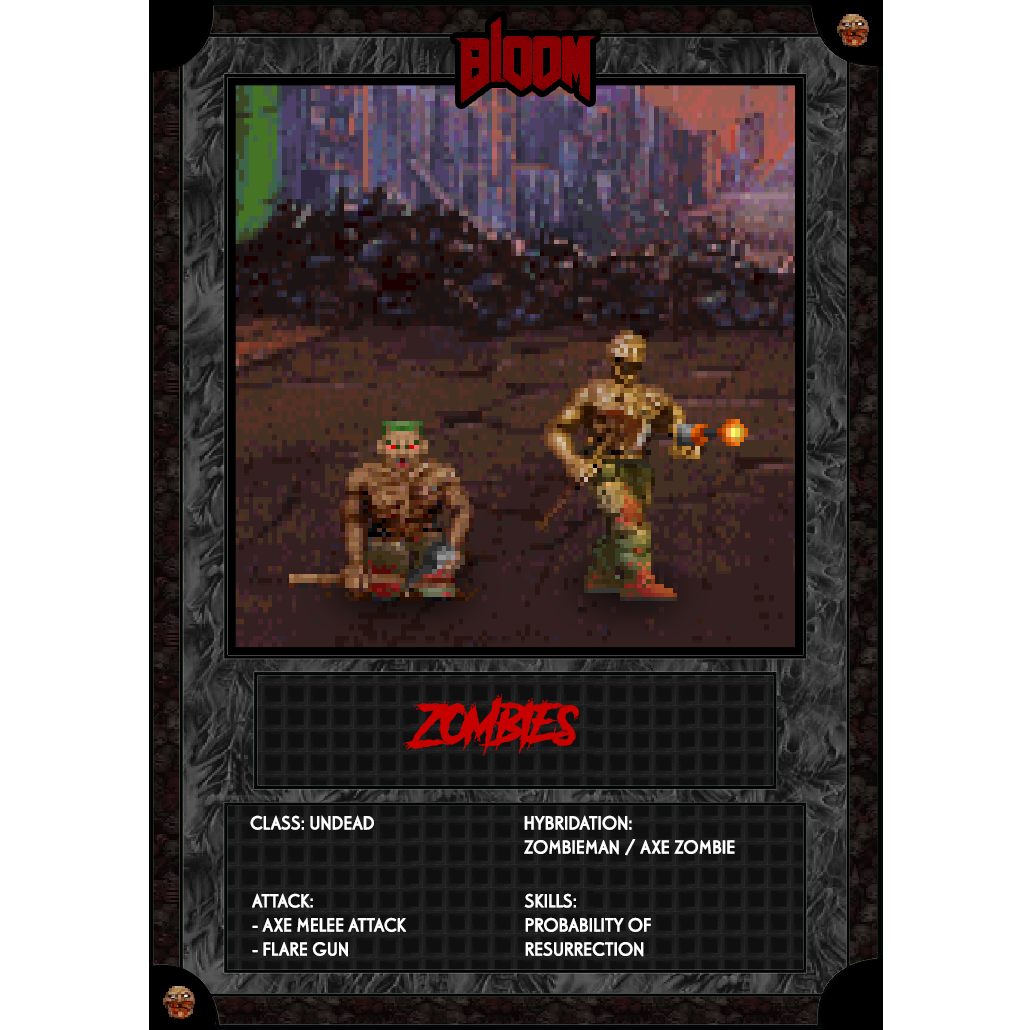 Hybrid between zombienman (Doom) and zombie(blood) armed with single flaregun shoot and an axe its deadly and fast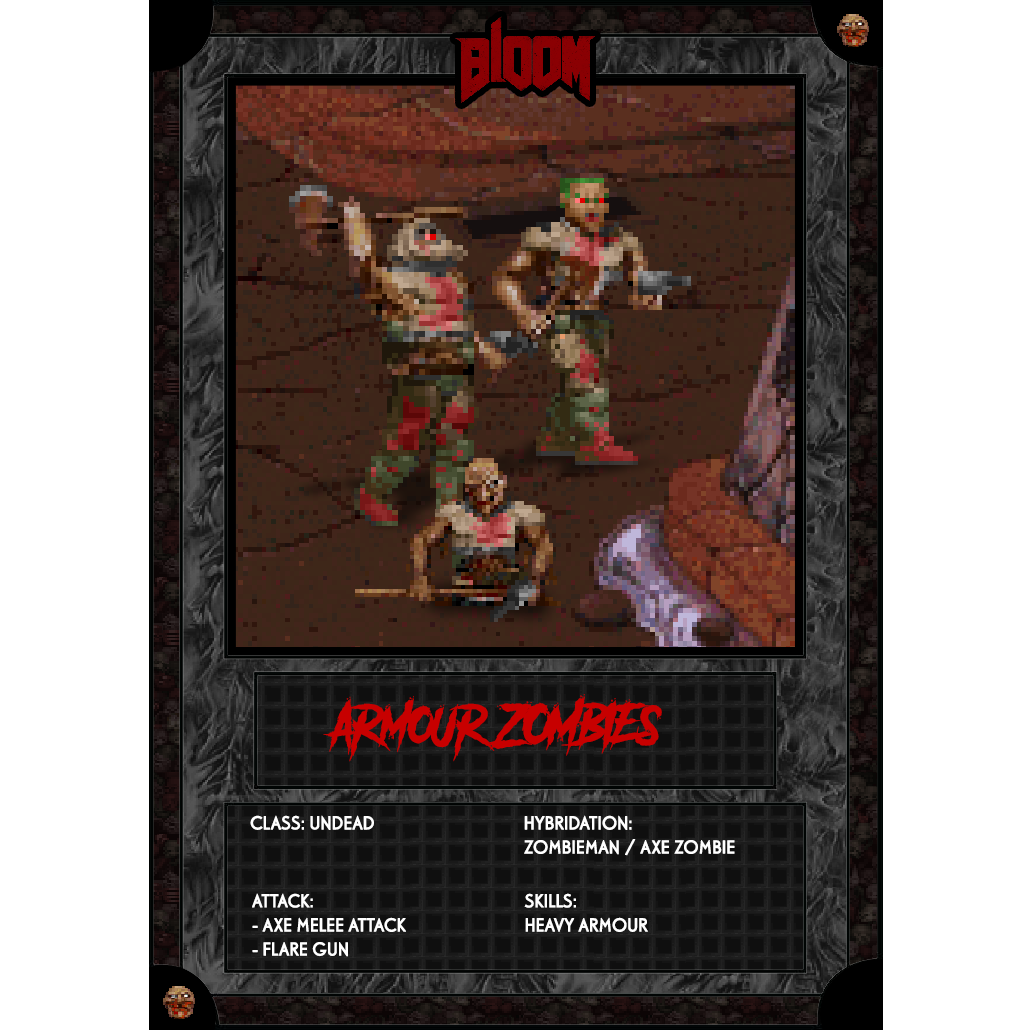 Varition of the hybrid zombie, same behaviour but this time covered with an armor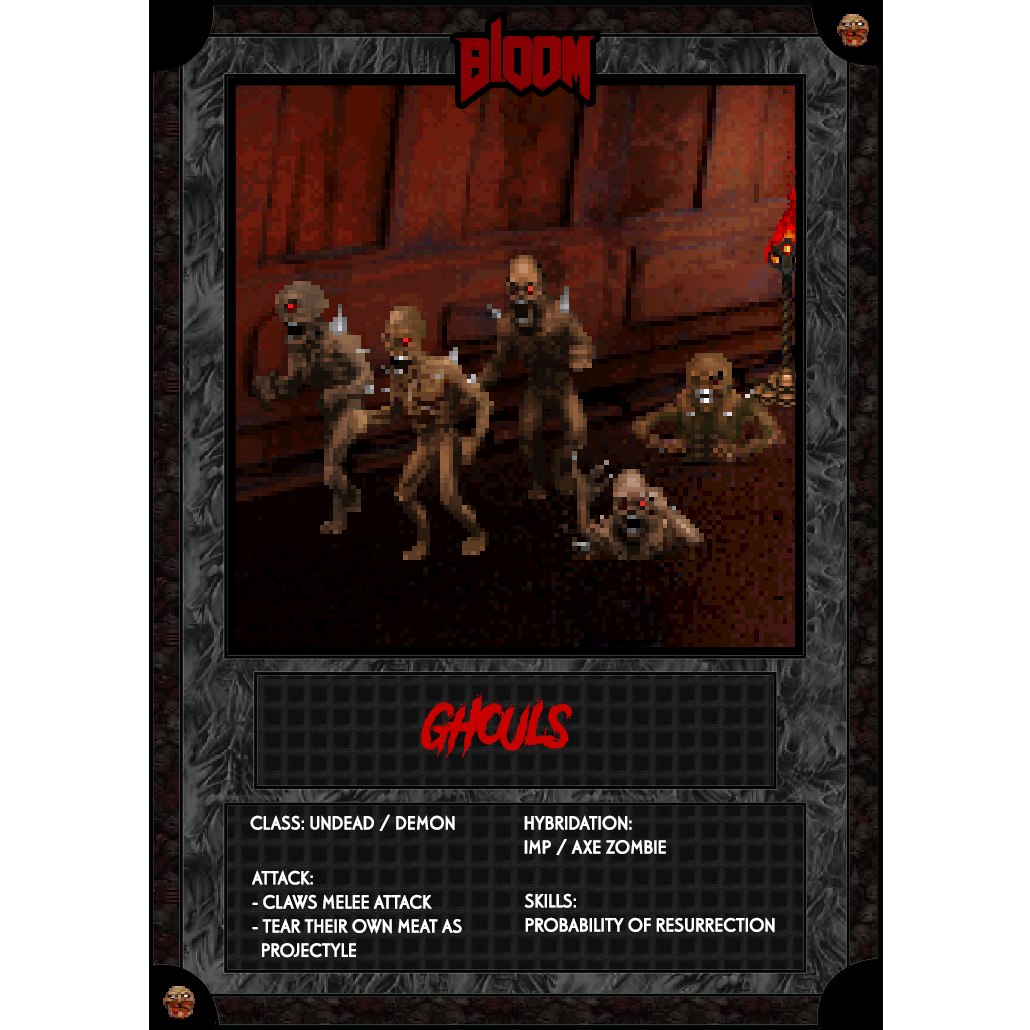 The ghouls are the hybrid between an IMP (Doom) and a Zombie(blood) slow but an effective attack, it throw to the players their own gibs!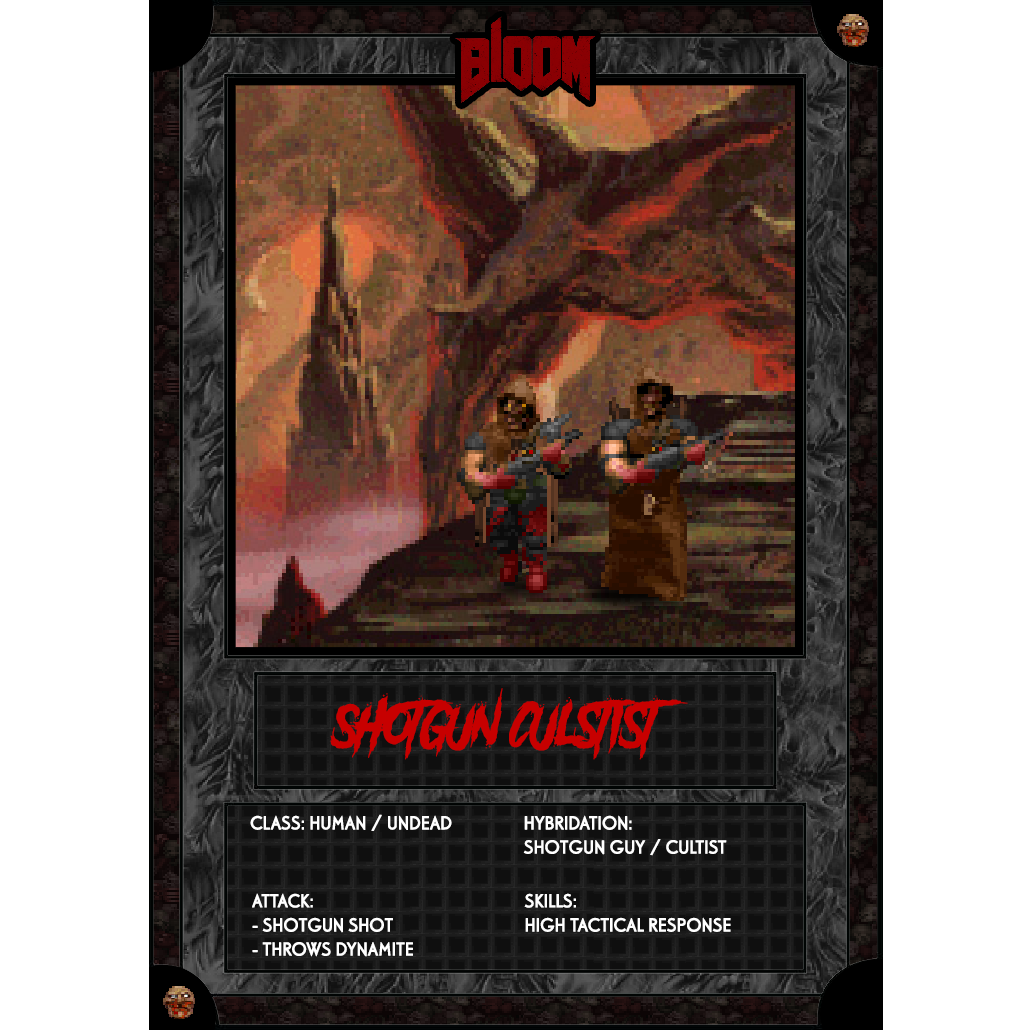 The shotgun cvltist are hybrids between the classic shotgunguy and the brown cvltist, can swim, throw TNT and kill you fast with their shotgun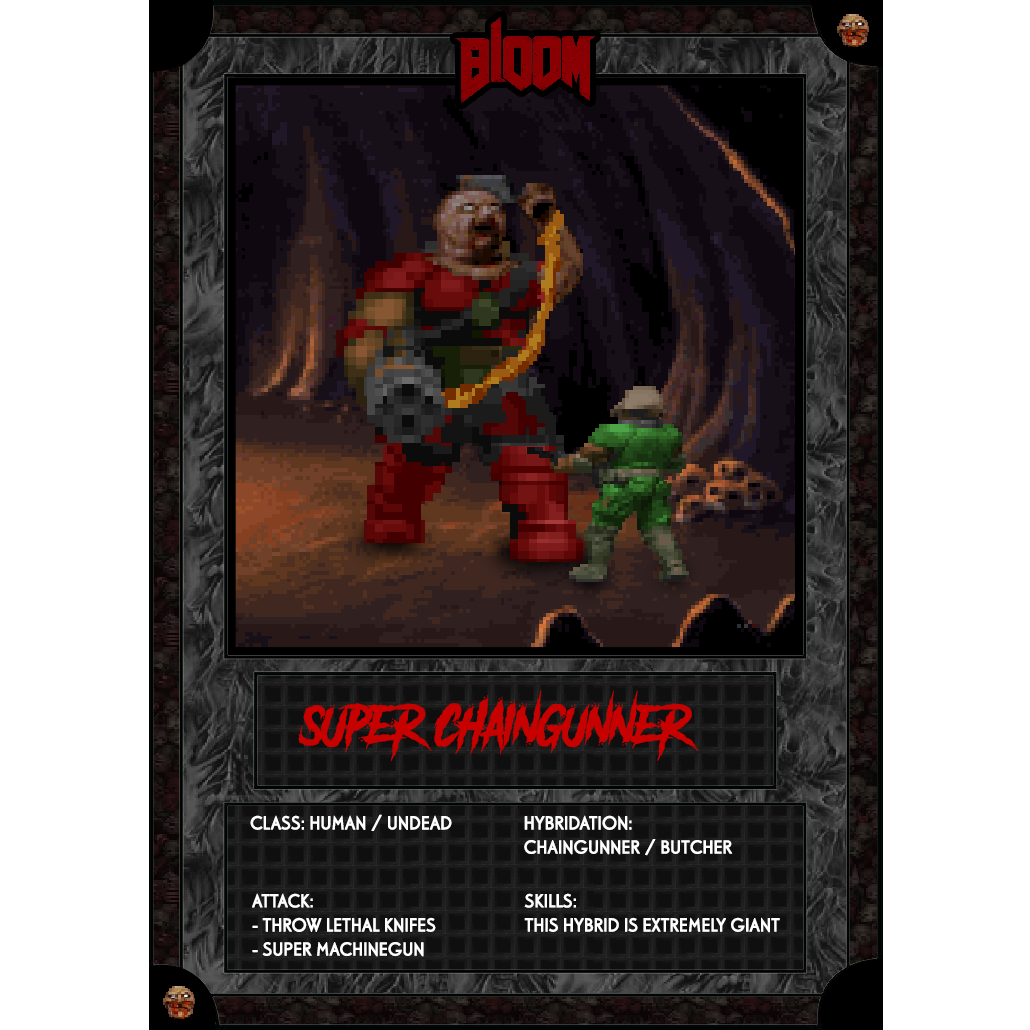 The Superchaingunner is an hybrid between the bucher (Blood) and the Chaingunner(Doom) armed with their classic chaingun also can spit and throw knives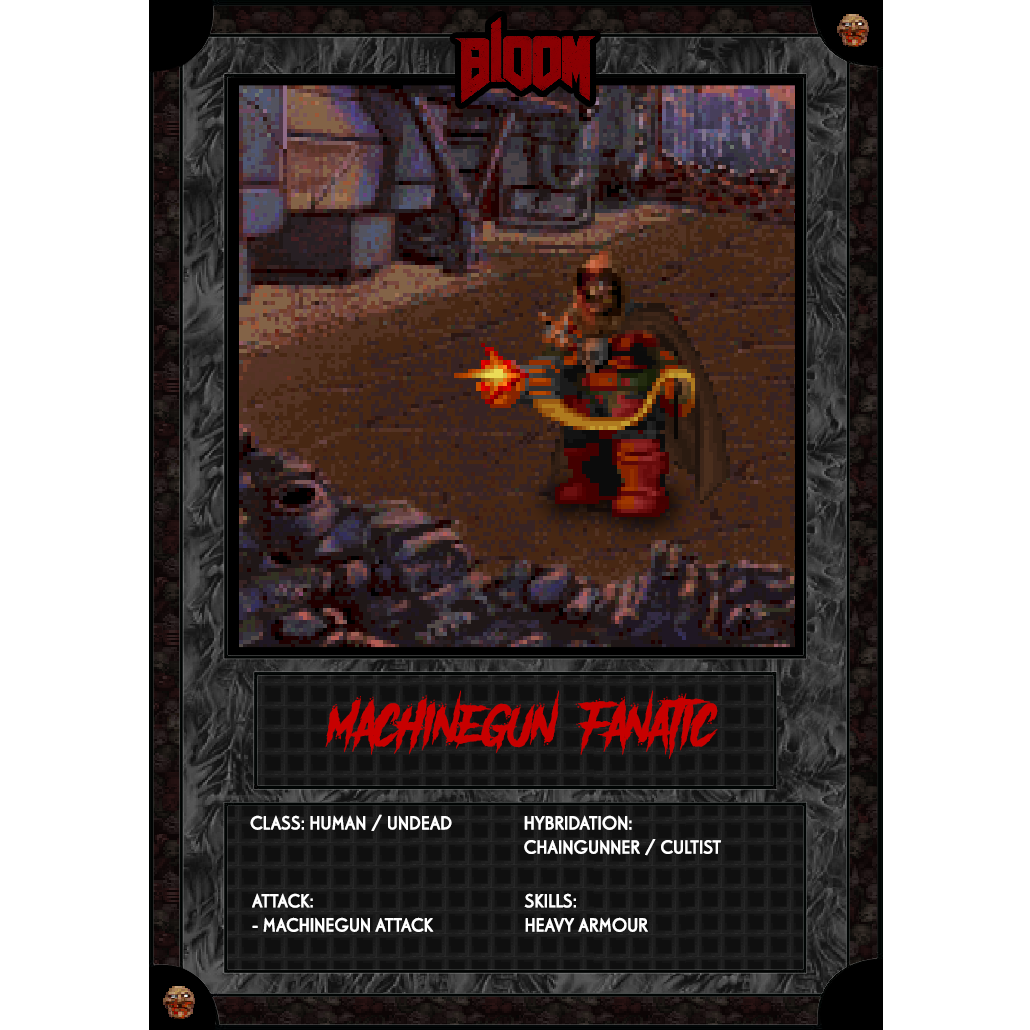 The machinegun fanatic is an hybrid between the grey cultist (Blood) and the Chaingunner(Doom), armed with Chaingun can swim and throw TNT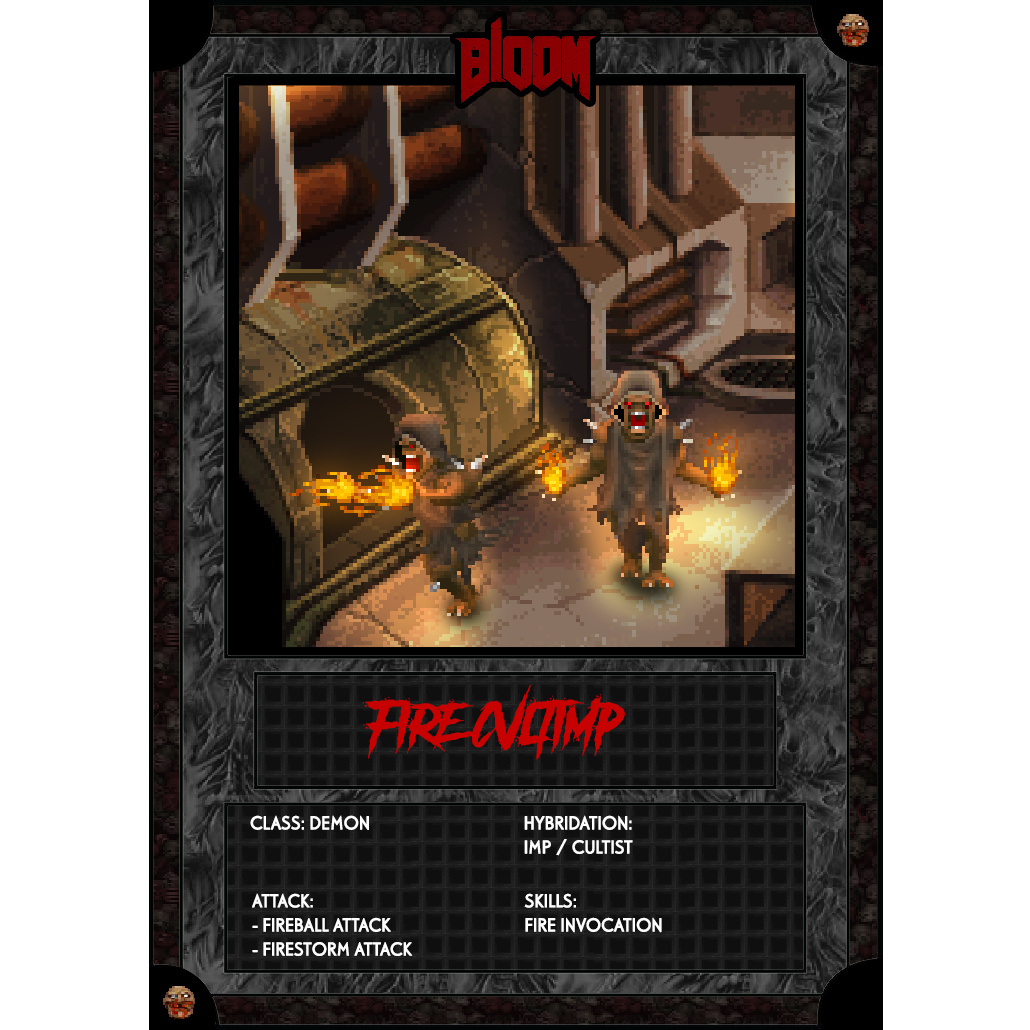 The firecult cultimp is a hybrid between imp and brown cultist, can shoot the classic imp's fireball and also invoque deadly flames when is close to the players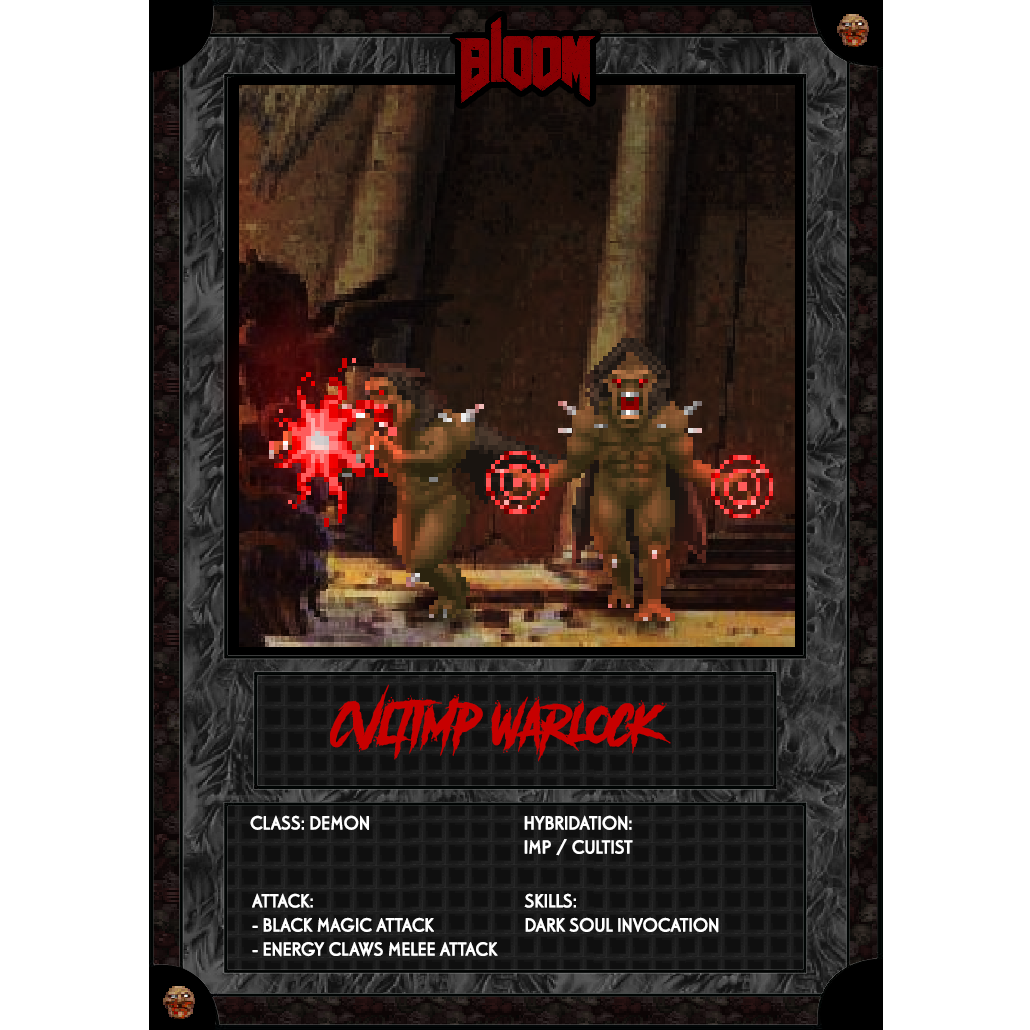 The cultimp warlord is a hybrid between grey cultist and imp, can spell an deadly souls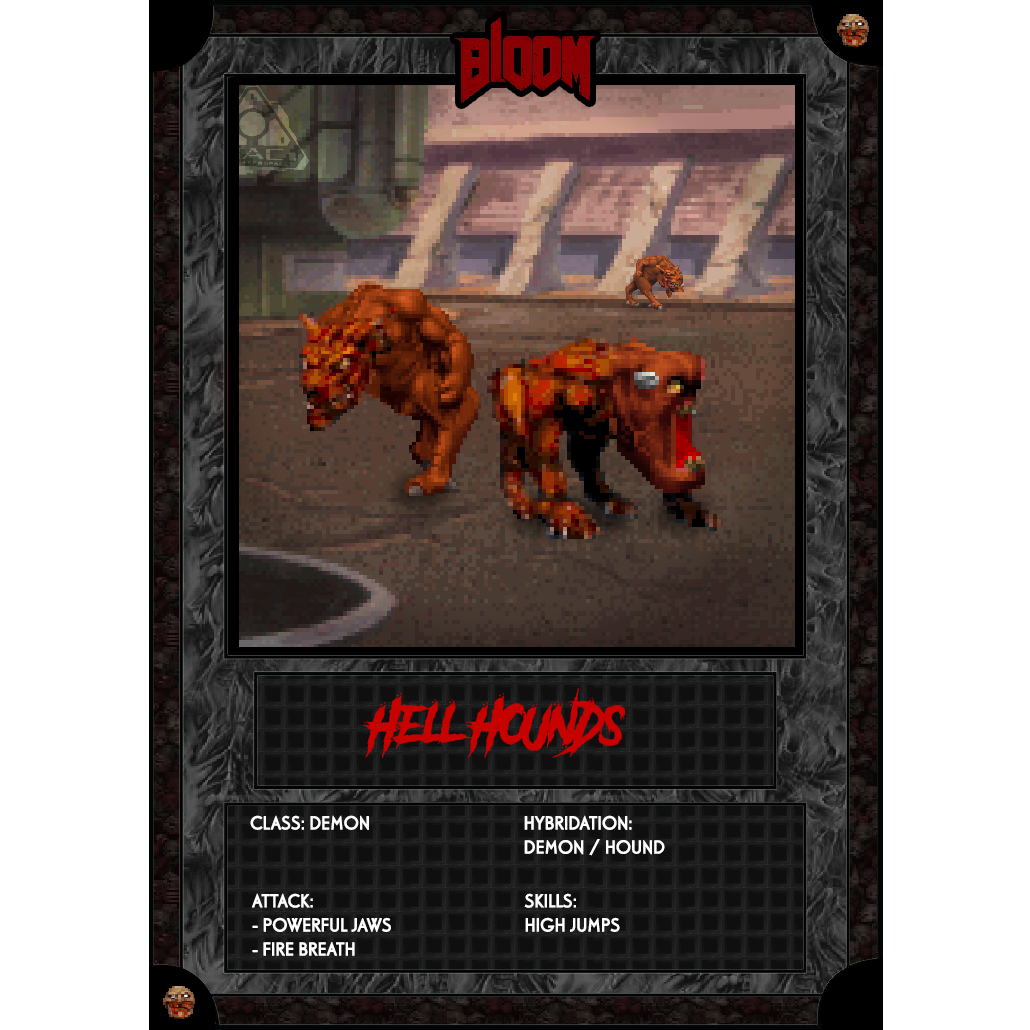 Demonhounds are hybrid between a pinky an a hellhound, their behaviour can be similiar to each other depeding the variation, can spell breath of fire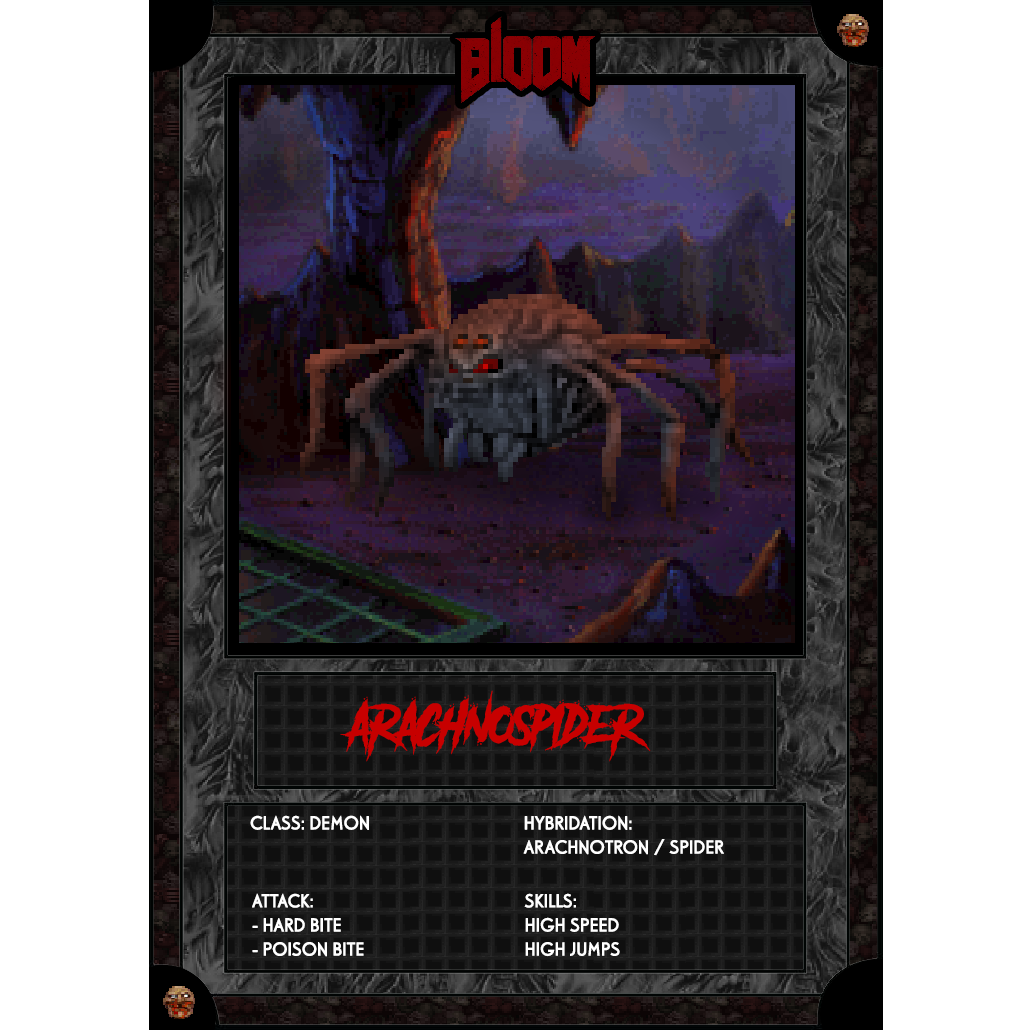 The archnospider is a hybrid between the arachnotron and the spider minion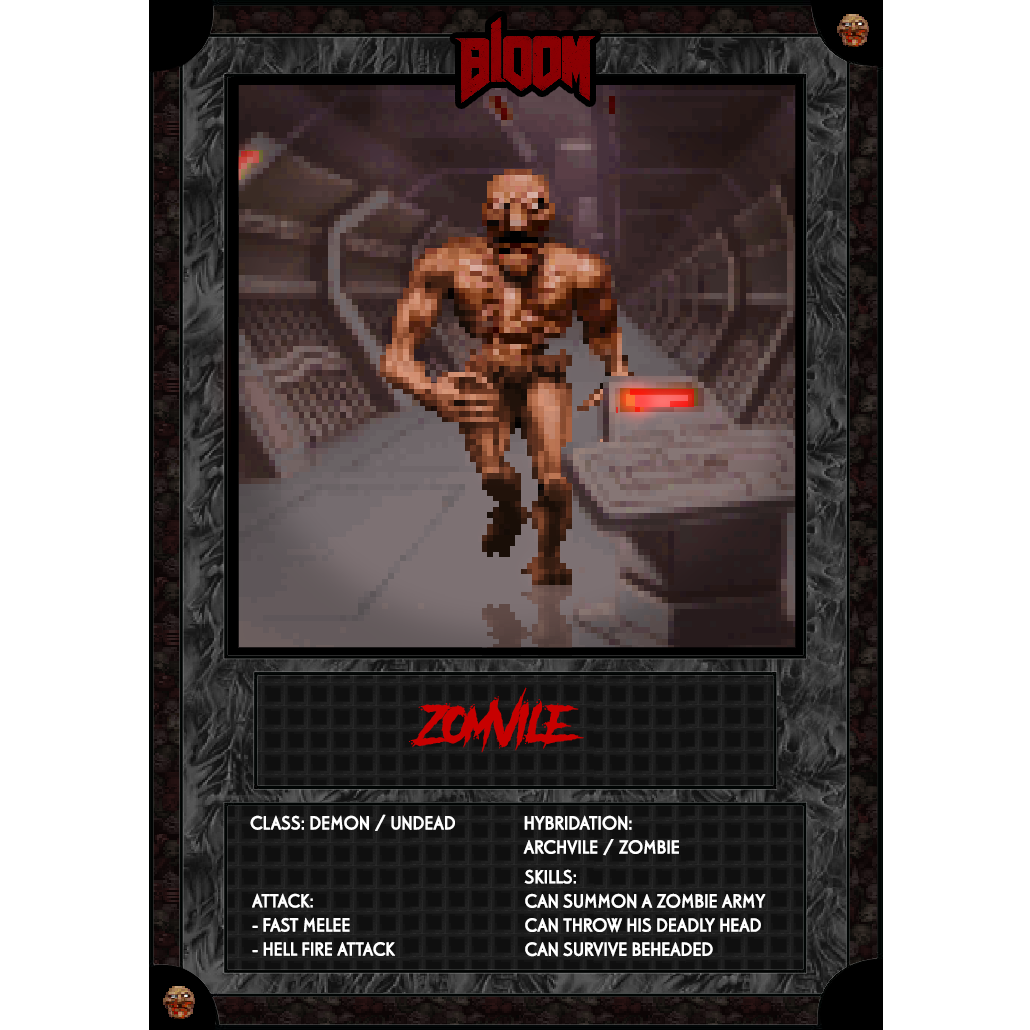 The Zombievile is a hybrid between the zombie (blood) and the archvile (Doom), is defensive monster, their "attack" consist in spawn hybrid zombies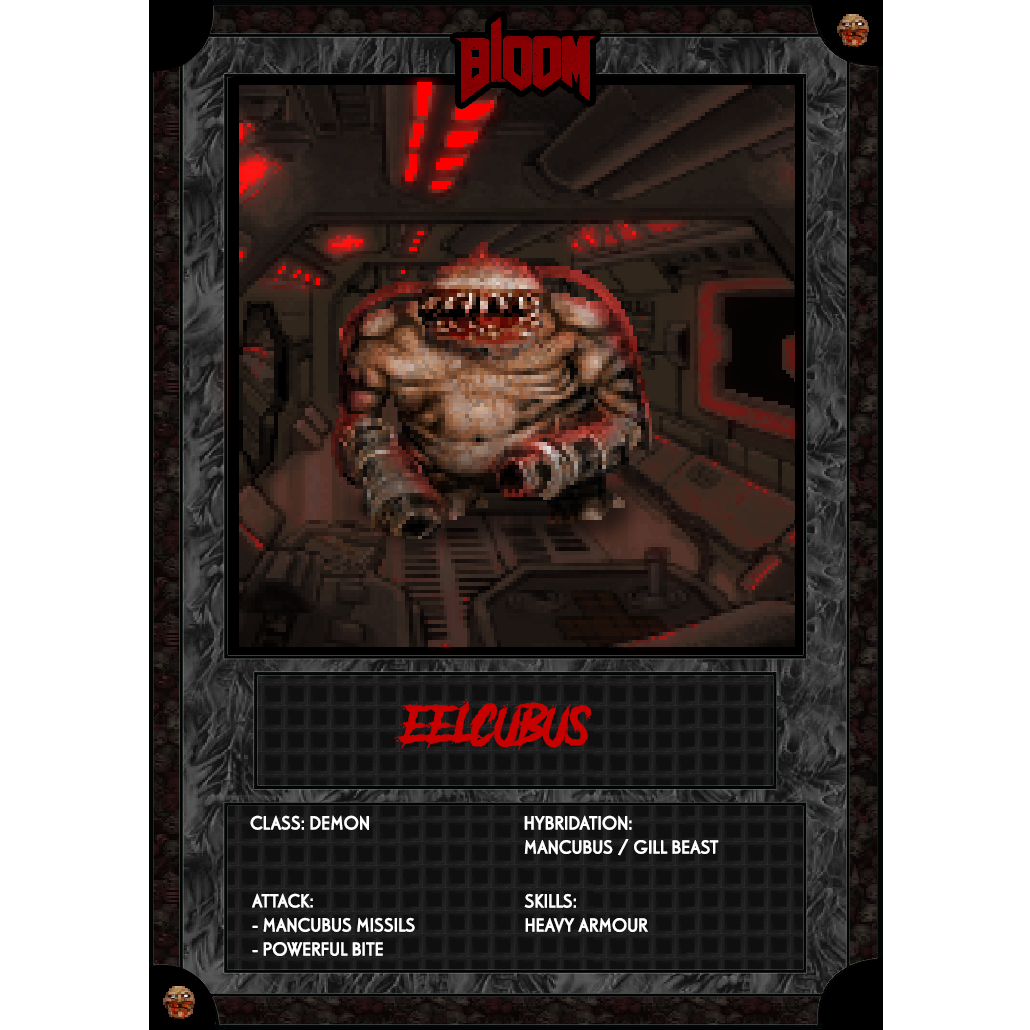 Eelcubus is a hybrid between Mancubus(Doom) and the gillbeast (blood), shoot turbo eel monster as missile and can swim!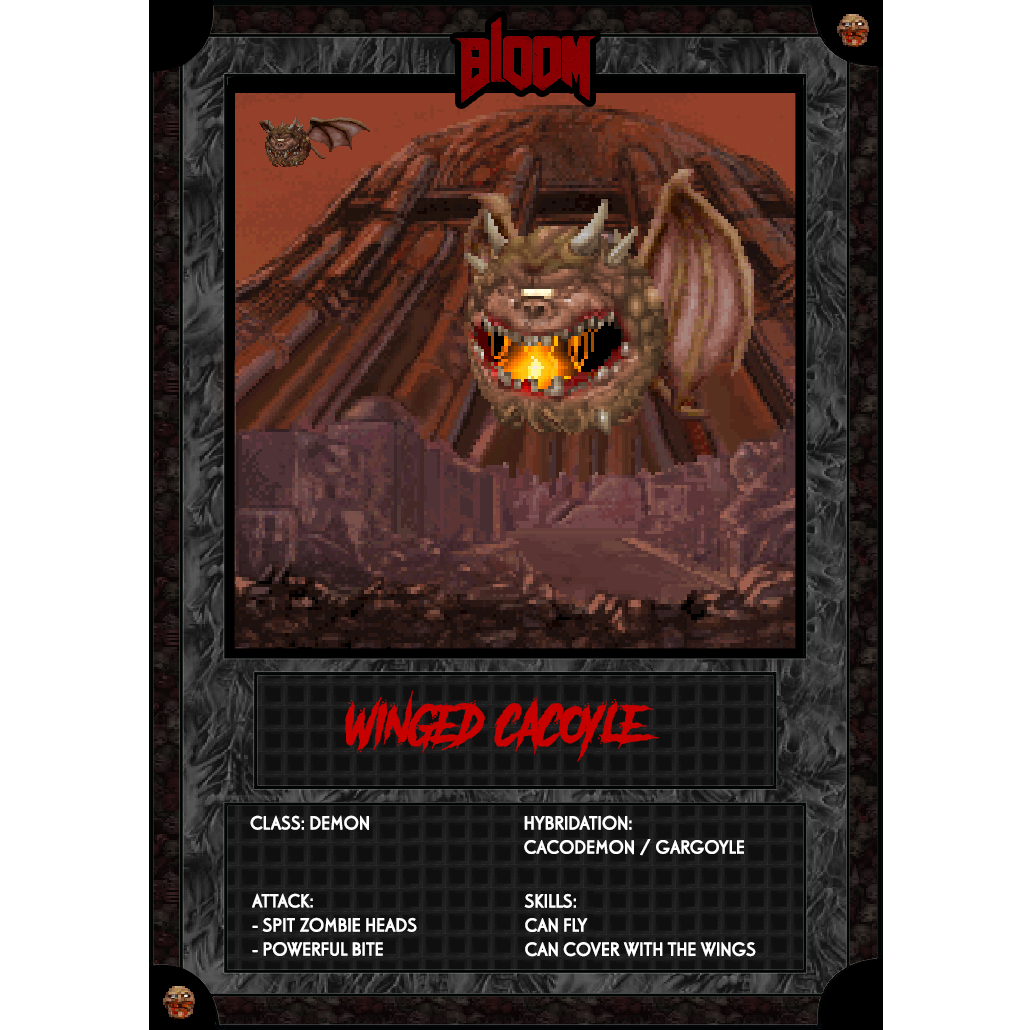 The cacoyle is an hybrid between the gargoyle and the cacodemon, depending the variation can have different behaviour, the winged one can be shieled with their own wings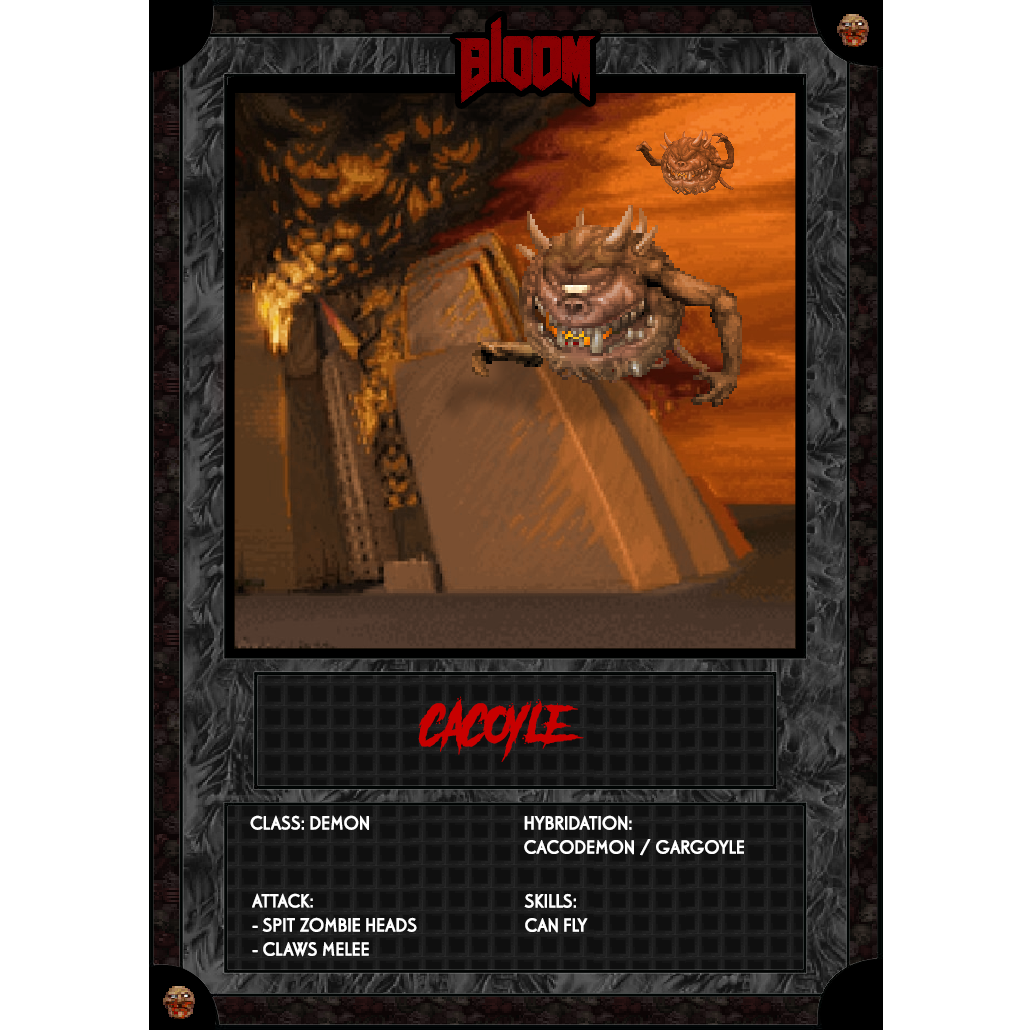 This variation of the cacoyle can shoot human head as missiles and have quick dodge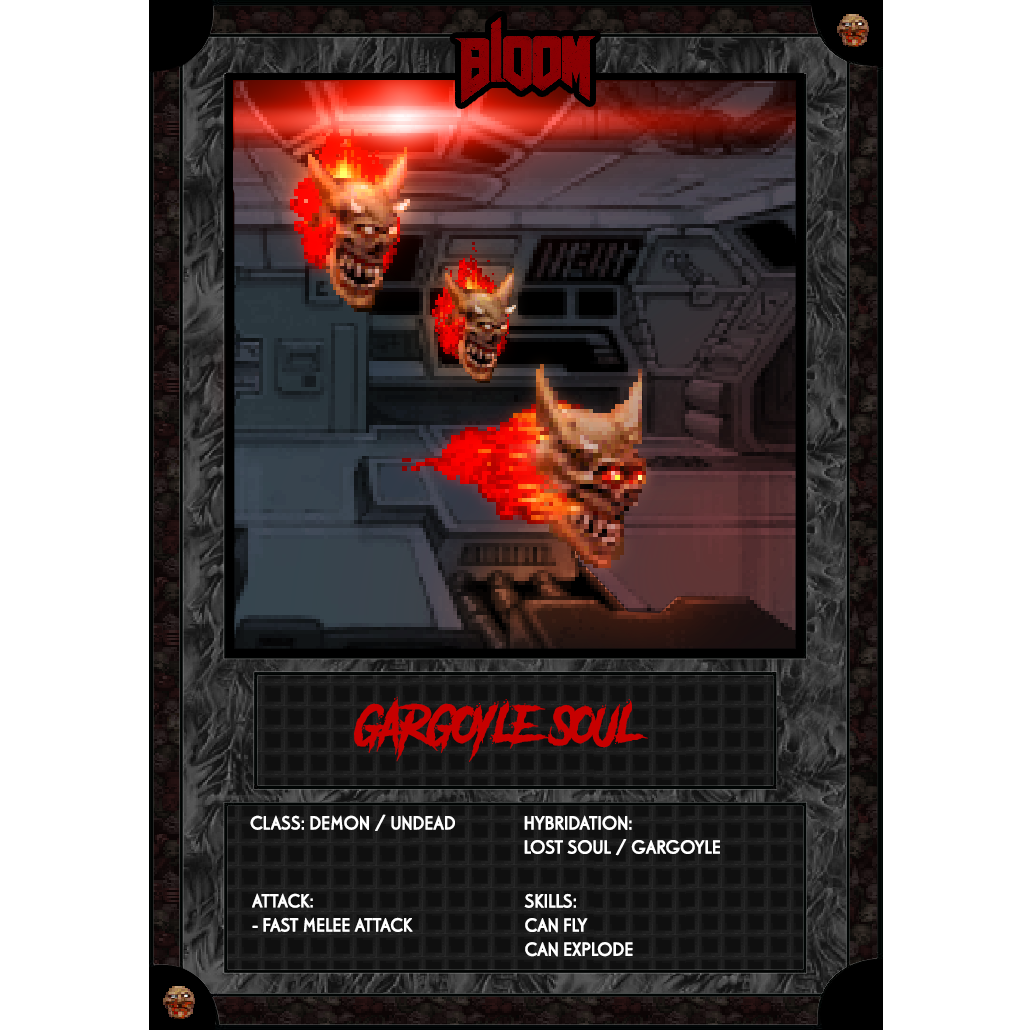 The gargoyle souls is a hybrid between the gargoyle and the lost souls can be spawned from other hybrid called elemental gargoyle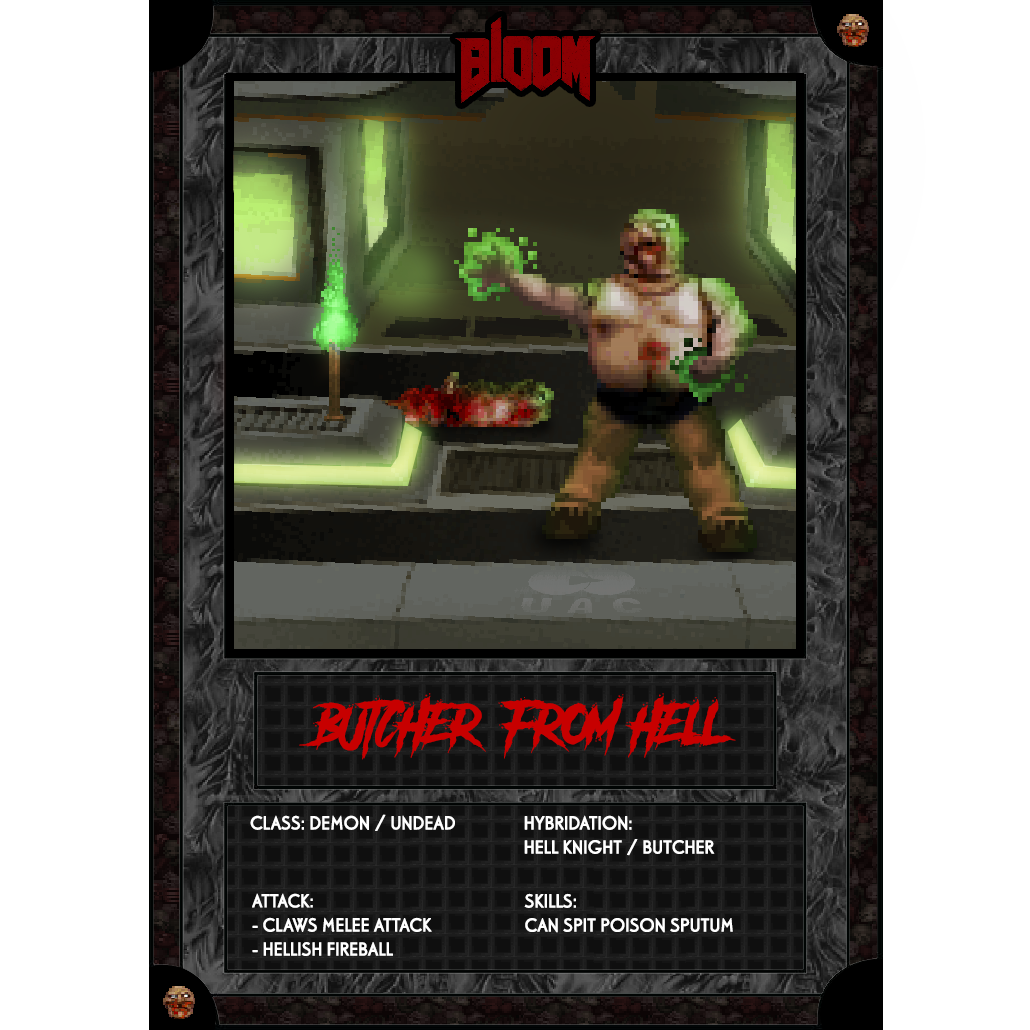 Butcher from hell is the result of the merge between a Baron of hell (Doom) and a butcher (blood), can spell plasma balls, acid puke and throw axes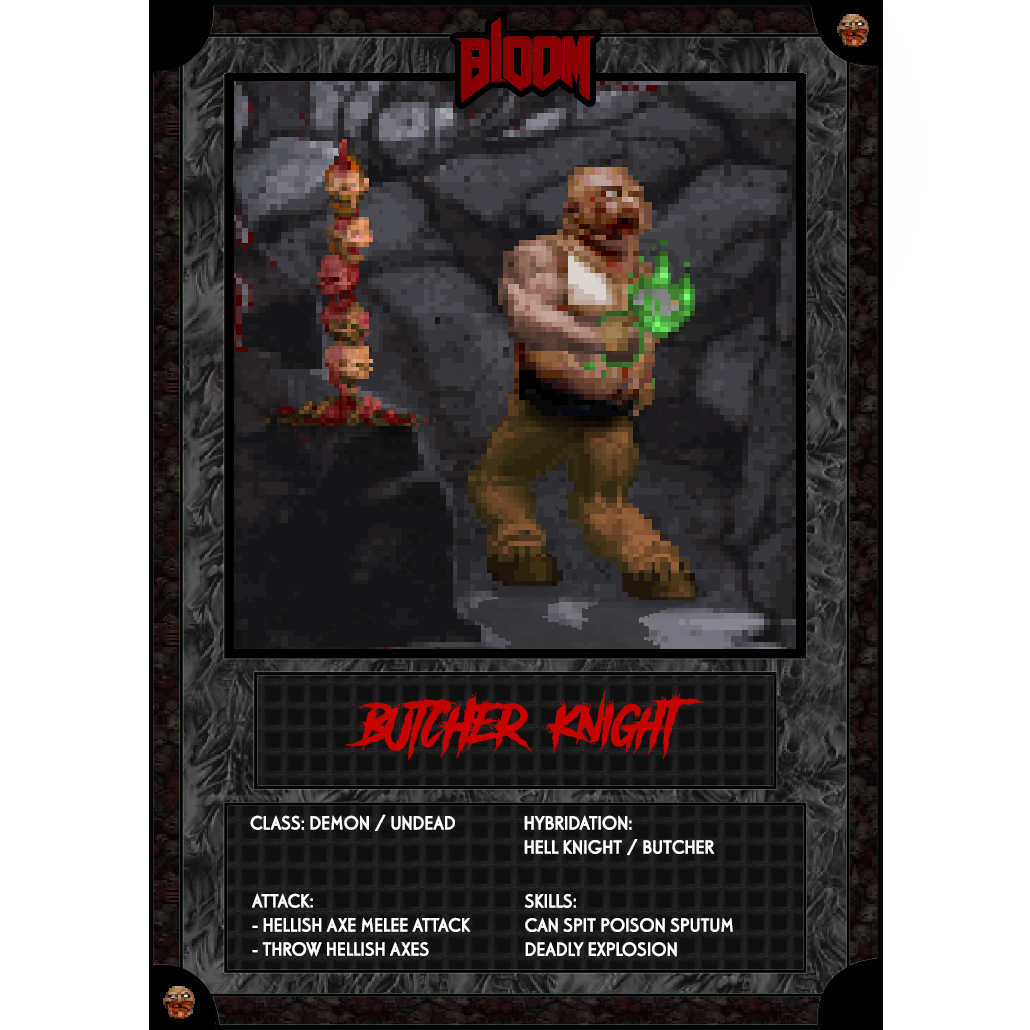 The same hybrid of before but this time with a hellknight (doom)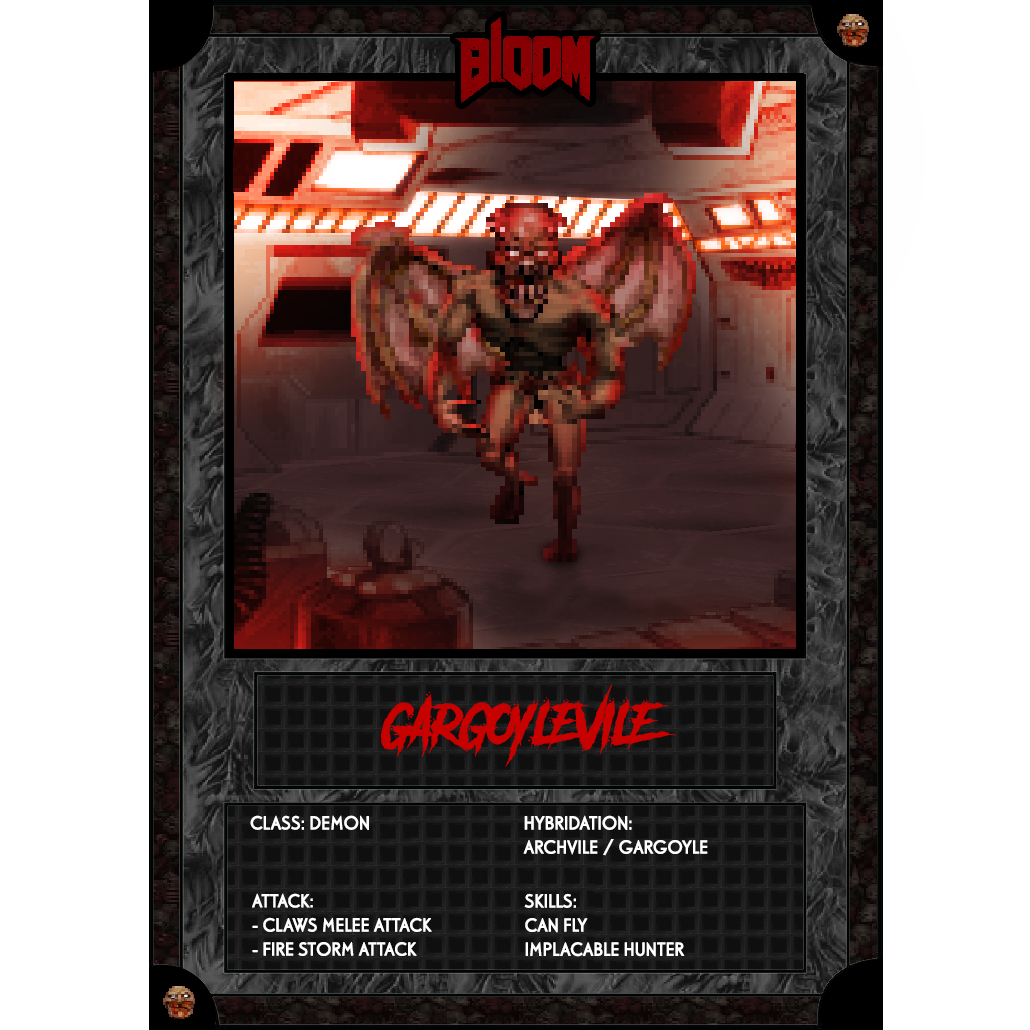 The gargovile is the result of merging archvile (Doom) and gargoyle(blood), can fly and spell the insane fire spell of the archivile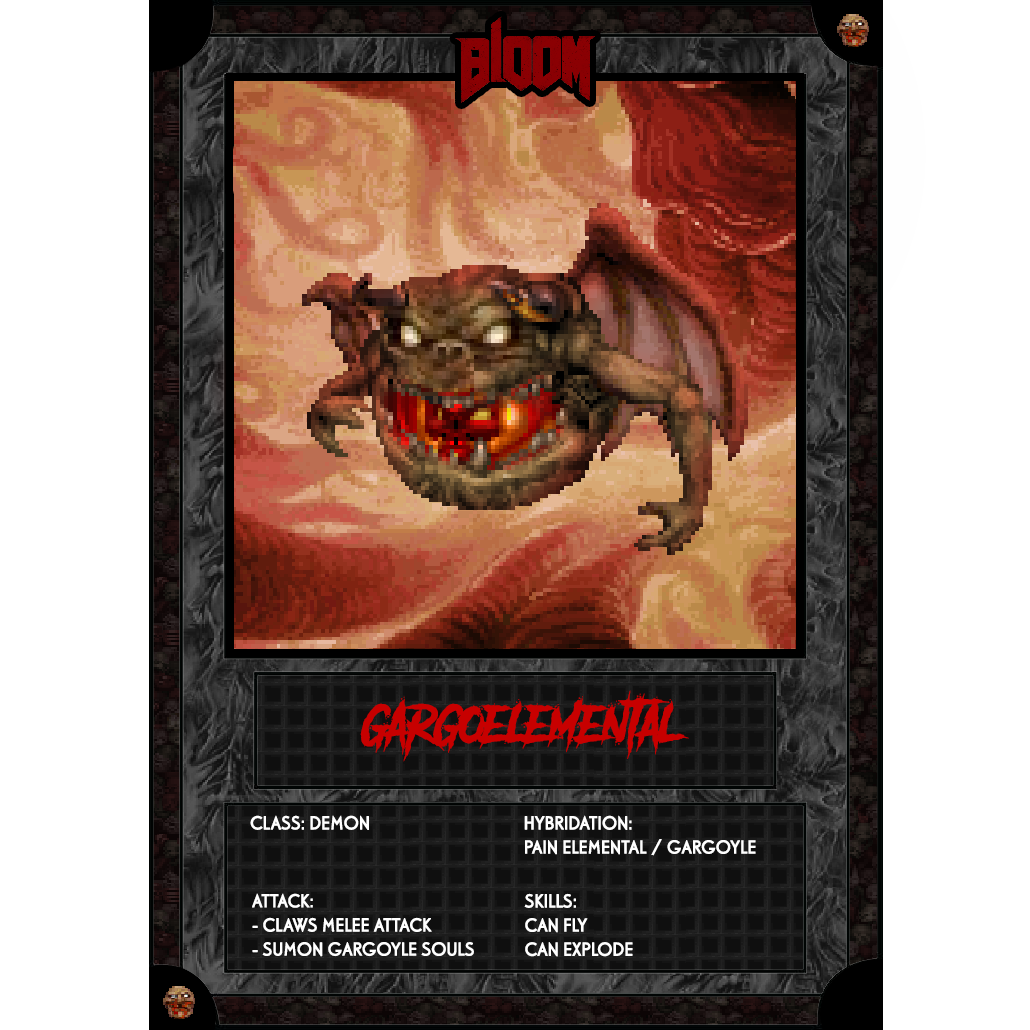 The gargoelemental or Elemental gargoyle is a hybrid between Pain Elemental and gargoyle, throw through their mounth another hybrid called Gargoyle's souls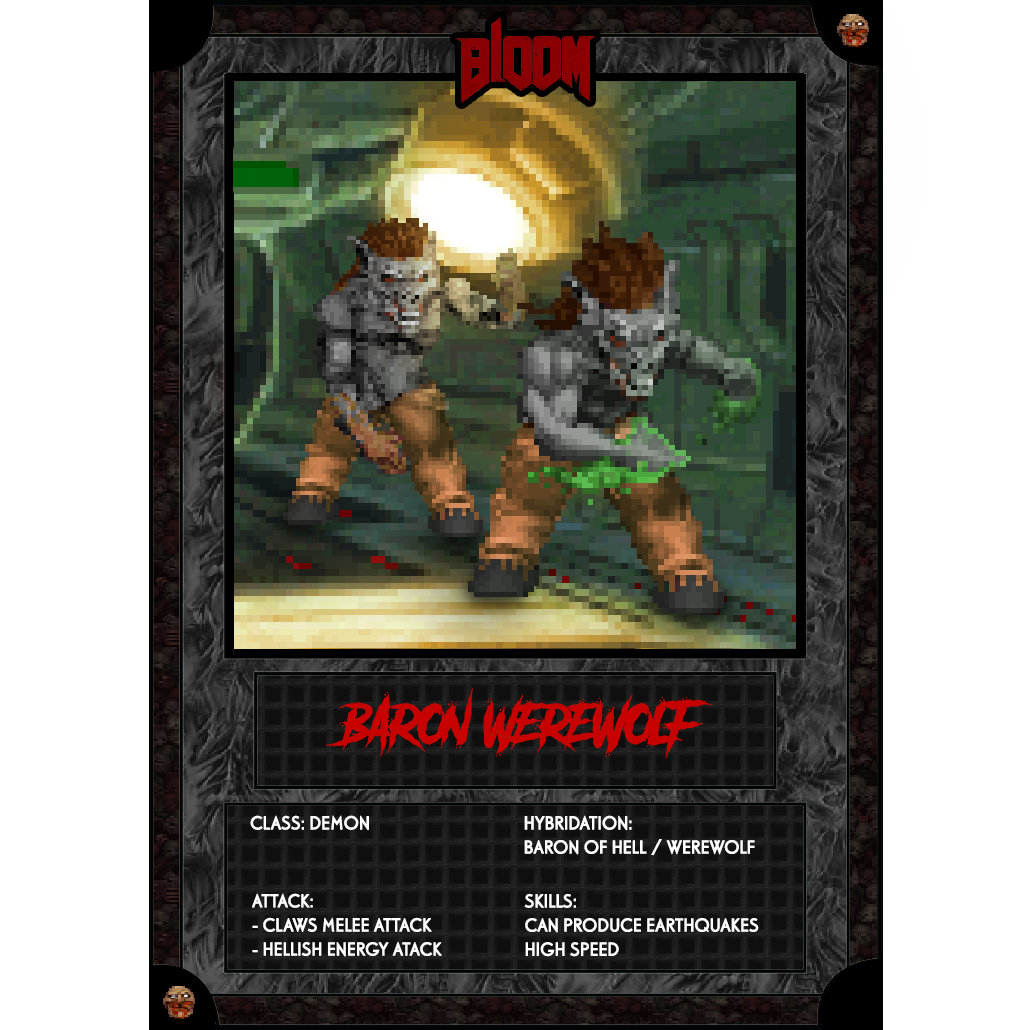 The baron werewolf is the definitive hybrid between the Baron of hell (Doom) and Werewolf (Blood.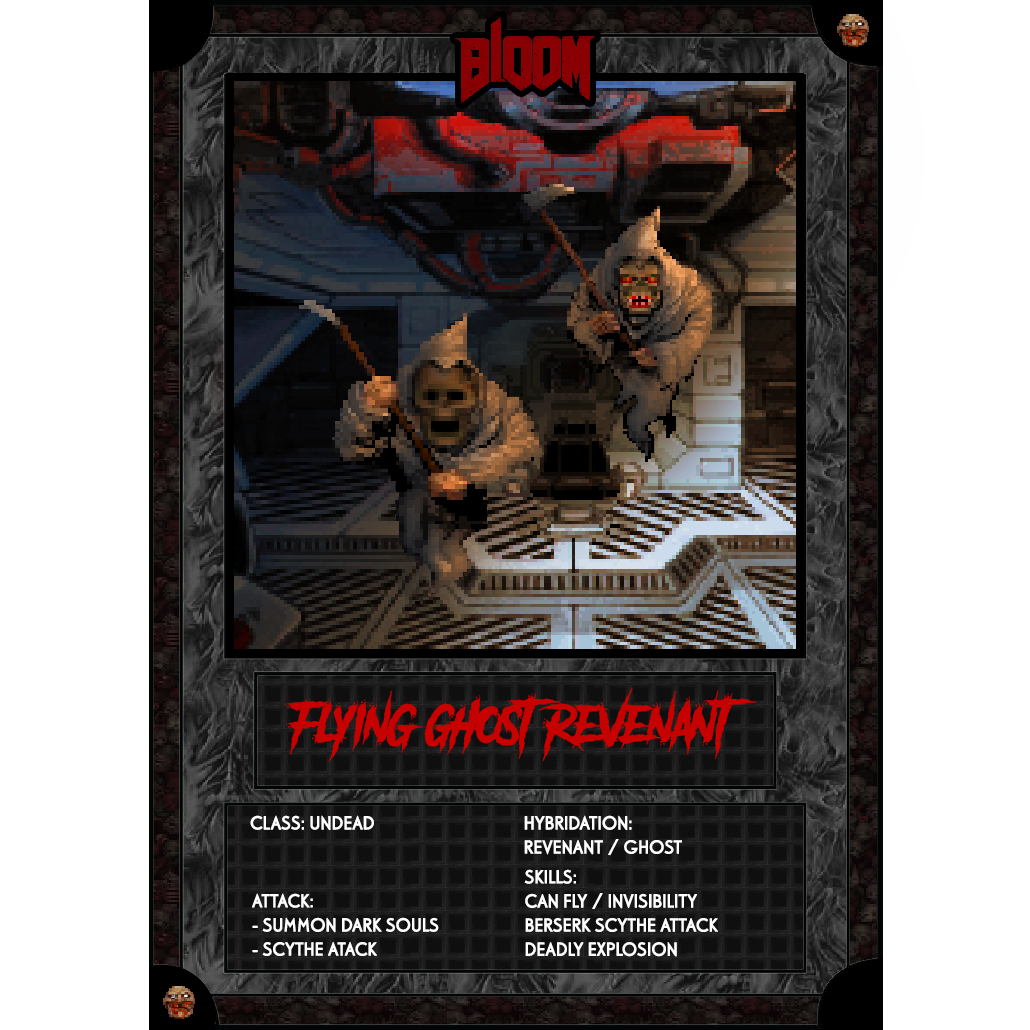 Imagine the firepower of the revenant and the magic spells and no clip habilities of the phatasm (blood)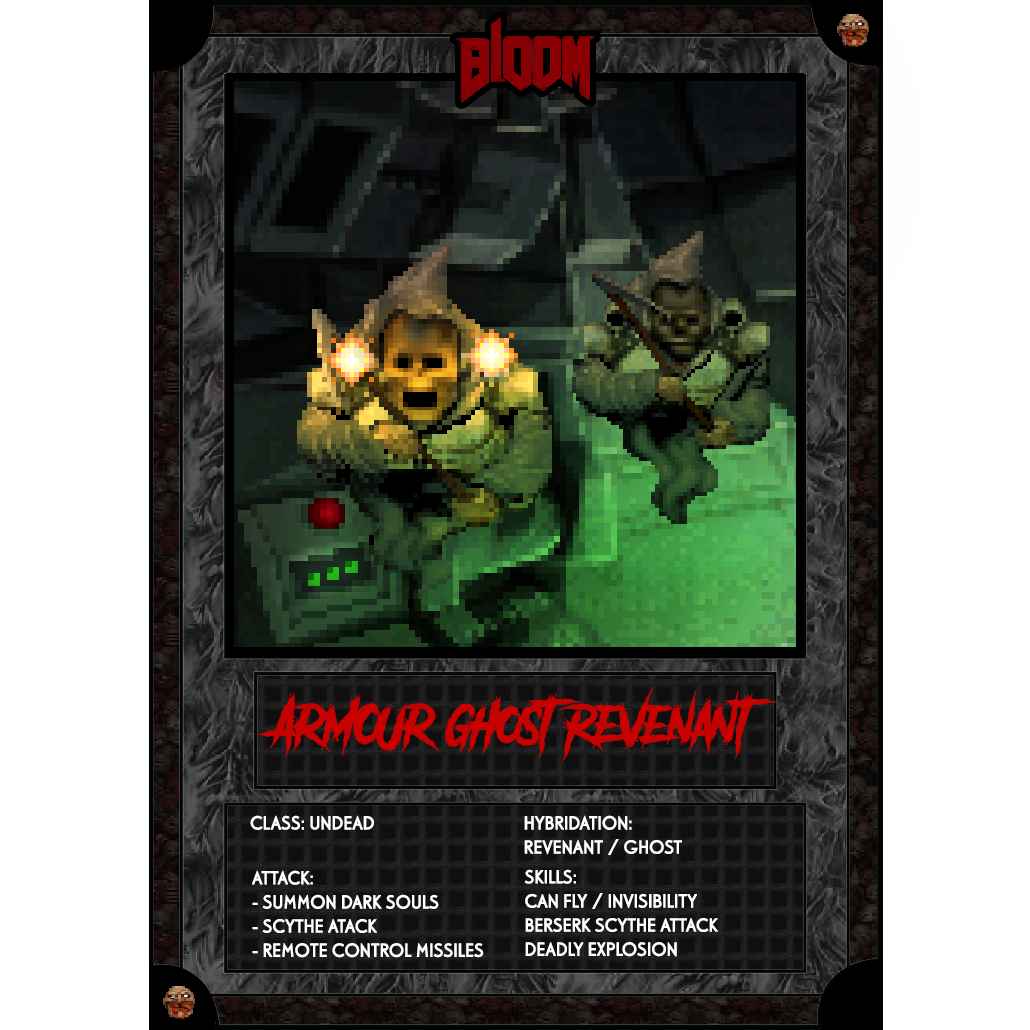 This versions count with the armor and missiles of the reveants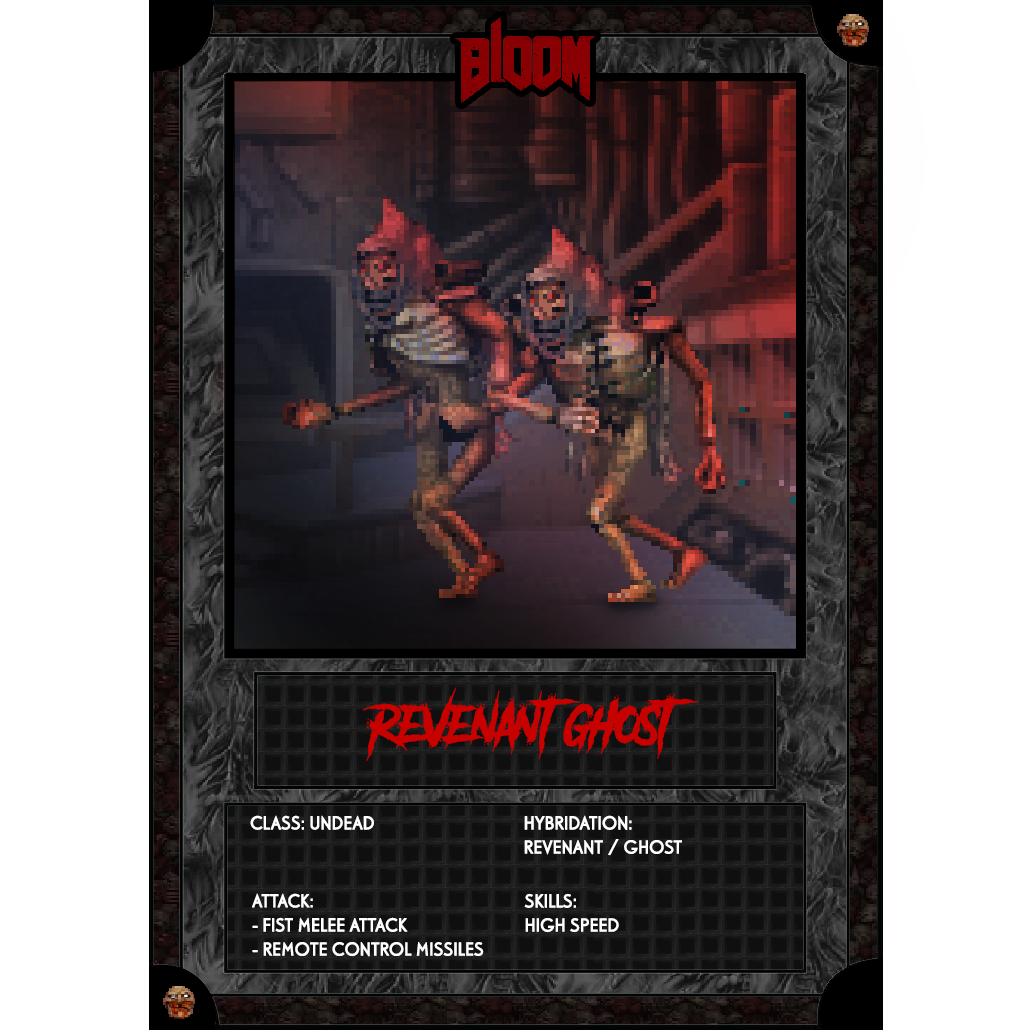 Another alteration , this time can`t clip the walls, but has a powerful melee punch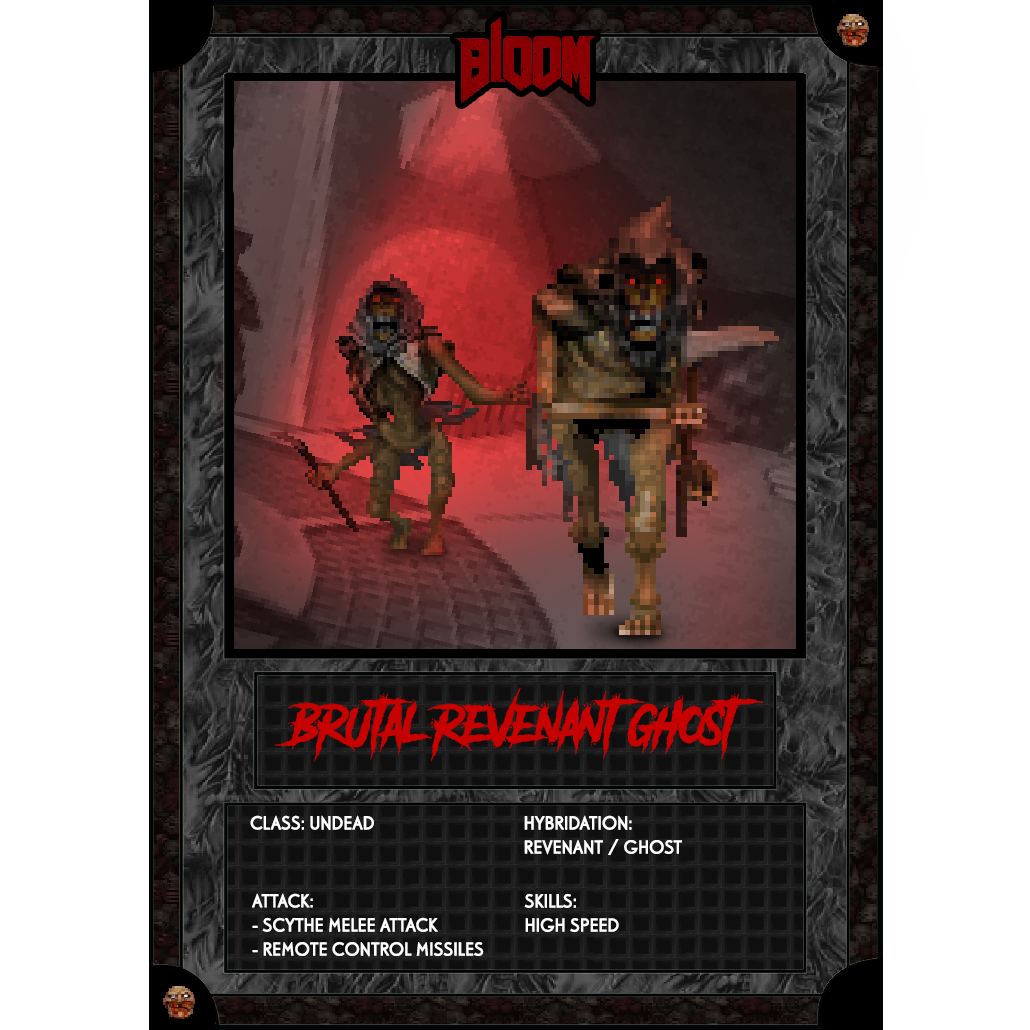 The definitive version of the revenant ghost, fast, armored, with missiles and equiped with a scythe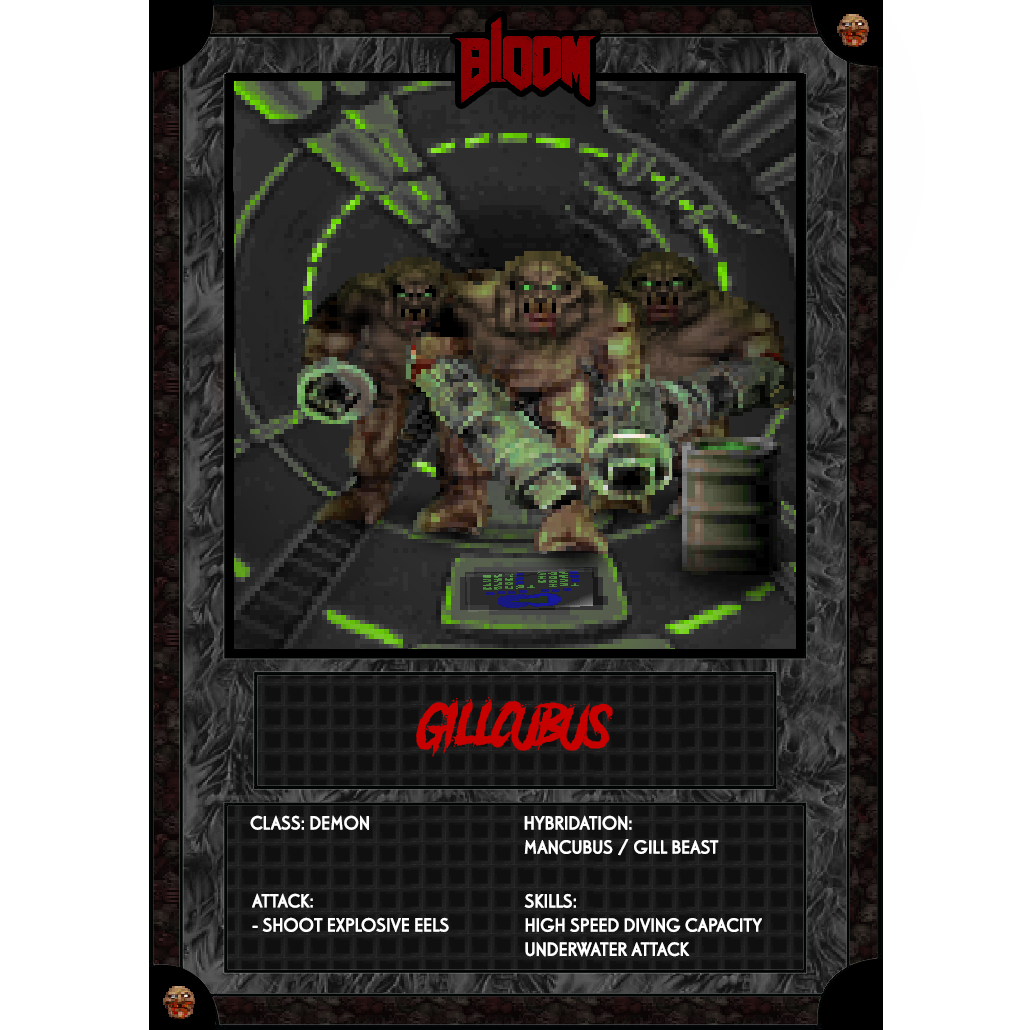 This version of gillcubus has the skill of being the fastest mosnter inside water in the whole Bloom's bestiary

More hybrids comming soon!!