Kickstarter News!
I've officially announced on twitter that the kickstarter will be launching on October 14th! I'm excited and horrified all at once. I'm working extra hard to make sure its a success. I'd like to make sure you all know that I won't abandon this devlog! All of your support, feedback and encouragement has been very helpful and appreciated. I will continue to post here hopefully just as regularly. I've already been working on the game full time for months, so I know I can easily do that. I don't plan to have backer-exclusive updates unless it concerns the beta test.
Giant Clock Puzzle!
(Concept Art Top, Game Art Bottom)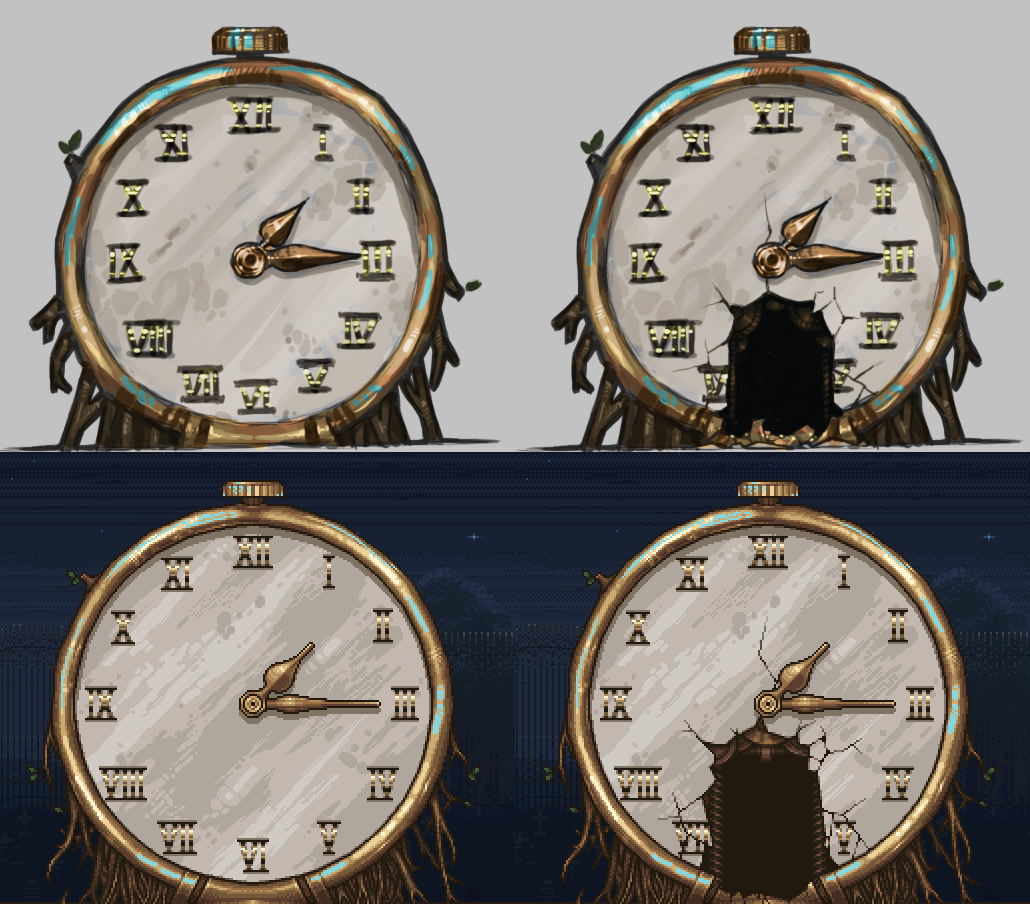 This is the first 'memento puzzle'. There are about 10 mementos per world. 7 of them are generic objects that contribute towards completion. However, 3 per world are more special to the player. They are things that really help him get through the traumatic memory. So they are hidden in their own rooms with larger more traditional puzzles. This clock needs to be set at a specific time using the switches around it. Once it's correctly set, the bottom will explode open, revealing the "Dad's Pocket watch" memento. You can see the door opening below.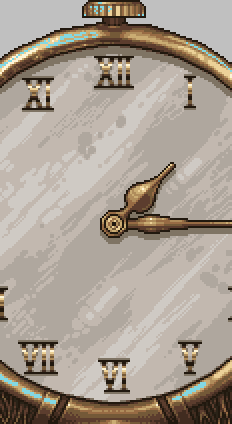 Restraint, the Hellhound

As stated previously, he is like a boo from Super Mario. Looks away when you look at it.
Switch for Puzzles

There are two types of switches currently.
Toggle: These have two states, on and off. If the switch is off, it appears floating in the air still. When turned on, it comes together and tightens.
Rotation: These are always in one piece. When the player interacts with it, the switch turns but does not disassemble/reassemble.
Elaborating on the clock puzzle: There are four rotation switches surrounding a giant clock. Entering the room randomizes the time on the clock. Each of the rotation switches adjusts the hour and the minute by a specific (separate) amount. For example, Switch #1 may reduce the hour by 3 but increase the minutes by 20. Each switch is different, so the player must strategize which order he presses the switches in order to get the correct time.
Small Design Change
Made a tiny design change today! Originally, the player's ability Possession allowed him to take control of humans. However, the things accomplished that way were too similar to what the ability Haunt is used for. So, now he will no longer be able to possess humans... he'll be able to possess animals! I think this'll create from some interesting puzzles. Maybe bunny/squirrel for getting through tight spaces, bird to fly. Possession will be time-limited so people won't be able to abuse it, of course.