Hello I'm lorul1 creator of Battles of the Storm. Welcome to my Kashyyyk EA battlefront recreation project for Star Wars Battlefront 2 2005 !!

Making Battles of the Storm was so much fun and hearing everyone reaction to size and scale of the battles was an awesome experience. One thing that made Battles of the Storm good was that you were a single unit placed in a 100+ vs 100+ battle and you really get a sense of all out WAR.
All out war is what I do best !!
(VERY VERY EARLY ALPHA IMAGES)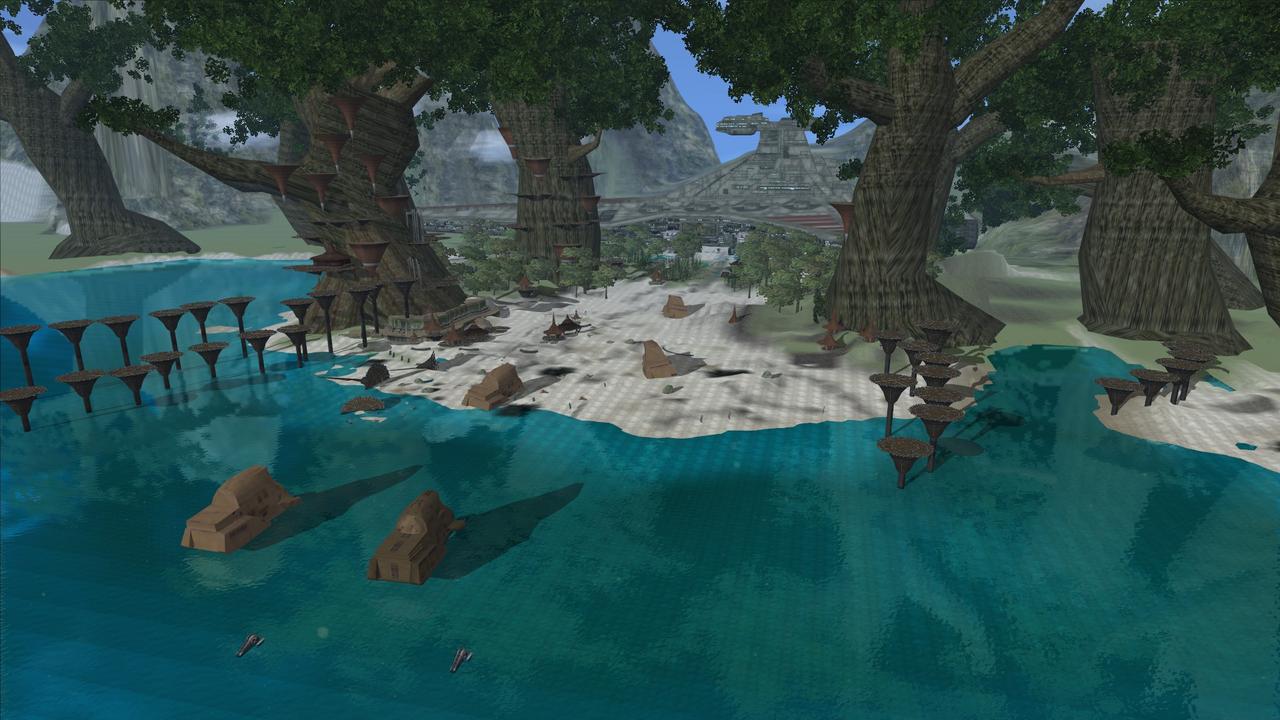 After watching and playing battlefront 2 EA, I was impressed. Of course EA did well with graphics and sound design again. But one of the biggest problem that I saw some of there maps is that the unit count doesn't seem big enough ... it wasn't a war. When I think of the clone wars I think of the thousands of clones battling on Geonosis, or the hundreds of droids storming the beach of kashyyyk with so many laser and missiles everywhere. Star wars battles especially clone wars battles ARE over the top, chaotic , and have hundreds of clones.

Hopefully EA will add an "XL" or "battlefield 1 operations" type mode at some point, but I the message to DICE and EA is that we want large scale clone wars battles JUST like we saw on TV and in the Movies ! We want to be IN the battles and that means chaos and scale (bigger maps and higher player and vehicle count).
FOLLOW THIS MOD HERE:
"Will you be recreating the whole game ?"

No - I may recreate more maps though ... see the hardest part about doing this kind of stuff is that I need custom made props - I would love to do starkiller base, hoth, or something like the battle of ryloth space but I would need custom props , I'm terrible at making them lol. If you are interested in helping me out by making some very accurate props and msh's then please let me know !

Guys Naboo: Assult on Theed takes priority - the hardest part about this map wont be the units thankfully since I can just take them from my theed map - the hardest part will be getting the detail in the environment. The kashyyyk from BF2017 is very "alive". The ground is covered in debris and tank treads and water - recreating this will be difficult. Their kashyyyk map is more beauty and nature based than it is prop based like assult on theed.

If I do decide to scrap this project I will make it available for anyone to complete - of course I dont plan on scrapping this bad boy its just I don't want it to become another generic kashyyyk map. Getting it close to EA's will be pretty hard.
Q&A:
"How will the map play out" - Just like how EA's BF2 plays out escort the MTT's, Take out the juggernauts, wreck the ship or whatever. I will also eventually include standard conquest mode for all you that like classic BF2 Gameplay.
"will there be playable snail tanks or wookie aircraft" - Yes
"Can I go in the juggernaut" - eventually this will be added but in the first few alpha's you all will be playing there will probably just be a destructible panel on the juggernaut or a commandant on the platforms around it or something.

Thoughts ???