Hey guys! This update is a bit late, but there were somethings I really wanted to show. I have been playing around with Spriter Pro and I was able to make a pretty fluid animation for Jynx's stance. For a spriter, this program is very exciting for me and there are many things that you can do with it.

Debbie, another sprite artist I have working with me, did a great job on animating the arm as well as other key frames to animations that we have been working on together. She is really good in different forms of animation and her work challenges me to make my work much better. Here is another animation of a minor enemy we worked on together.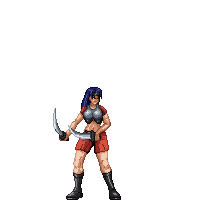 In a previous update we were talking about getting our custom battle effects, we have been working with Oray Studios and they have produced some really cool stuff. They are really great to work with and are very efficient with time and production as they had completed them in a short time period.
We have an update on the battlesystem and we are excited to really get some more work completed on it. We have a small preview of the battle system and as you can see we went in a slightly different direction on the way you do combos. One of our backers Steven introduced us to Xenogears and we loved the way those combos were performed so we did our own variation on it. Thanks Steven! :) We hope that you all will have fun with it as we plan to make it as fun as possible to go into battles. This is a very raw preview of it, as it does not have the effects that we showed earlier in this update as well as the proper hitsparks, timing, etc.
We are working to get a new demo/beta up in March and we are finalizing our end point for our project (at least for the 1st chapter). In March, we want to give everyone another chunk of gameplay like we had done in our previous demo. There will be a completely different portion of the game and you will definitely see the differences that we were able to produce with the funding. We are really eager and excited to get your feedback on what we have so far and we are working hard to make an engaging and interesting experience. One thing that we regretfully may not show is the card game, although it is being worked on we have a slight delay in it. It has made Yin pretty upset, but as you all know we have a pretty hard time letting things like that bring us down for long and we will take the positive and move on with that.
Thanks for checking out our updates everyone. We are doing pretty well and we really hope that you like what we will show you guys sometime in March.
- Tyrell and Whitney White