We search for the voice of our character!
VoiceContest
We need YOU to finish our mod, because our English is not as perfect as we want it to be and our voices are not good enough for a game character...
Requirements:
-You must speak perfectly English
-You must have a microphone without background noise
-Enough time
What is good but not necessary:
-ICQ Account
-UnrealEditor skills
As I have already written our English is not perfect so you should interpret our script a little bit and build the sentence so that they sound better.
The deadline of the contest is Friday the 3rd July .After that deadline we will choose the winner. Please record the examples below and send it as .zip, .rar or .7zip to unrealer2@gmx.de
Examples:
a) What has happened? Am I dreaming? (your are lying in stream and you are not completely waked up)
b) There are two clips left.
c) Ouch (you are hit)
GamePlay Video
I recorded a short GamePlay video where I cut different scenes together to show you how it will look like when it's done. It is still everything Work in Progress but many things are almost finished.
In addition to that I uploaded some ingame screenshots and want now to describe some features:
The Clock
Your clock shows not the time but your ammo in the current weapon as number, the available magazines in the background as lines and the lights your actual pulse. If the pulse is too low you get senseless. Is it higher than normally you can activate the BulletTime with pressing 'F'. The abilty for BulletTime is signalizest by a gong.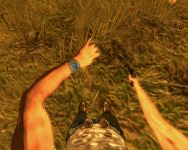 The injection
With a injection you can boost your pulse. It can be used by pressing '2' or '3'.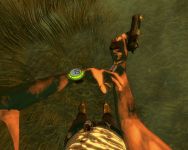 Aiming
[WuTz]! has scripted a DynamicPostProcessVolume which enables to focusing of the object in the middle of the screen. To aim you have only to press the right mouse button.