Welcome to the July 2010 News!
I'd like to start by thanking everyone for understanding the lack of news last month, which was mostly due to exams. On top of that, I have very good news for you all- we're getting back into the swing of things! Reaching normal development speed won't happen straight away, but things are already picking up and by next months news we'll be going full speed and have a lot more new and exciting content to show you!
Secondly I would like give a big welcome back to Mobius, our sound artist, who has just finished his National Service and is rejoining the team. It's really great to have him back in his rightful place.
Among other things, this month also holds a rather significant date for Stargate: Legacy mod. Yes, it is the release date of public Beta1. In just a couple of weeks it will be two years since Beta1 was released to the public. We understand that it' s been a bit longer than anticipated, however we appreaciate the support and we'll definitely make Beta2 worth the wait.
Now let's get to this months media and updates.
We'll start off with Noodles, who has resumed work on a map that was originally started by Furling and that has already made it's appareance into several news posts back in SG:L Beta1 days. It is a map that takes place on the same planet that Jack and Daniel visited in the original Stargate movie, where Daniel met his wife and where he witnessed the birth of his wife's child to the Goa'uld they call Apophis.
Yes, it's Abydos!
You can expect many great improvements to the map, one of which is already here! See if you can spot it among these screenshots:
If what you guessed was that hovering cargo ship called a Tel'tak, than you're absolutely right. And it's not just a static piece of metal, if you get to the right place in the right time you will even see it fly!
But that's not all, Noodles has also been working on the M16 and here are the results of that work: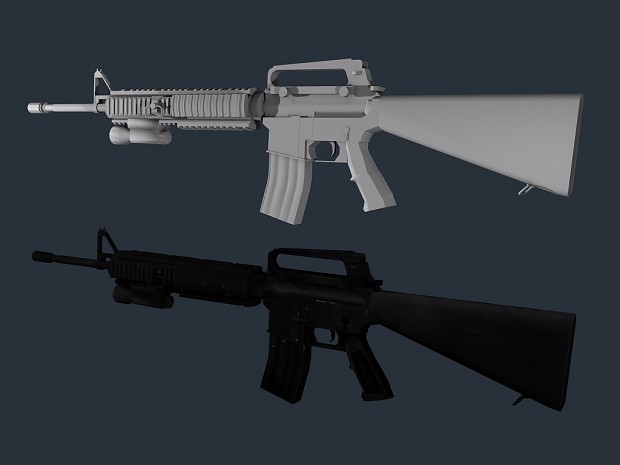 Next on the list is Furling, who has been working on the SGC. With Level 27 and 28 brushwork complete this map has now found it's way to Noodles, who is working on adding textures and creating massive amounts of custom models.
This process will take time, so you will have to wait at least until next month for in-game screenshots. However, here is a little teaser created by Furling to let you know what you will be getting yourself into (make sure to click the image to view it in full size):
With the work on SGC brushwork temporarily on hold, Furling has also done some work on Team selection, class selection and weapon selection menus. The result is a design that everyone has accepted and that is now being implemented into the mod by Klusark. If all goes well you might get to see it on the next news too ;)
On top of that, Klusark has also managed to complete various coding tasks, including fixing up the ring transporters, so that now rings work both coming up from the ground as well as coming down from the ceiling. This will no doubt be useful combined with that Tel'tak you saw earlier ;)
Well that's all for this month people. As you see we are working hard and the development is regaining pace. However we are still looking for people who are willing to help us, so if you have any mod development skills, apply on our forums!
Regards,
The Stargate Legacy Development Team