The first stable release of JkGfxMod is now available for download.
What is JkGfxMod?
Getting Jedi Knight: Dark Forces II (JK) and its expansion pack Mysteries of the Sith (MotS) to run properly on modern-day computers is notably fiddly and previous methods for getting the game to run have largely ceased working - and in many regards carried issues of their own.
While fully functional engine remakes for JK have been worked on since the early 2000s, for the moment JkGfxMod's aim is to be the most hassle-free way to play the original games on modern computers.
Before:
After (with all enhancements):
Graphical enhancements
Furthermore, JkGfxMod has been designed to enable various graphical enhancements to bring the game a bit closer to more contemporary game graphics.
Starting point:
1) The Neural Upscale texture pack (MotS) enhances the original textures of the game, so that the look of the game stays true to the original:
2) It's possible to retain the original graphics with more up-to-date lightsabers and weapon effects (MotS):
You can also go fully out with further fan-made graphical expansion packs compiled for JkGfxMod (for MotS as well):
With the first stable release of JkGfxMod, you should now be able to keep previously present graphical stuttering and lag issues at bay with the texture preload setting in the jkgm.json file. Even though this will increase the pre-play loading times (after running the EXE but before the game itself starts), it should hopefully be worth it in the game itself. Take a look at my jkgm.json file as an example, if necessary.
What's next?
While these are major improvements in getting JK to work on modern systems, new problems will still arise and sadly some of them ultimately can't be addressed by JkGfxMod. Keep an eye out for possible updates on GitHub, and report any new issues there as well.
All that said, JK still remains as fiddly as ever, and you might need to work on additional mods to make the age of the game stick out a bit less.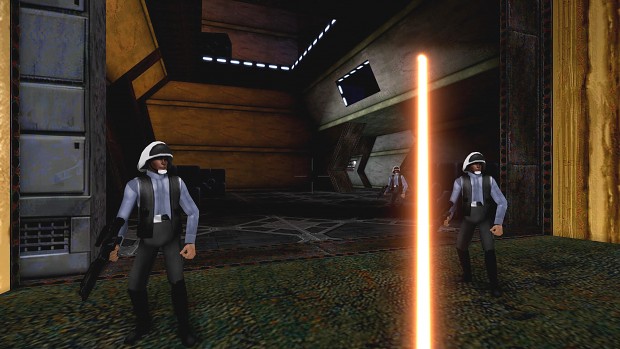 And don't forget the following:
* JkGfxMod (namely inject.exe) often results in a false positive reading by virus scanners. While downloading JkGfxMod from ModDB or GitHub should be perfectly fine, remember that the source code for JkGfxMod can be viewed on GitHub and can be compiled on your own if you can't trust the downloads
* Start a new game: Save files in JK and MotS cannot be reused after installing or removing most mods.
* If you properly install an optional material pack and the textures are not showing up, try setting the brightness slider all the way to min. The brightness slider can be found in Setup → Display → Brightness.
* JkGfxMod streams materials from storage as they are needed. This may cause some stuttering, especially if JkGfxMod materials are installed on a slow hard disk. This can be corrected by adding a vram_texture_preload_size entry to the configuration file.
For further information, check out the JkGfxMod documentation:
* Readme: Github.com
* Installation guide (CD-ROM, Steam, GOG Galaxy): Github.com
* Configuration guide: Github.com