I hope I'm not bothering people by doing these updates on a daily basis, but I add a lot of content and just want to share it.
This update is mainly dealing with some consumables that are in-game now, and that I feel are quite interesting as they've never been implemented into a survival game before. So bear with me with this reveal as it may just intrigue some of you to try the game out when it launches later this year.
---


So, here are three of the new consumable items that have been added to the game. They are: Pumpkin, Urine, and Dung.
If you read the update I tossed up yesterday you may have noticed that I was joking about adding the ability to drink your own urine, but some people brought up points of a morality system and I figured why the hell not.
The Pumpkin cannot be eaten the way it is, and needs to be prepared and is one of the few vegetables in the game that needs to be prepared before being eaten. It can be prepared into Pumpkin Soup, and Pumpkin Pie.
The Urine is pretty unique. Players must have a canteen to collect their piss. Every once and a while players may need to relieve themselves via urinating, and if they own a canteen they'll have the option to urinate inside it (similar to what Bear Grylls did in Man vs Wild). Drinking your urine will restore thirst, but it will lower your morality bar.
Dung is hilarious, and is also a form of restoring some of your thirst bar. However, it is by far one of the most dangerous ways to acquire fluids. Players will essentially squeeze the fluids out of the dung, and drink them. Dung will randomly be dropped by living animals, and players can go around collecting said dung and essentially sucking out the fluids. It has a risk of making you sick, restores your thirst bar the least of everything, and takes a lot away from your morality. It's essentially a last resort kind of deal if you can't find any other means of fluid in-take.
The poop-juice method was also seen on Man vs Wild, and to prove so I'll toss a clip below.
So, that's essentially what I'm aiming for with the dung in Islands.
---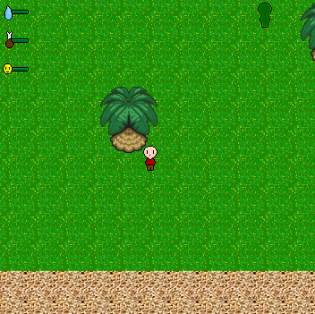 And here's a screenshot showing off the morality bar in Islands. It sits just below the Hunger meter and will deplete from various acts in-game (drinking urine, ingesting dung fluids, etc). Low morality has a variety of negative effects on the player which I'll list below.
Deal less damage to enemies.
Chance of cooking food perfectly reduces.
Stamina reduces.
Food doesn't replenish as much hunger.
Fluids don't replenish as much thirst.
Low morality isn't the worst thing that can happen to you in Islands, but it can definitely lead to some pretty gnarly experience, and could be a contributing factor in the player's death. Like I said, only drink urine and ingest dung fluids if there's nothing else.Luckily, morality doesn't drop extremely fast.
A few days of piss drinking, and dung ingestion should be okay. Key word on should.
---
And, that's essentially it for today's update. Lots of fun stuff! I really hope this is the only survival game that's added the ability for piss drinking, and dung juice to date. Either way, thanks for the support and make sure to check out the Twitter, and Facebook pages!