Why so many Americans, and also others, support torture?
They support it because they think it is necessary to gain the required information - is it a common misconception, or it's really true?
As we can read here Globalsecurity.org
HUMAN SOURCES

The interrogator encounters many sources who vary greatly in personality, social class, civilian occupation, military specialty, and political and religious beliefs. Their physical conditions may range from near death to perfect health, their intelligence levels may range from well below average to well above average, and their security consciousness may range from the lowest to the highest. Sources may be civilian internees, insurgents, EPWs, defectors, refugees, displaced persons, and agents or suspected agents. Because of these variations, the interrogator makes a careful study of every source to evaluate his mental, emotional, and physical state and uses it as a basis for interrogation. He deals mainly with three categories of sources: cooperative and friendly, neutral and nonpartisan, and hostile and antagonistic.

Cooperative and Friendly

A cooperative and friendly source offers little resistance to the interrogation and normally speaks freely on almost any topic introduced, other than that which will tend to incriminate or degrade him personally. To obtain the maximum amount of information from cooperative and friendly sources, the interrogator takes care to establish and to preserve a friendly and cooperative atmosphere by not inquiring into those private affairs which are beyond the scope of the interrogation. At the same time, he must avoid becoming overly friendly and losing control of the interrogation.

Neutral and Nonpartisan

A neutral and nonpartisan source is cooperative to a limited degree. He normally takes the position of answering questions asked directly, but seldom volunteers information. In some cases, he may be afraid to answer for fear of reprisals by the enemy. This often is the case in low-intensity conflict (LIC) where the people may be fearful of insurgent reprisals. With the neutral and nonpartisan source, the interrogator may have to ask many specific questions to obtain the information required.

Hostile and Antagonistic

A hostile and antagonistic source is most difficult to interrogate. In many cases, he refuses to talk at all and offers a real challenge to the interrogator. An interrogator must have self?control, patience, and tact when dealing with him. As a rule, at lower echelons, it is considered unprofitable to expend excessive time and effort in interrogating hostile and antagonistic sources. When time is available and the source appears to be an excellent target for exploitation, he should be isolated and repeatedly interrogated to obtain his cooperation. A more concentrated interrogation effort can be accomplished at higher levels, such as corps or echelons above corps (EAC), where more time is available to exploit hostile and antagonistic sources.
It seems rather obvious that subjects BULLIED into cooperation are much harder to get information from. Torturing one of hostile combatants can make him either even more aggressive and capable of doing damage or not doing anything helpful for the course of interrogation (constant refusing to share his knowledge), or more resigned and deprived of reason (after the torture process) - and much less capable to give detailed and reliable information, which in turn leads him to all sorts of false confessions "just to make them [interrogators] stop".
A more detailed article and more sources you can find here:
Georgewashington2.blogspot.com
Also the previous quoted site, GlobalSecurity.org:
Globalsecurity.org (intelligence chapter 1)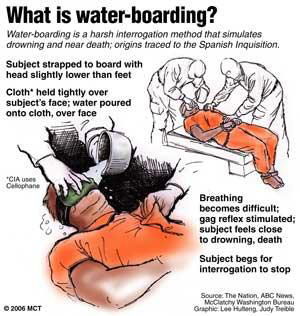 Moddb.com