Hi there!
I think it's time to properly introduce a project we've been working on for about 6 months. Here's the short version! ;)
It all started with us wanting to make a simple swipe controlled runner game for Android. One idea lead to another, and pretty soon we had a fun little concept.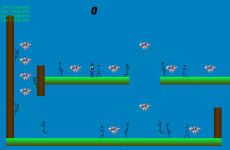 We kept building on that, and ended up with this.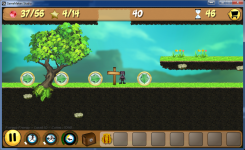 Then an amazing artist joined our team.. I love this picture, his first illustration of the ideas he had for the level graphics.

So we spent some time finishing the design document, and right now we're in the process of preparing the project the final features we want to add.
Basically it will be a swipe controlled runner/platformer/puzzle game, you pick your bunny and swipe your way through a horde of Levels, divided into Worlds. Each level has goals to complete for a highscore ranking, bonus stuff and unlocking more levels. Your bunny has an inventory, a set of movement and fighting skills, a pile of Air Control moves and a Speed limit. Use it all wisely, and the forest belongs to you!
Here's a small pre-alpha sneak peak video of the gameplay style from 1 of the 4 level types to expect - the Working title of the game was Bunni & Glide =)
We still have a long way to go on the development, but hopefully we'll have a playable demo for Windows available within a few months.
If you want to join the Android alpha testing team, just get in touch and we'll set it up.
Thank you all for reading!
Please follow Rabbits Foot on Facebook