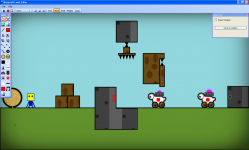 A meat factory with a never ending supply of "required materials". The "required materials" wander in a never ending stream into the "processing" chambers. Nobody knows where the sheep come from, but who asks questions they don't want to know the answers to anyway? Besides, the sheep make excellent mutton-burgers.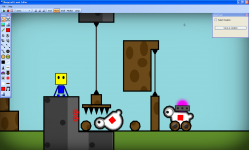 Heres how it works: A sheep is emitted every few seconds by an emitter. Each sheep has a red color key attached, and motorised wheels that move it towards the slaughter room. When the Color Key gets within range, it activates the Sensor Switches.
The first Sensor Switch closes the door, and the second Sensor Switch activates the Piston with the Spikes.The Piston springs open, the Spikes pierce the Brain and kill the sheep, and the doors open for the next unsuspecting creature.