So heres the deal:

I'm A Computer Science major. Not an artist. I could use an artist for this project but swore up and down I'd try to continue work even if one didn't magically appear during the ramp up time.
No worries.
So I decided this year I'd take a 3d modelling and design course....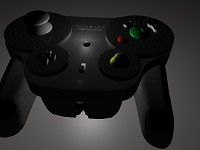 ...I have a new appreciation for the work that artists and animators do.
This is but one view of one model I've made on thus far. Some of the other views for the Wavebird controller are in the Image gallery now. Give em a look...let me know if theres something I can do to improve.
Oh....right...the reason why you are here. Basically all hell broke loose in terms of family health, weather (no more snow please), and my current internship. So long story short: I'm learning how to do modelling and animating under the pretenses of maintaining sanity while I do so. As such, the mod most likely wont be in a playable state when I intended (late May) unless I magically have a lot more free time and patience to start juggling tasks again.
I'll keep this ModDb page updated as I can. If the feedback on the model I posted proves useful, I'll try and keep posting the new models I work on, directly related to L4D:AI or not.
Till then, you stay classy ModDb.