PlayDate
What is the PlayDate? Well, I and Sally (Sally and I) recently became aware that not many of our Developers as well as Community members know each other very well. Now, recently I noticed communication is key to a successful team, so we decided to host a PlayDate and bring the community a long with us!
What will be doing?
Basically, playing games with the community! So this means, we'll be playing a large range of games all day and all night. We also see this as a way through the time zone issue, as all the hosts will be up all night (up at 12 PM, sleeping 12 PM the next day) this allows everyone to participate within the PlayDate.
Games: (As of 02/10/2012)
Counter-Strike: Source
Team Fortress 2
Half-Life 2: Deathmatch
Garry's Mod (Various servers)
More on the date!
They're the games as of right now but we'll have more by the date so stay tuned, also here's the schedule as of right now, I'm thinking of making this a public thing.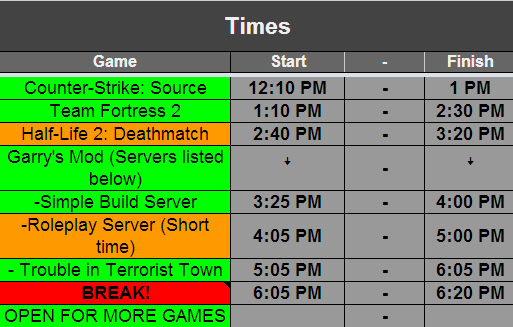 Now we have a strong feeling that we'll be running a little late from this schedule, but the times are adjustable so it's all swell.
How do we get in contact!
Well, just join up in the shiny golden new Infinity Interactive PlayDate Group on Steam! We have an event set for 13th of October - 12 PM GMT (Afternoon). We will all be going into the golden group chat where things will probably get hectic but we'll all join a game! Hoo-Rah!
But wait! How am I supposed to know what time it is in the UK?!
Bingo! Keep your perky eyes on that, it will also be added to the top of the ModDB page! (Yes the clock is in 24 hour time, just convert it silly)
Any questions?
Feel free to ask or add me on Steam "dry_up"
Suggest Games!
We'd like you guys to suggest some games to play for us, bare in mind there has to be a maximum players limit of 25+ so no Portal 2 or Left 4 Dead, sorry guys!
Livestream & YouTube
Not got the game we're currently playing but don't want to miss out? There will be several livestream broadcasts throughout the event, as well as a review video will be out on YouTube a few days later so you can catch up on what happened!
<3 Infinity Interactive
We hope to see you join us on our PlayDate and we hope to meet new community members and get to know each other. Everyone is welcome, also, if this goes well we will make this an annual thing.
Thanks for all the support <3
-Infinity Dev Team