Infested Planet is back from stealth mode. You're probably wondering what happened. For the past several months the focus has been on making the game awesome and less on talking about it. That's about to change. The game is close to being done and we're very happy with how it's coming along.
A lot has happened and the game has changed quite a bit. I've decided to start from the beginning, so that people who haven't been following the Infested Planet development all this time can find out why it's neat.
What is Infested Planet?
Let me talk about why I find the game cool. First and foremost, Infested Planet is a game about exciting tactical skirmishes. It's about fighting against incredible odds and coming out on top. That's what happens when you land on a planet with 5 marines and blow the heck out of 10000 aliens.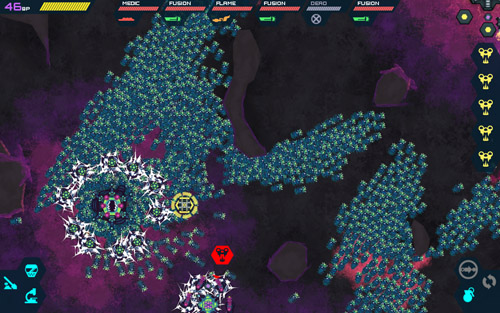 It's hard to describe how strangely compelling it is to mow down a 1000 bugs with a minigun. You'll just have to take my word for it.
You remember that moment in your favourite RTS game? You've built up a powerful force, smashed through the enemy's defences and your soldiers are closing in on the heart of their base. That's the feeling that Infested Planet captures – striking hard at the enemy and blowing up their stuff.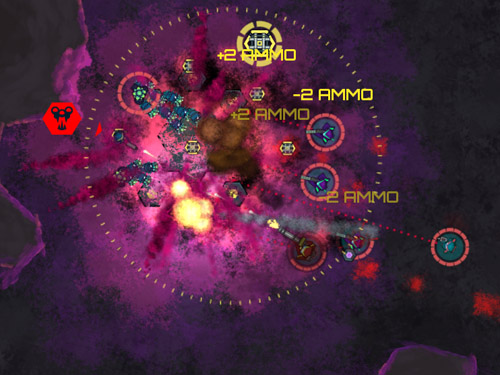 For me, that moment is when you're rampaging through a Zerg base in Starcraft with a horde of space marines. I tried to take that feeling and amplify it many times over.
Once you learn the basics, Infested Planet is about shrewd tactics and squeezing that little bit more out of your resources. It's about looking at the battlefield and making a strategic decision to abandon a position for better ground. It's about seeing through your enemy's strengths and picking a tool that punches them right in the gut.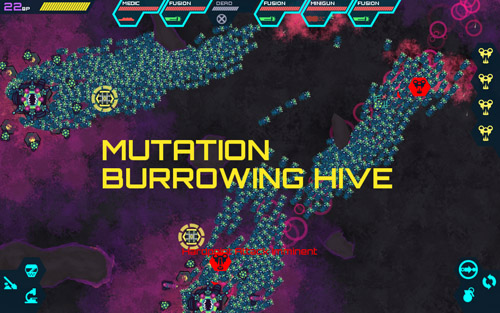 Finally, Infested Planet is about unpredictability. The game was built from the ground up to be extremely replayable. The enemy dynamically evolves and mutates, giving you new challenges every time. I've been working on it for more than a year, and I still get pulled into trying to finish off a mission when I should be coding.
What's Next?
Since I'm rebooting my efforts to talk about the game, I've decided to take a different approach this time. This game is pretty personal for me – I've spent a year of my life on it! Strangely, I don't think that I've ever talked about why I find the game exciting. I talked as a game developer and not a game player.
From now on, I'm going to talk about what it's like to play the game. My next post will be an action report from a random game that I'll run. That should give you a good impression of why Infested Planet is unique and compelling.