The featured game for March 1 - 4 is here! Get it now!
Game: Pixelry
Developer: Evelend Games
DRM: Desura, DRM-Free
Platforms: Windows
Featured Charity: Open Source Ecology
10% of all sales generated by this deal will go to Open Source Ecology
---
Game Description:
Pixelry is a sidescrolling game about jousting. Battles take place in two dimensions, and while there aren't many controls, the gameplay is surprisingly deep and engaging. You begin your journey as a lowly peasant, but through various minigames and duels with drunks from the pub, you'll soon be on your way to becoming a knight of Pixelville!
"Welcome to the world of pixelated chivalry, where your courage, your reflexes and fame will encorage you to reach the dream of every self-respecting knight. Our protagonist travels to Pixelville to fulfill his greatest dream and to marry the beautiful young princess Arianna Annabelle di Grandigund Hyacinthe. To do this he must prove himself a horsemen winning the championship of "The Big 5", recognized as the unbeatable knights of the realm. According to the king, "who manages to defeat in combat will be a good suitor for his daughter!" An epic adventure set in medieval ambient and the world of chivalry, where our protagonist must acquire new and increasingly better equipment to achieve his mission."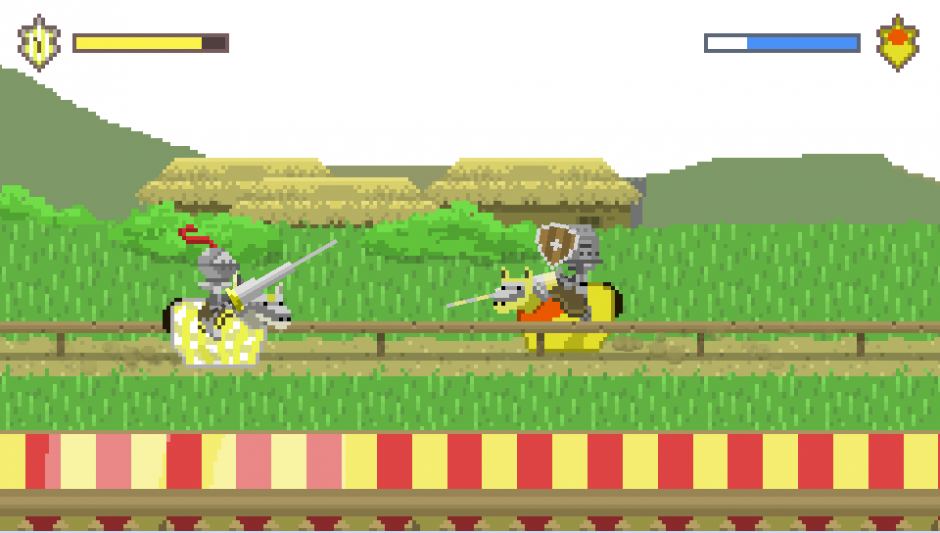 ---
Beat the average and get:
The complete, original soundtrack
Exclusive Wallpapers
A special perk will be given to the top 3 contributors!
If you are one of the top Pixelry lovers André himself will draw a caricatured pixel masterpiece of a picture you like or a knight you design. Your name will be also displayed on the credits as a backer of the project!