Hello everyone, this new update for Incertitude is regarding the website and the new backstory and gameplay feature I added in.
To start off, the website will probably be finished within the next couple days. I'm focusing more on releasing the website first soon, because the full release of Incertitude is almost finished, and I decided I want to have a website up before I release the final game. I have 2 more levels to finish for the game, and then I'll give myself a couple days to fix some bugs and whatnot. Here's an image of how the home page for the website is looking so far:
(home page)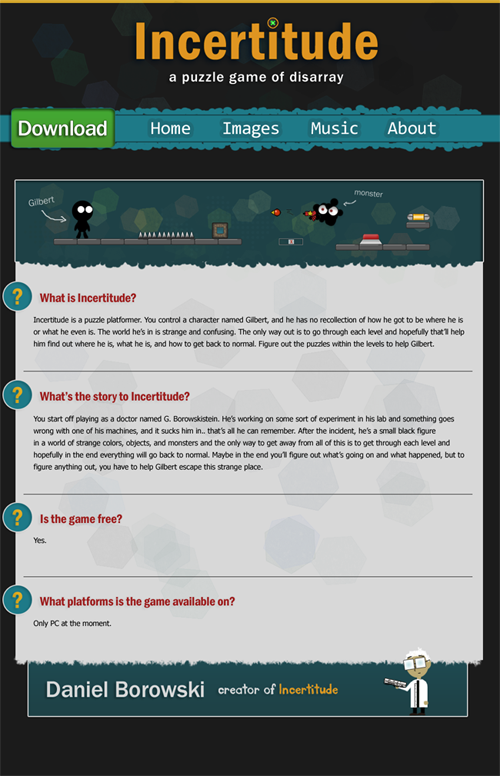 The Story for Incertitude:
It starts off with you playing as Doctor G. Borowskistein in his laboratory working on some sort of experiment. You walk around examining certain things, and then all of a sudden his machine malfunctions and he gets sucked into it. Then he finds himself in some sort of strange world wondering how he got there and what he even is (some little black creature). He comes up with the conclusion that since there is no door that simply says "OUT OF STRANGE WORLD", he must get through certain obstacles and get to the blue block at the end of each level because this block takes him farther from where he just was, and that's what he wants, to get away from wherever he is. So you must get through each level, solving the puzzles and getting past obstacles, and hopefully in the end you'll figure out how to get him out of the strange world and back into his normal body.
Here's a picture from the Introduction to the game where you play as Doctor G. Borowskistein: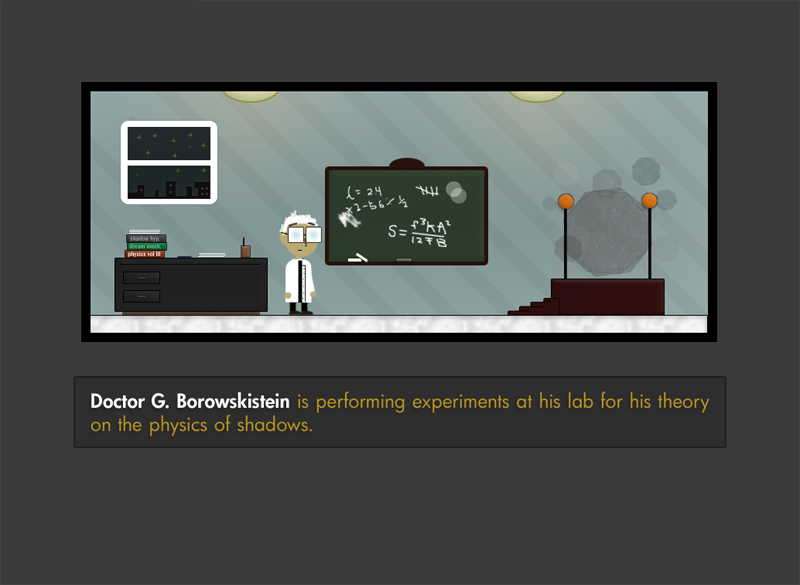 Tell me what you think of how the website looks so far, and the story/introduction lab level!
Thanks for reading - mrdaniel.