Yes, in fact I am still alive.
And I have not abandoned Scribble. So don't worry.
What I did since the last update is... well, nothing. At least nothing to Scribble II. I have been doing different things, though, wrote two short stories, started another game project... which is the more important thing.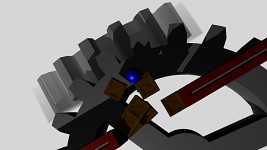 It's called "Bicobee" (No, that is not supposed to make any sense) and is a simple, yet unbelievably confusing maze game.
When I find time and inspiration to work on Scribble II, I will. That is not an if, mind you. It's a when.