Hello everyone! Bonesy here again.
So, it's been quite awhile since the last "State of The Game" post, right? I can assure you (if you don't follow the devlog here) that I'm not dead! In fact, I'm quite the opposite. I've been working vigorously on the game. Unfortunately, it looks like I'm going to be pushing back the release date at least a few months. No worries though, it's all for good reason! With all this time I'm going to make the game as great as possible. I don't like Early Access myself, so I will not be planning to release early playable builds for the public, sorry. However, I'm going to make sure to release as many screens and gifs as possible to make up for it! But anyway, without me rambling any further, I'll get into the actual state of the game.
Multiplayer: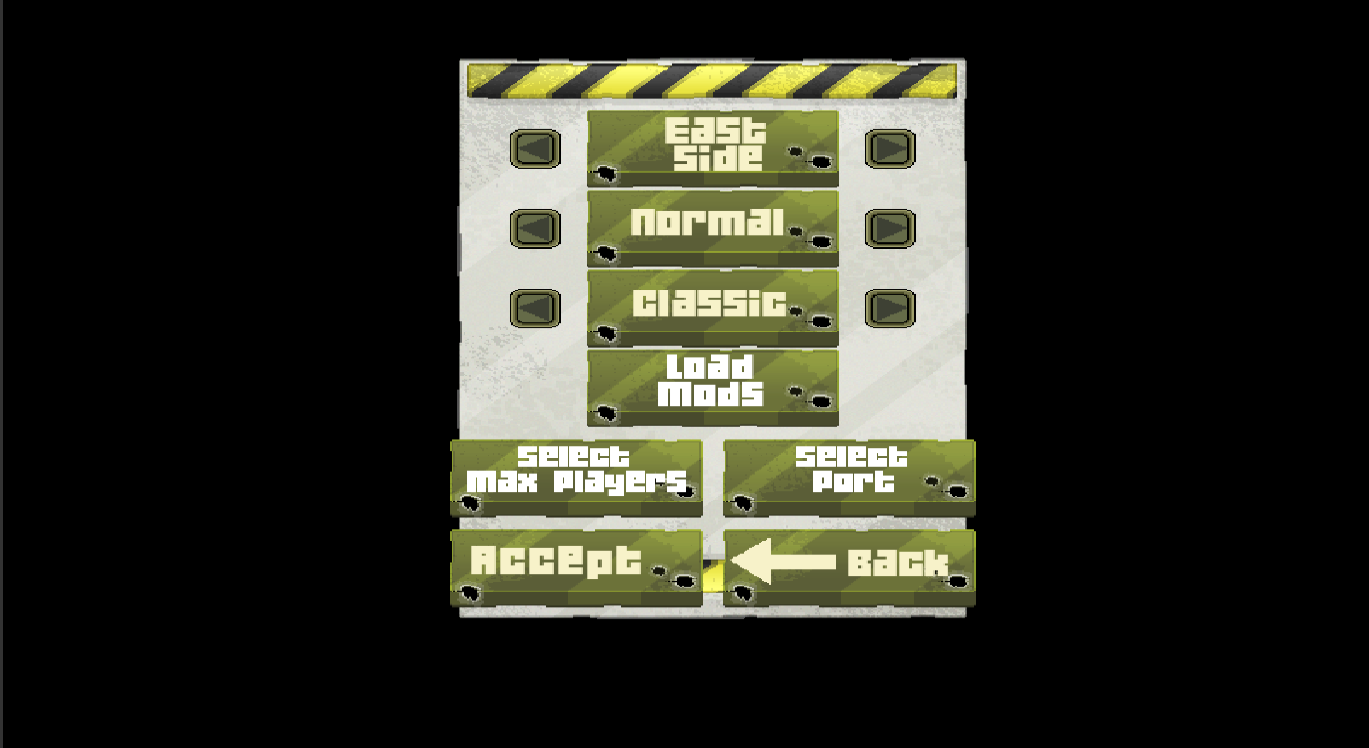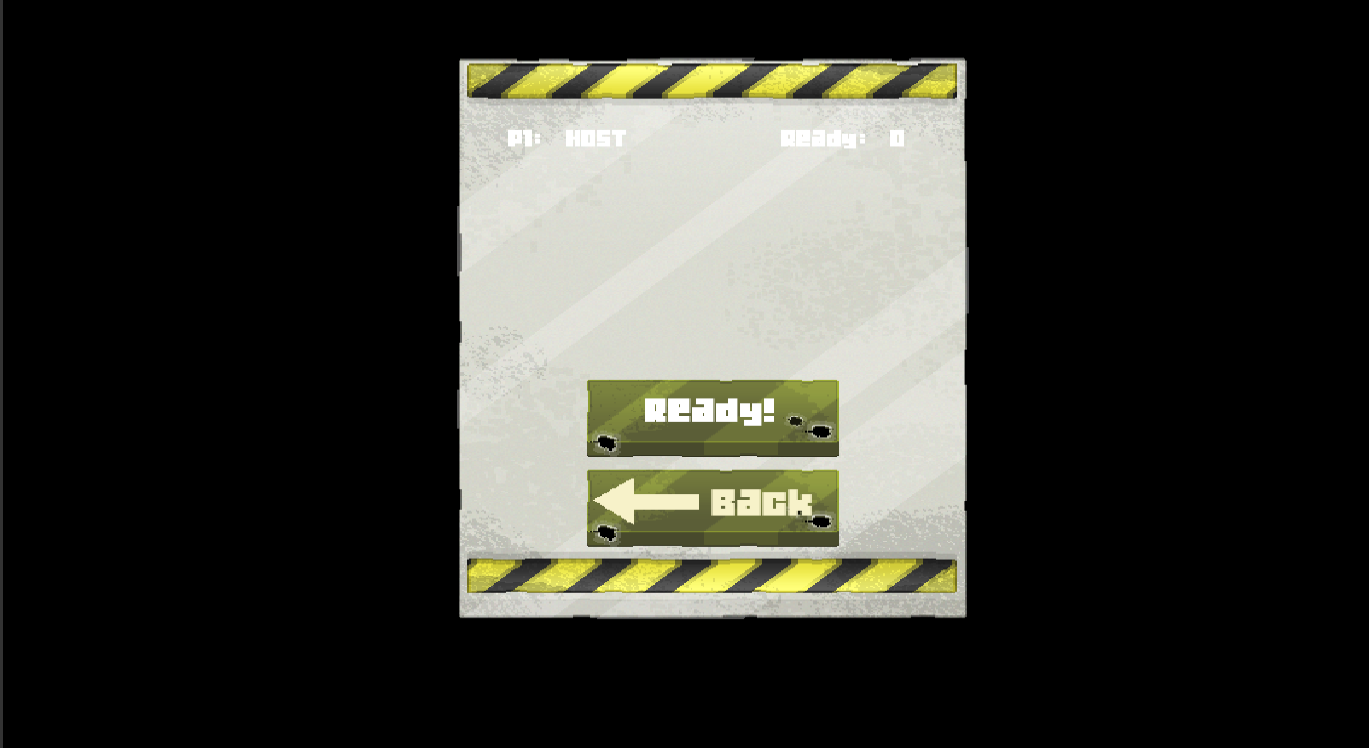 Server setup and Lobby previews. Currently a server can have as many players as you want on it, but the lobby will only show 6 players and then a "X Number More Players" line. This is still a massive WIP, so I can guarantee you the final lobby will probably be more fancy.As far as the server setup goes, it's all pretty straightforward. Sorry about the weird button text discoloration in the screenshots, it's been fixed now.
Multiplayer in action (UI hidden to demonstrate feature). Currently, there isn't much lag clientside, but there is currently a graphical problem where sprites can be drawn on the wrong frame and depth. This is going to fixed before release obviously. You can also choose to play as a female character in single/multiplayer, although that is not shown here.
Another important thing to note about multiplayer is that the way the server is written allows for mods to be easily integrated. Server side mods (MOTD, map rotation, etc) can be used alongside clientside mods (reskins) with ease. Also, any mod that works for singleplayer (custom maps, mods, etc.) can easily be used for multiplayer as long as both the client and server have the mod installed. I am still deciding whether joining a server that has a mod you don't have should install that mod on your client. More than likely it will, but I am hesitant for security reasons.
Arcade Mode
Another massive addition to the game is a mini-campaign mode. It's planned to be about 3-5 hours long. Besides all the basic features of the game being there, additional features such as dialogue, cutscenes, and objectives are also active. As far as story goes, don't expect anything serious. The storyline and writing is purposefully comedic, cliche, and self-aware (to an extent).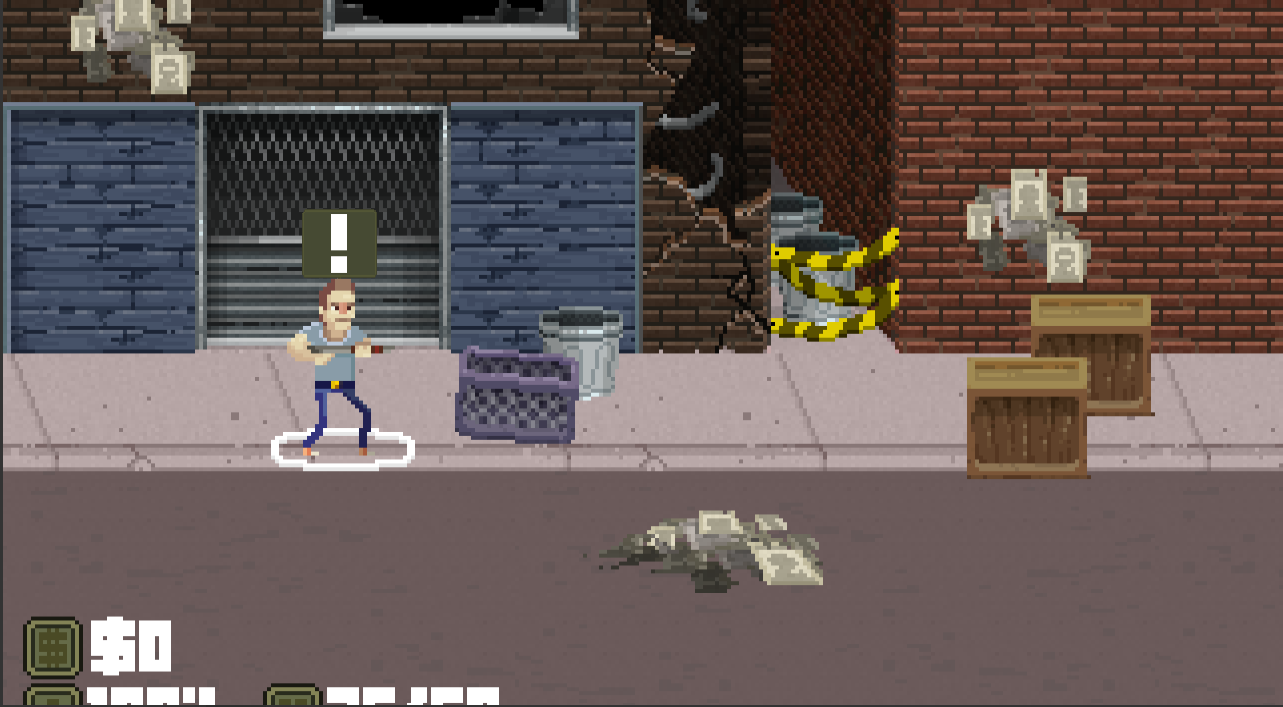 Action button shown when you are near something you can interact with.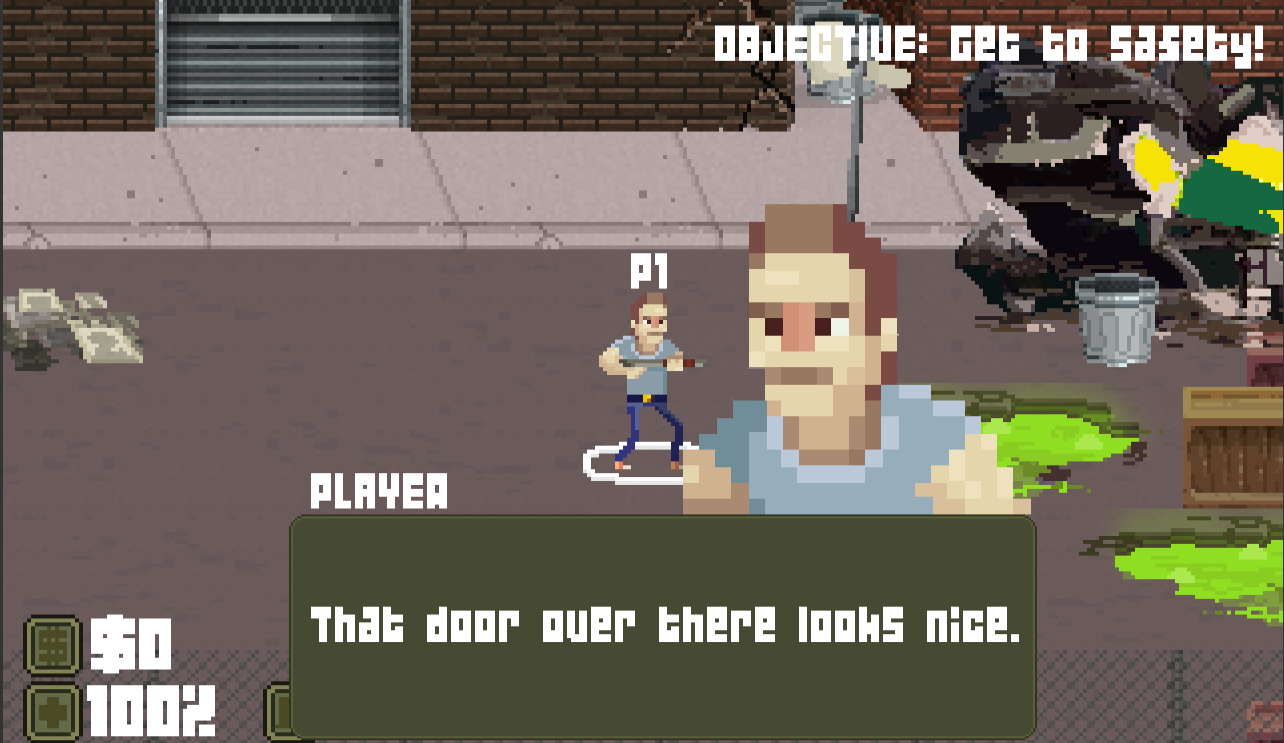 Dialogue example!
Music
Not much to say here, but music is actively being worked on and should be ready to be shown in a teaser soon!
Other
Such WIP Gameplay! Rolling is vital to your survival, as it allows you to dodge most attacks.
Some exciting news are also coming up soon, and I can't wait to announce them officially. Make sure to stay tuned and thanks again for checking up on the game's progress!
Lastly, if you want to get into contact with me here's a few ways!
Website: Tophatentertainment.us
Twitter: Twitter.com
Facebook: Facebook.com
Youtube (currently inactive): Youtube.com
Email: admin[@]tophatentertainment.us <----(without the [ ])
Signing off again,
Joe (Bonesy)