It was puzzling at times to see my own, three months old code. Once I actually thought "What the hell was this guy thinking?" - and then I realized I was this guy. Holy crap on a cracker.
I had to add a whole lot of code in various objects in order to get all 20 achievements to work properly. And I did. The achievement menu is also working flawlessly.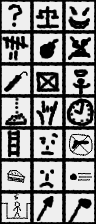 That's the achievement pictures, by the way. Sorted alphabetically, so the second one (first one is "Achievement locked") is "And Justice for All", the third one is "Another Way to Die" and so on.
Like the summary said, all features are fully implemented and working. Especially the last two achievements were extraordinarily frustrating, which were "Pacifist" and "Meh. Climbing." but I got it.
So, set your alarm clocks, for December 31st, 2010 will be the definite release date of Scribble(WT).
And one last thing: After a lot of thinking, I decided not to include any sound effects. Come to think about it, it makes sense: This game had it's roots in my math class, which is - not kidding - the quietest class in the entire school, mostly due to the teacher. Uargh. The music will stay, though.
This decision, of course, also has a technical background: Since I do not run Windows anymore and the software I use to make this game doesn't run all too perfect on Wine I can't hear the sounds I put in. There honestly isn't a single computer in this house that still runs Windows. Well, mainly because my sister is gone for new years and took her notebook with her. All four other computers in this house run on Ubuntu or, in the case of the really old desktop, Lubuntu. Thus I have no way to check how the sounds work.
See you tomorrow. With a full release.