I've had everything in place for quite some time. I started II to accomplish the challenge of creating a fun multiplayer game. At first I settled for LAN-only play because I was creating it back in highschool, and I had a whole bunch of time to waste with all my friends in class. It wasn't long before class ended and I was left with a multiplayer game I couldn't play with anyone.
This stirred me to create a singleplayer portion, and I've slaved over singleplayer things for at least a year and a half. Eventually I stumbled upon a way to optimize network code one sleepless night and began formulating. After implementing the new changes, I was excited to test it but I had no one to test with.
Today marks the first day I played II with my first beta tester over the internet. And it went surprisingly well, most of the things put in place were working. There were tons of bugs of course, being the first time I was actually able to test it, but I'm really excited about where I can take it now.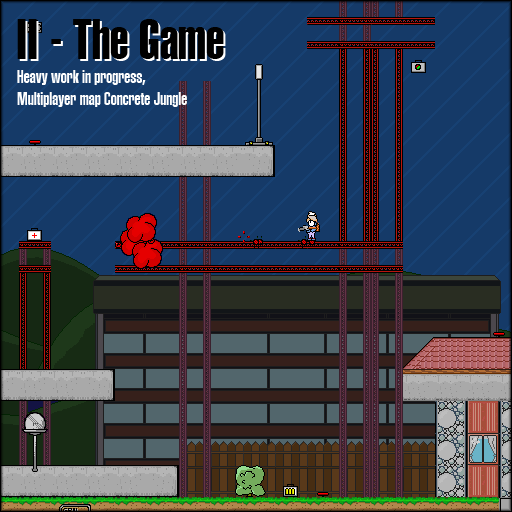 In my excitement, I decided to start detailing the first level I made for the lan portion of II. I know it's a blatant rehash of sprites, but I'm working on it. I'm not much of a pixel artist, I work really slow in paint.
I'm going to get together a beta testing team and start focusing on both the singleplayer and multiplayer aspects.
I have videos and more information on the profile page.
More coming soon!