First things first (as it should be, after all when are first things second? or third?) – we plan to release the A.Typical RPG on March 1, 2011!
If you feared the game would be in the constant limbo of development – your fears may not be vanquished yet, but now you have a date to mark on your calendars. That can only be good! Moving on, we reveal one more key element of the game – conversations. To elaborate, let's have a chat with this in-game element to see how they roll.
Me: So, tell us a bit more about yourself, Mr.… ?
???: I'm the conversation system used in key moments in the A.Typical RPG. But you can call me Dan. Or wait, Poseidon is better. Call me Poseidon.
Me: I'm going to go with Dan. So Dan, what do you do?
Dan: I am the conversation system used in the game. You should know, you are the programmer who created me. Now let's take a look at how I work :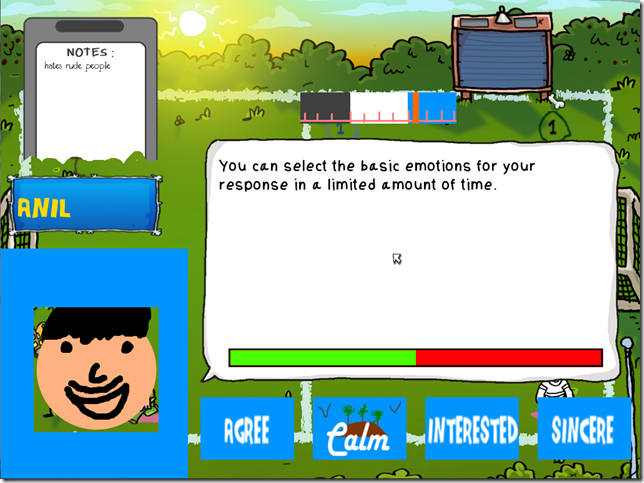 Me: Wow, that really explains a lot, Dan. Except the part about those 4 buttons at the bottom, that bar below the words and that thing in the top left corner. Not to mention the meter above the words.
Dan: Let's go over this again, element by element.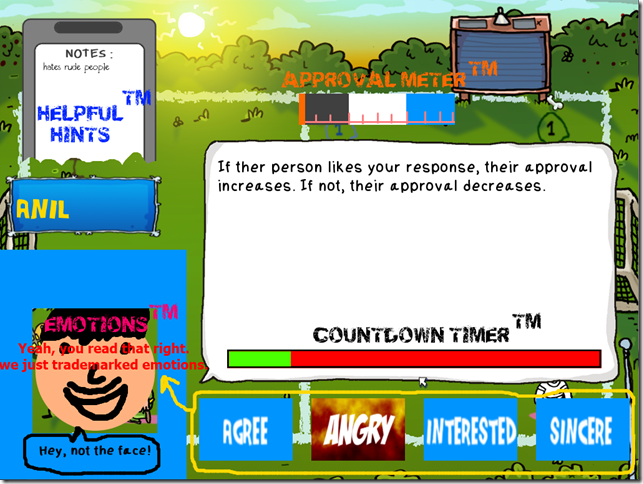 The Approval Meter TM
This shows how much the person you are talking to likes you, broadly split into 3 types : Gray for hate, White for nothing in particular, and Blue for best buddies.
Countdown Timer TM
You don't have all the time in the world to respond to a person. This shows how much time you have left.
Helpful Hints TM
Tells you things you need to know about the person, and choose the response that they like the most.
Emotions TM
In intense situations, all you need to set the correct tone for your reply and the character will take it from there.
Dan : So there you have it. Any other questions, dunderhead?

Me: That art looks horrible and hurts my eyes! Can we get better pictures please?
Dan: Yeah, all of this is placeholder and will be replaced by prettier things, you shallow materialistic shell of a man. Now I have stuff to do and crimes to fight, talk to you later. But before I go, I remind our wonderful readers to follow the A.Typical RPG in the following cyber places!
*Dan vanishes in a shower of 1's and 0's*
Will we see more of Dan, the mysterious conversation system by day and crime fighter in the night! Stay tuned for more news!