Official development news will be postponed this week, but fear not, we will be giving you all a preview of the features available to RTS players in Refusion. We are still working on the project, don't worry - it's just that we are waiting for a few events to play out before announcing what's going on.
We do have some very cool pics to add, mostly concepts and visualizations of what we hope the real experience will be like.
---
Overview
There is one RTS player, or "Master," for each team. The Master acts as the armchair general, much like in any RTS. He is responsible for harvesting resources, constructing buildings and defenses, queuing vehicles and infantry to be trained/produced, and acting as the "eye in the sky" for his team. Though the Master shares more traits with common RTS games than the Fighters do with shooters, it's these similarities that make the integration of human players on the ground that much more enjoyable.
Gameplay
As mentioned above, Masters will control the game with a layout similar to RTS games - point, click, drag, etc. Any units and vehicles that the Master has constructed he will have control over, so long as he has not given control to a Fighter. The object of the game for a Master is simple: total eradication of all enemies. How he accomplishes this task, however, is up to the Master's own style of RTS gameplay.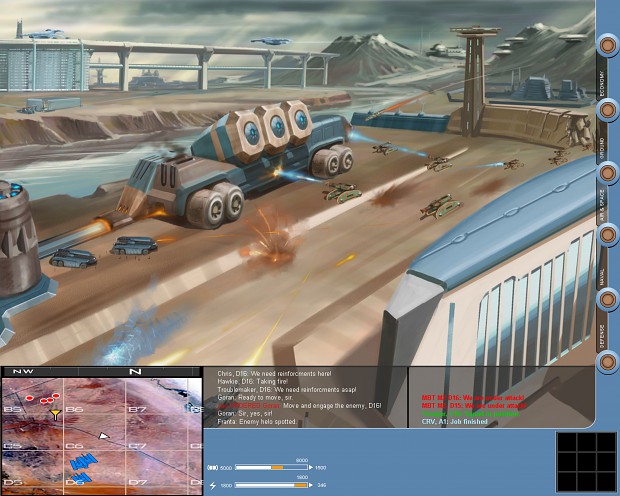 Infantry
Fighters aren't the only infantry in this game. Masters can train up an army of their own using the templates that the Fighters can choose from. While weaker than a Fighter, these infantry are controlled directly by the Master via standard RTS controls. They can help pack more power to the punch your Fighters will deliver, and pad out your defenses so the human players can do something more exciting than playing "Guard Duty."
Vehicles
What would an RTS be without vehicles? When you really need to put more power and mobility into those assaults try applying some good ol' fashioned guns with wheels. There's the same RTS elements most of us are familiar with: research, materials, advantages of one particular vehicle over another, etc. What makes vehicle interaction different from any other RTS is that the Master is not the only one using them. Fighters are allowed to purchase their own vehicles, or borrow one from the Master.
Cooperation
The biggest weapons the Master has on his side are his Fighters. They act as mini-generals, able to view the battle as a whole and yet act upon individual situations. They do not need direction in the same way that a unit controlled by the Master needs it. However, cooperation between the two is vital. The Master has complete control over the units and vehicles he builds, but the Fighters will only do what they want. Even though the Fighters have a will of their own, it is the Master's job to organize an assault plan that the players are willing and able to execute. A good Master will stay in touch with his units and know what they're best at.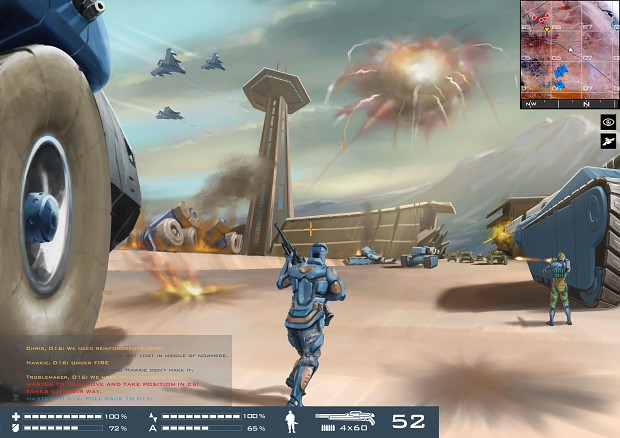 Hope to see you all next time! We'll be continuing with this method of news coupled with some new tidbits about the game, probably up to release! Next time we will be discussing the different races in Refusion, their strengths and their weaknesses.