Kopanito All-Stars Soccer is an arcade soccer game in development, inspired by Sensible Soccer, Kick Off and Nintendo World Cup. If you like these games, you should also like Kopanito.
Sliding Tackle
This move is intentionally overpowered in Kopanito. Sliding precisely gives many possibilities to stop opponents making passes, shots, etc.
Local multiplayer
You'll be able to play a local friendly match with 2 to 5 friends. Any configuration is possible, for example 1vs1, 2vs2, 1vs4, 5vs0. Each team consist of a 1 goalkeeper and 5 field players, non-human players will be controlled by AI. Goalkeeper is always AI-controlled, unless he has the ball.
We've managed to implement support for 4 controllers (along with a keyboard support), so all 5 footballers can be controlled.
Super-moves
Four super-moves are in development: Supershot, Ball magnet, Wall and Charge. They will be available occasionally during a match and will allow to change course of a game.

Other improvements
At current state the game seems free of any major bugs, which we are very proud of (we're conducting extensive internal play-testing).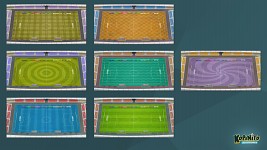 Two additional teams will be present in the game, so there will be total of 104 national teams at launch.
Pitch grass got more colorful.
The game got delayed by a few months, but hopefully we will be able to hit Steam Greenlight in April or May 2015.
---
Kopanito on: KopanitoSoccer.com | Steam | YouTube | Facebook | Twitter