We have a new build of Heroes & Generals online on our new live server with lot's of new stuff and we want all who have received an Alpha-key to help us test it!
The first play session is Thursday the 19th of January at 19.00 UTC and the next one is Saturday the 22nd of January at 19.00 UTC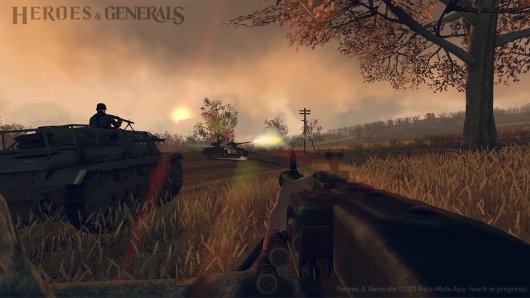 So to all who have already received an alpha key – Go to our new "live server" to access and play Heroes & Generals:
New Play Session Timeslots
The next couple of weeks you can only play the game at certain play session timeslots and the game can't be played outside these timeslots. If you try to log in at other times you will see a count-down to the next play session.
We have two play sessions planned so far. The first one is today (Thursday the 19th of January) and the next one is Saturday the 22nd of January.
The timeslots for the next two play sessions are:
Thursday the 19th of January at 19.00 – 21.00 UTC*

Saturday the 22nd of January at 19.00 – 21.00 UTC*
*UTC = Coordinated Universal Time (Server time)
And for North- and South-American players – don't worry, we'll soon make some additional 'evening' play sessions that will be a better match for your timezones.
We'll keep you updated on the results of the tests and of upcoming play sessions!
The test
We need to stress-test the servers and the game in general, so basically we need you to log in on our new "live server", join one or more missions and just play the game at our play sessions (more about play sessions below).
We would love to get feedback on any issues or bugs regarding the performance you experience and in particular issues related to login, chat, joining missions and download/launch of the missions. And please remember to send us crash-logs!
Please note that the strategy part of the game is currently inactive – i.e. you can see the campaign map, but you can't interact with it – we expect it to be activated soon.
What's new?
In the latest build we have added a whole lot of new things, tweaked some old stuff and there is also a new map you can try. Here is a list of some of the new stuff:
A new Tank Factory map
A brand new Sherman tank is added to the Allied forces
The Messerschmitt, the Kübelwagen and other vehicles has updated textures
Both sides now have bicycles (yes – bicycles!)
A new vehicle is introduced to both sides: the Halftrack
New weapon poses
New Quick Launch menu
New character animations; enter/exit vehicles, reload anims and more…
But I don't have an Alpha-key and really want to play!!!
Don't worry – we need many players for this stress-test. We just start with the ones who already have a key, and over the next couple of weeks we'll invite MANY more!
Sign up for an Alpha-key here!