Hello everyone & thank you for visiting BRT profile page! Three weeks have passed since the last upadate and they were unbeliveably hectic, but still! We are going to stick with original plan and first public playable version of the game will be released next week.
Sound
Game finaly makes some noise now, there is still a lot of sounds to add and tweak existing ones, but something is there allready. I had hard time with ballancing 3d sound setup and distances at which different sonds can be heard as game tend to create just wall of noise when all the vehicles opened fire at once. Hopefuly, this issue was at least partialy solved after tinkering with settings for couple of days and soundwise - the game should be ready for alpha test.
Music
Bocuma is the guy responsible for games soundtrack, and im really happy with his work, as it fits the Blasted Road Terror mood perfectly. I ll now quote Bocuma, as i think its better to let author describe his work:
"Tuning into the post-apocalyptic and dystopian setting soundtracks such as Mad Max: Fury Road / Death Race / Fallout 4 / Boderlands (and a sprinkle of NIN for good measure) have been all playing in the background. Attached is an exclusive preview of 8 selected tracks from what I have been cooking up and all still in a very work in progress manner."
Hope you ll enjoy listening to the preview!
Game improvements
In the meantime i ve been working on various little tweaks and improvements, i think this phase could be called "polishing". Options screen was finaly added, base button layout was reworked, weapon system was tweaked so the different weapon types are now more distinct with their effect on the enemy and using right combinations is more important now, added simple, basic tutorial and more tooltips to help you navigate through game for first time.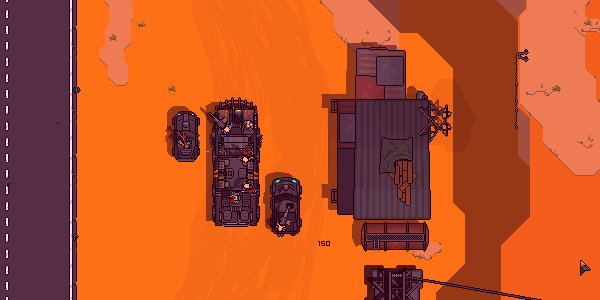 Thats it for today! Hope you ll stop by next week to grab your copy of Blasted Road Terror!
With regards
Tryzna