Saint Deamon - Pandeamonium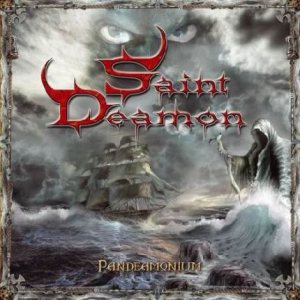 Tracklist:
Deception
The Only One Sane
Pandeamonium
Eyes of the Devil
A Day to Come
Way Home
Fallen Angel
The Deamon Within
Oceans of Glory
Fear In a Fragile Mind
---
Some days ago this album randomly happened to be in my hands. Listening to it I noticed, that it is one of the most bright and emotional metal albums I've heard.
Here is the quite from the Rock Realms review, with which I completely agree:
Rock wrote: The title suggests an absolute unstoppable noisefest and, in some ways, that's what you get. The music is heavy, but it's achingly melodic and, in places, so stunningly beautiful it'll make your heart quiver. 'Celebrity' producers Roy Z (Judas Priest, Helloween, Bruce Dickinson) and Jens Bogren (Opeth, Paradise Lost, Amon Amarth) have done an amazing job on the album. The result is a significant step up from the normal power metal sound.

'Deception' is rhythmically intriguing and builds and winds through several parallel progressions. The chorus, underpinned by a random-paced double kick groove is an appropriate pinnacle to the track. The double kicks continue into 'The Only One Sane', another heavy track with several nods to melodic rock. The guitar playing, in fact the musicianship in general, is as tight as a hippo in a fridge. Jan Thore Grefstad's vocals initially come across as good if unexceptional, but the album would lose character with someone else.

The title track (co-written by Roy Z) is absolutely, categorically, phenomenal. It is both beautiful and powerful in one glorious swoop and will utterly blow you away. This has to be one of the most inspiring songs in years and it has a chorus that could crush Mount Everest. Whether it is a love song, a war ballad or something else entirely I'm not sure, but it sends shivers down my spine every time I hear it.

'Eyes Of The Devil' speeds things up a touch and has a number of disjointed progressive elements that add body to the album. The guitar playing on this track is especially impressive. 'A Day To Come' is another amazing recording with a dreamscape of a chorus. The bass is monstrous and chugs the track along like a freight train through the Rockies.

'Way Home' then comes along and makes the previous song look tiny. Up there with the title track in terms of depth and passion, 'Way Home' showcases Jan's voice with devastating authority. The production, as with whole of the album, is jaw droppingly good. 'Fallen Angel' is another excellent track. The speedy verses, very reminiscent of Mark Boals era Yngwie Malmsteen, sharply contrast with the slow, deliberate and darn right fantastic chorus.

'The Deamon Within' is a racecar of a song that belts along like its brakes have failed. You do worry occasionally that it isn't going to head quite in the right direction, but there's no denying the adrenaline and excitement it generates. 'Oceans Of Glory' is soooooo battle metal it'll make you want to don some armour and a silly helmet. Bloody good track though! Final song 'Fear In A Fragile Mind' closes the album out in cool, almost understated way. The song has some unexpected key changes and a great chorus.

Pandeamonium is a brilliant release. The songs perhaps don't sound as different from each other as would be ideal, but when songs are this strong it barely seems to matter. Definitely up there with the best releases of this year, Saint Deamon have brought us an utter stunner!
Now, when heavy metal and hard rock have became old music, played only by skilled legendary musicians like AC/DC, Iron Maiden, Judas Priest etc. we can't deny, that all these bands will stop their activity soon, like Scorpions.
But what is awaiting heavy music in its future?
Rock/metal is popularised by lots of mainstream poser commercial bands. They play something heavy, but God, please, help us if it is only feature of this music.
We can hear lots of black (and about it) metal bands. Some of them make garbage, others play really good music. But it is not heavy metal already - it is another underground.
Pagan/Folk metal is something interest, there are lots of bands at this direction playing something very, very good. But... most of them are not going at the direction, shown by oldschool bands.
There are also more subgenres, but it is almost impossible to describe them all in few lines.
Actually, what I'm going to say, the only good, maybe even "true" music played by new bands is heavy/power metal, and collectives like Saint Deamon are only worthy future of heavy music at my mind.