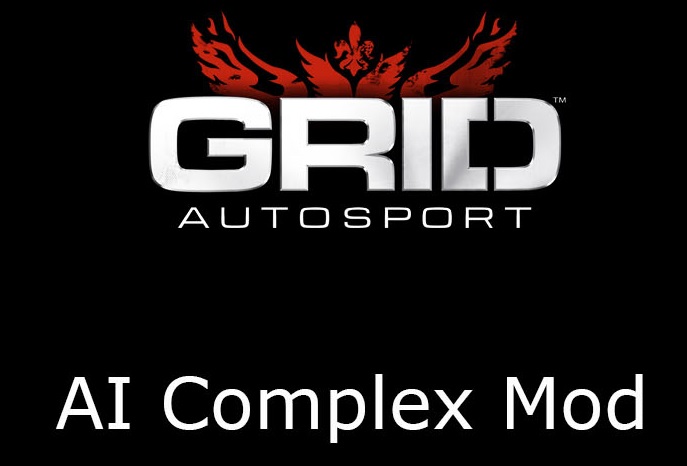 Hi. Grid Autosport is my favorite racing game, but horrible AI ruin all gameplay. I tested a lot of parameters and get certain results.

This game extremely unfriendly to modding, driver profiles containing parameters of aggression, speed, reaction, stability are stored in an encrypted file game.dat, and there are currently no ways to edit it.
Changing only the parameters in the .xml files was not enough, but it's better than nothing.
Mod features
- The AI drives cleaner and more accurate, but not perfect. It was not possible to completely get rid of contacts.
- There are three mod options available:
1. Standard (default). AI slows down before cornering earlier, drives cleaner but slower.
2. Hard ("OPTIONAL" folder).AI slows down before cornering as in the original, drives faster, but collisions more often due to too high entry speed.
3. Very Hard ("OPTIONAL" folder). AI slows down before cornering as in the original and drives with maximum speed throughout the race. (In the original, the speed changes throughout the race, depending on the type of driver).
- Balance and difficulty have been changed. Slow drivers are close to fast ones in terms of speed and attack activity. But without editing the driver profiles, the effect is not enough.
- The probability of a blow tyre and a major mistake is reduced tenfold, the probability of a minor mistake is not changed.
- Disabled catchup.
- Collision parameters changed. Increased damage and impact inertia. The player's car inertia is higher than that of the bot's car.
- AI drops out of the race when the vehicle is damaged by 50% (from 60% to 75% previously).
- Fixed the passage of the first turn in Spa GP, first and seventh turns in Brands Hatch GP. (I have not tested all routes on all tracks).

Installation
1. Copy "ai" and "track" folder in your game directory. Confirm file replacement.This is the base version of the mod, standard difficulty.
2. If the game has become too easy, go to the "OPTIONAL" folder and copy the contents of the folder with the required difficulty. You need to do this after installing the base version of the mod (previous step).
3. To restore original files use "BACKUP" folder.
WARNINGS
1. The game is not saved with modified files. Difficulty settings are also not saved. It's Codemasters protection from modding.
2. I have not configured and tested additional modes: drift, eliminator, time attack, etc.
P.S. Thanks Manoa's mod (racedepartment.com/downloads/ai-enhancements.34610) for the idea of editing some parameters, Ryder25 for Ego File Converter.