Goblin-Town is a residence of Goblins scavengers and their king, the Great Goblin. Their units consists of weak and early game units, Goblin Scavengers and Archers. Goblin Scavengers have "Pillage" ability and they are wery good in boosting your economy, which is their primary use. They can be also upgraded with armor to prolong their usage a bit. Goblin Archers are also weak but can provide additional support for Goblin Scavengers, they can also be upgraded with fire arrows which makes them very useful against structures. In addition to this weak units, Goblin-Town can recruit some stronger infantry, in form of Hobgoblins. They are the Heavy Infantry with "Spiked Maces" Upgrade wich makes them much stronger against Cavalry.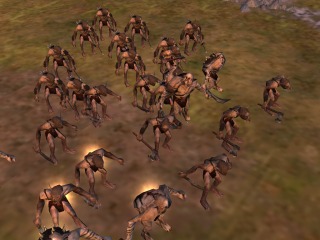 Goblins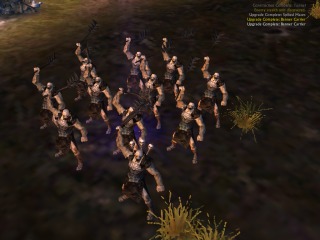 Hobgoblins
Other portion of Goblin army is Moria and its well known Moria Goblins. Once you build "Etenmoors Drum" you can purchase "Goblins of Moria" upgrade, which allows you to build Goblin Cave and train Moria Goblins. They are a bit stronger than Goblin-Town Goblins and are more militaristic oriented. Moria Goblins can be upgraded with armor as well, but they wont be able to upgrade Forged Blades anymore, since Goblins are not very good in making good weapons. Instead they get to upgrade "Goblin Poison" which allows them to use their "Poison Blades" ability. Goblin Archers also can use "Posion Arrows" after this upgrade, but they no longer have "Fire Arrows". Goblin Drummer can be also trained form the Cave, he provides much needed Experience and Armor bonus to Moria Goblins.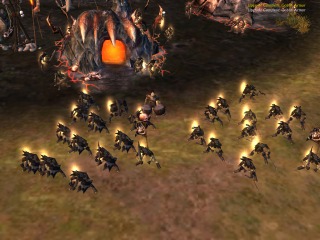 Moria Goblins
But Goblins would be nothing without the support of their monster units. Good old Cave Trolls can be trained from the new building "Troll Burrow" which replaces the old "Fissure".New addition is the monster unit, Ogre, which are seen in third Hobbit movie. They are weaker than Cave Trolls but they train faster and provide excellent support in early game because of their large radius of attack. But that's not all. Goblins are well known for making smart and dangerous devices of war, they managed to train Mountain Trolls to act like a siege device, building a catapult on their backs. These Trolls are also seen in third Hobbit movie and they wery good represents the ingenuity of Goblin engineers. Siege Trolls are the new siege unit for Goblins, they carry a catapult on their backs wich can be deployed and used for taking down enemy structures from afar. However they must be used wise since they cannot move while deployed.
Ogres and Cave Troll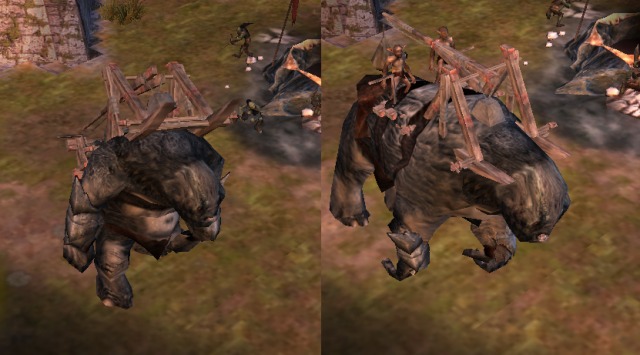 Siege Troll
Fortress also got some rework in order to have the Goblin-Town feeling and unique system. While having few new upgrades, the Fortress last upgrade is "Goblin Throne" allows the Goblin King to enter the Fortress and sit on his throne. When he is on his place of power, his leadership get bigger radius and allows "Scavenging" ability. "Scavenging" is prety much the same power as the pasive spell power only it gives the temporarly bonus to units. "Scavenger" will no longer be passive power in the spell book.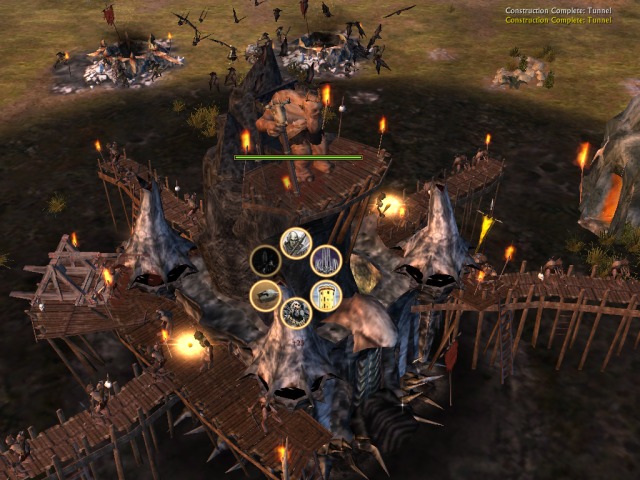 Besides Great Goblin and Gorkil, three new Heroes are added to the Goblin ranks. - Grinnah is the early game Hero, he is quite weak but he provides support for Goblin-Town units. He cannot deal damage to units, instead he scares them with each strike with his whip.- Durburz is the Moria Chieftain (you may remember a certain Goblin Chieftain from the book which stabed Frodo with his spear, only i gave him the name). He provides support for Moria Goblins and he is pretty good in killing enemy heroes.- Ogre Chieftain provides support for Ogres and Siege Trolls. He is stronger than regular Ogres but he also has weak armor against pikes and archers but he is pretty good against structures. He fills the role as the Siege Hero.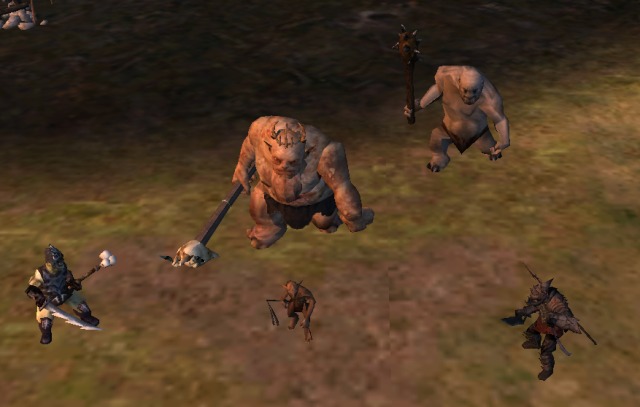 Spell Book also got some changes but most important thing about the Spell Book is that you cannot have both Balrog and Smaug. Because they are the most powerfull beings in Middle Earth and they are both connected to the Goblins, both book and movie verse, they cannot be on the battlefield at the same time. Since Balrog was in Moria, it's logical that he would be available only with Goblins. Smaug is not directly connected to Gundabad, but since in the movie, Azog and Gundabad army, under the command of the Necromancer would seek alegiance with Smaug, i decided to make him available only with Gundabad. This way, you may no longer control both of them, only one per faction.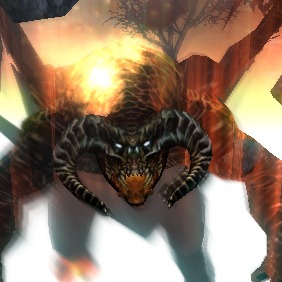 So thats it for now. With this first update, im steadily heading to the next version. Stay tuned, more updates soon...