Later wrote: There will be another open beta today at the IP 89.145.117.246 if you want to join. If you want to skip the horrifying wait of 40mb worth of content to be downloaded you could always download it from here (Does not include actual game mode for copyright reasons, Lua files will download very quickly):

(Recommended)
Well, the beta (December 26th) was a complete success, racking up some nice racing footage and having some fun. I got enough money from just loosing to get me a jet engine. With it I increase my chances of winning. Of course that's just one of extremely many tactics. We're all too low level to unlock awesome vehicles and weapons, so it all started with these normal jeep races without weapons. Later on we found out that the airhorn worked superbly;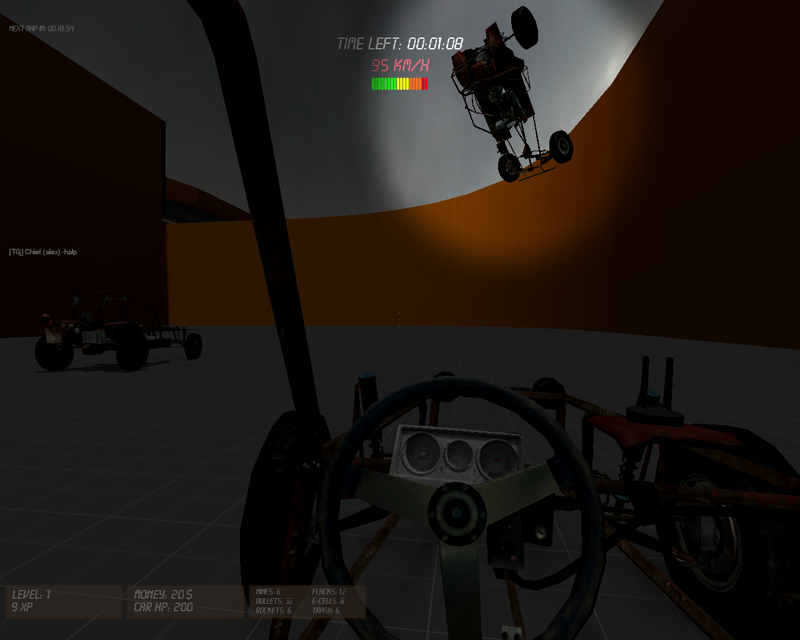 ...and we made a tower!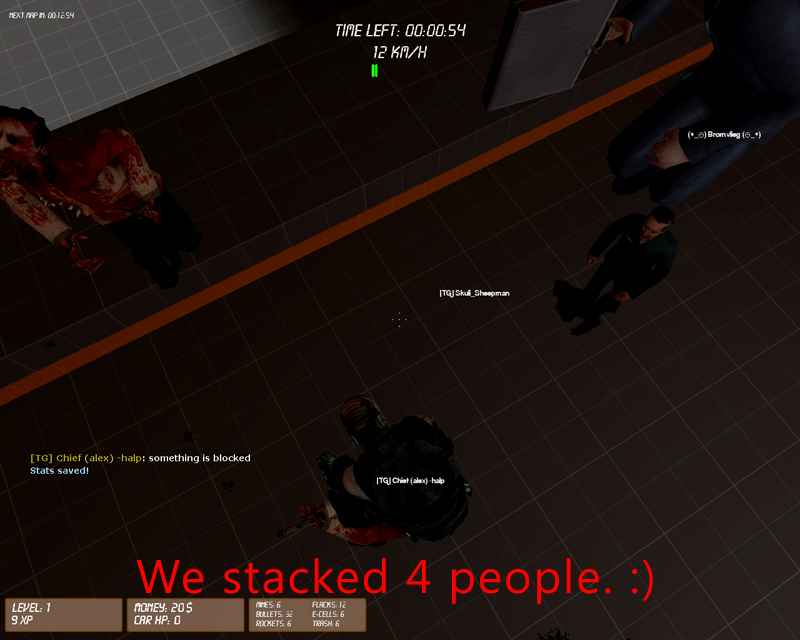 There will be another open beta today at the IP 89.145.117.246 if you want to join. If you want to skip the horrifying wait of 40mb worth of content to be downloaded you could always download it from here (Does not include actual game mode for copyright reasons, Lua files will download very quickly):
(Recommended)
The only bugs visible on the beta were that the player models in the vehicles somehow ended up far from their original vehicle.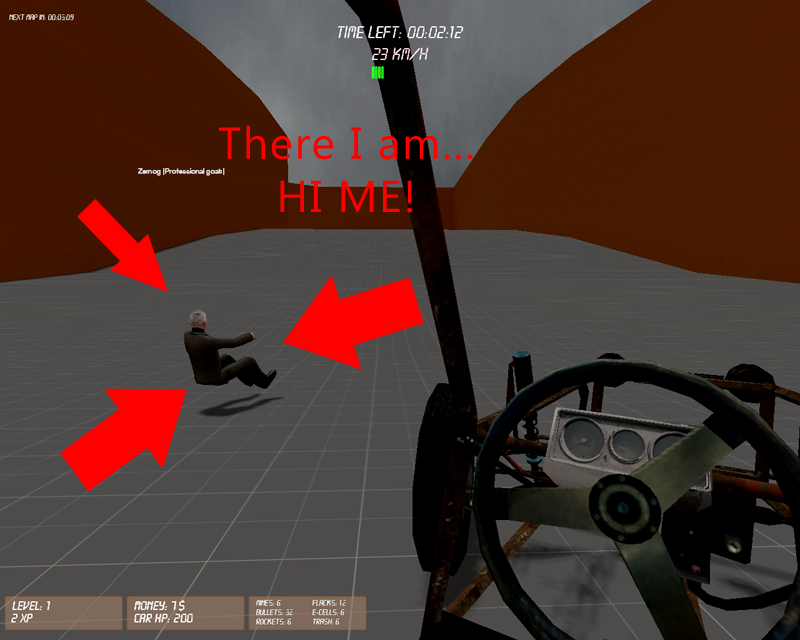 And that some times the timer bugged itself after voting a new map, so we couldn't join the race. Oh, I also promised to make a complete list of weapons, upgrades and abilities added so far.

Weapons:
Gigantic Lazer Cannon
Mouse aimed turret
Proximity mine deployer
Auto Aiming Turret
Short range rockets
Long range rockets
Mouse aimed rocket
Homing rocket
Flack cannon
Jumping mine deployer
Saw blade launcher
Shocket Launcher
Mounted Shotgun
Classical Disasters
MGSG (Massive Goat Spam Gun)
Ike's spikes
Messengers
Boomblaster
Sploders
Abilities (You can only use one of these):
Jet engine
Shield
Turbo
Flight
Invisibility (Donator only)
Jumping
EMP generator (Seriously expensive, donator only as well)
Upgrades:
Trash
E-cell upgrade
Ammo upgrade
Flacks upgrade
Mines upgrade
Rocket upgrade
(And more, probably including armor upgrade)
Vehicles:
Normal Jeep (start vehicle)
VW golf (2008) (quite cheep)
Chevrolet Corvette (this is beginning to cost!)
Ford Mustang (this is quite expensive)
Toyota Supra (this is überly expensive)
Lamborghini Murcielago (This is extremely quadruply expensive)
Next up? Custom skins. You can purchase custom paint jobs from the menu.