Hello there everyone, after a whole day working on the mod this is what we get. A video full of new stuff. A zone system with music / ambient sound. New menus, and much more stuff. We also want to show you our new logo.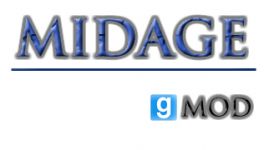 We've uploaded a video to YouTube and ModDB. If you support HD at YouTube then go there: Click Here to watch video in YouTube HD
Heres the video on ModDB:
We really got impressed at the amount of work we've done. Drop a comment and tell us what you think of the game so far and what are your impressions of the game in future.
Once again i want to remind everyone we got a twitter where we keep information up-to-date far more often than we do here.
Click here to go to Midage : Gmod Twitter