After a couple of months of development, the time has come to release the first public build of FYRKANT. It is a fighting game for 2-4 players, with (currently) 13 different power-ups and 4 levels.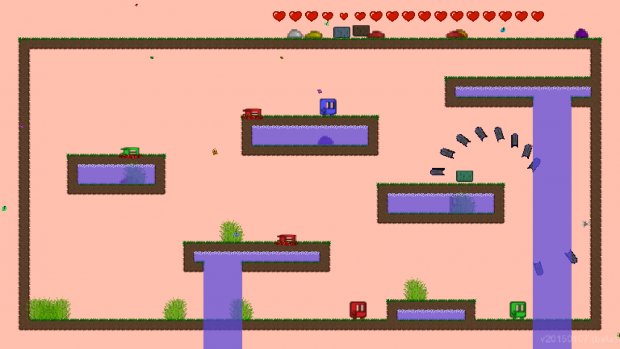 4 players trying to kill each other (can you see the guy who's trying to hide?)
Game Mechanics and Controls
FYRKANT is basically a two-button game, jump and attack, with some modifiers. For example, the function of some power-ups can be modified with the up/down-buttons. The players can run, jump, and do smooth wall-jumps. The goal is to kill the opponents, without getting killed yourself. There are 20 available kills (hearts), worth 2 points each, to fight for. A heart is counted only when one player kills another player. When a player dies, wether it is by own hand or by antoher player, he gets a death score (skull), which counts as -1 point to the final score. The game is made with controllers in mind, but there is a built-in 2-player keyboard mapping so that people can try it without controllers. Use of wireless gamepads is recommended.
Attacks, Weapons and Power-Ups
The basic ways of attacking are jumping on your opponents head, or killing them with your knife. The knife can be directed to the sides, as well as downwards. Power-up boxes spawn randomly across the level, and the content is not known until a player picks it up. There are currently 13 different power-ups: superknife, dynamite, laser gun, rocket, bomb, invisibility, smoke granade, laser bomb, doppelgaenger, laser burst gun, kamikaze, float mode and big rocket. Most of these have quite different funtion, and they can be like a perk or a disadvantage (almost a power-down), depending on the situation. For example, kamikaze makes the player blow himself up, but if he blows up antoher player at the same time he gets 1 kill and 1 death (2-1=1 point!). The rocket is controlled with the players movement buttons, and can be remotly exploded with the attack button. Similarily, the dynamites can be remotely detonated by the player who placed them. There are more small trix and tactics that the players will discover during gameplay.

A power-up box, waiting for someone to pick him up.
Development
The game is developed by one person (me), and the development started in September. I've yet to publish my development log, but would like to do so in the comming weeks. The game is written in GameMaker:Studio, and the development has been an incredible learning experience for me since it is my first game.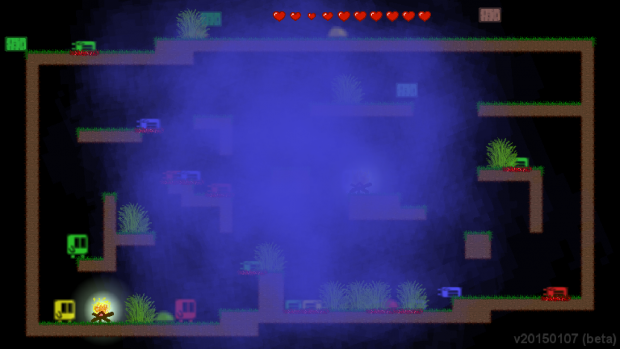 Oh noes, someone dropped a smoke granade! (It was the blue player since the smoke is blue =)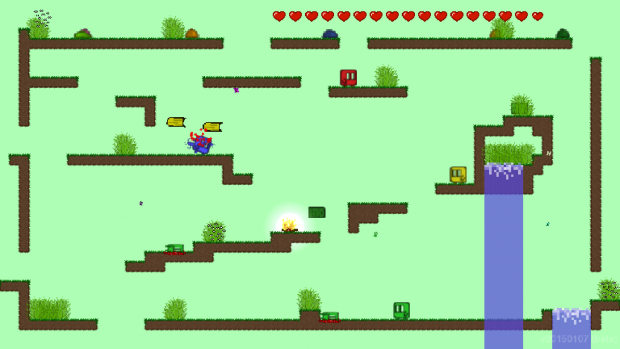 Another level. This one you can fall out of, watch out!
You can download the game (alpha build) from the downloads section here:


Here is a gameplay video with some commentary:
Fight for the kills, don't die and BRING IT ON!!