It's been quite a busy and tough week, but we're back with some updates.
First off, Ian has been working very hard on integrating some new features. These currently don't look great (just text on a big page) so there is ZERO point in posting a picture of them until we get the UI designed properly.
Here are two things which, trust me, are completely 100% awesome:
- Game comments and ratings – watch, comment on, and rate other people's games.
- Facebook-style "Feed", showing recent games, comments, and rankings.
Being able to comment on games is something people have wanted for a long time and is awesome. The Feed is also a great way to keep you updated on what's happening.
We're currently planning (and this is all subject to change) to have an easily accessible system of rankings which should tell you immediately how good someone is, and what they've achieved. Next to someone's name, you should hopefully be able to see their avatar, their ranking and their "decals" - these will be small icons awarded for victories in tournaments etc. We really want the community to be a big deal and we think that community "RESPECT" is an important part of this.
Right now, Ian's working on what he calls the meta-game - this is going to be a structure which goes around multiplayer. It might incorporate some story elements; it might be based around a huge city with various factions vying for control...I DON'T ACTUALLY KNOW RIGHT NOW because the idea is still in heavy gestation. I'm looking forward to finding out what pops out of his brain.
I am currently in the somewhat annoying position of having to search for a new concept artist. Our previous freelance artist went and got a full-time job on us! Congrats to him, but it's a massive shame as we can't use him on the project any more. If anyone out there is a *talented* and *professional* (i.e. full-time, strong portfolio of professional work) freelance artist with relevant industry experience
then please give me a shout. I will look at portfolios by people without significant experience, but I'm unlikely to hire you unless you have references etc.
Now, onto other things...
This week, on Thursday, I will be speaking at a free events for game makers organised by Game Central and Gamer Camp in Leamington Spa. This will focus on our work showing Frozen Synapse at Gamecity, and sharing our experiences of running an event. I'll be up alongside some guys responsible for marketing DJ Hero, as well as digital marketing agency PlayReplay, so I'll be very interested to hear what they have to say. I hope to learn a lot and I'm really looking forward to speaking.
We did, in my opinion, one of our best ever podcasts last week - please take a listen here:
And now, I'd like to ask for your help.
We currently have 170 followers on ModDB (thanks!) but I'd really like to start increasing this number more rapidly. I've been thinking about how to do that, and I've decided, as an experiment, to start giving stuff away as we hit certain targets.
So, for the first giveaway, I want to see how quickly we can hit 200 followers. As soon as we hit 200, I'll put up the first music track from the game, Schism, as a free download. After we get there, I'll find (or make) something else to give out to you guys by means of encouragement! I could do other ridiculous videos, music tracks, MAYBE EVEN A STORY (what would you people make of that, I wonder?)...Anyway, I am willing to give things out if we get followers. Coming up soon will definitely be some keys to the closed beta, but I'm going to wait until we have a higher target to give those out.
It really matters to me that we start getting people behind this game - every single person who signs up counts. If you like the game and sign up, please do tell someone else about it. There will be details of how to do this at the end of the post.
And now some more Meaningless Diary of an Indie Game Man from Singapore...
Don't "Play, Play!" Let me Come Out First!
I don't think I need to add anything to that, suffice it to say, that if you use public transport in Singapore, you will learn to hate that man's face. Trust me, it's not a difficult thing to learn.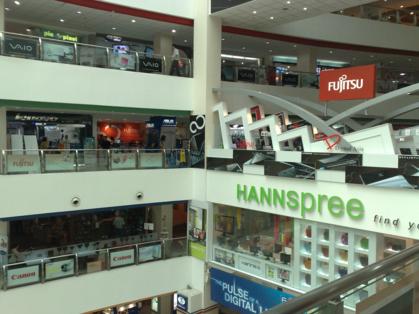 This crazy place is called the Funan DigtalLife Mall. It is a mall filled with carbon copies of exactly the same small computer shop - it's a mix of bewildering and completely awesome.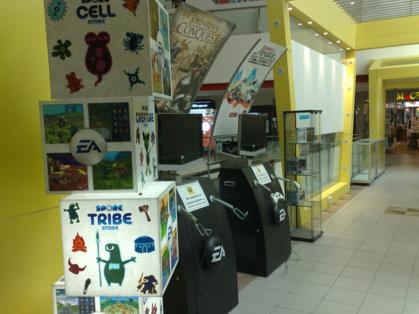 There were some weird demo stations for Spore TRIBE in the mall.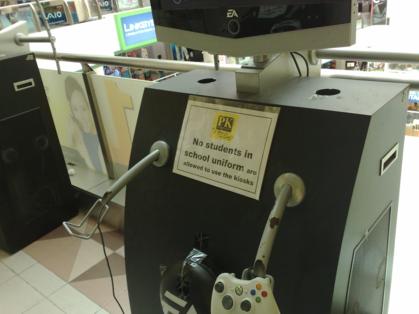 No students in school uniform are allowed to use the kiosks
The mind boggles.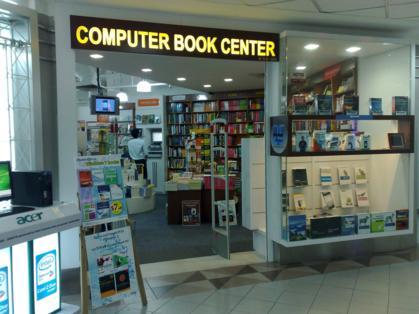 Yes! Just looking at this image makes me happy. This is the BEST computer book shop I have ever been into - they have everything you can possibly imagine in there. Browsing around was highly enjoyable as everything is in ENGLISH. Go Singapore.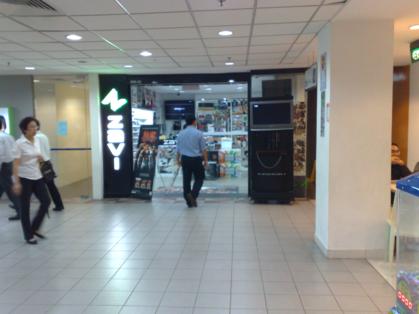 Unfortunately, they only have crappy video game stores in the mall. This crappy picture perfectly illustrates this fact.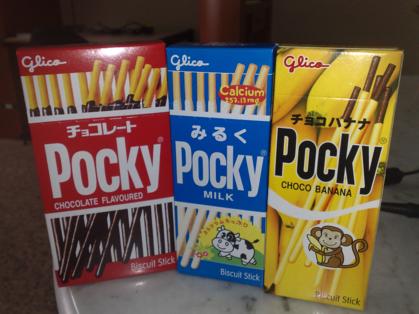 Just to cement the stereotypically nerdy content of this post, I thought I'd add that Pocky is available throughout the city. I normally try to swerve violently away from stupid nerd trends but the truth is that I really like Pocky and it is still hard to get it in the UK. They brought out this utter nonsense called Mikado which is like knock-off rubbish milk chocolate Pocky. Anyway, yes. We bought some experimental alternative Pocky flavours but they were awful, so my Pocky recommendation is to stick exclusively to normal Pocky.
That's it folks. Remember, please help me hit 200 followers and point people in the direction of these things. It's great if people join the mailing list as well, then I can get live updates when people subscribe instead of having to keep looking at this page. Thanks in advance for the help!

(Please track our updates! We try to make each one as amusing and informative as possible. Remember, don't click this button if you are already tracking - it will make you stop tracking! This is the opposite of what we want!)


(If you join our mailing list, we will use it only to send you important Frozen Synapse and Mode 7 Games updates. These will be very infrequent and guaranteed to be interesting! We will never, ever give or sell your precious juicy email to any naughty people - promise.)