Hello. My name's Paul Taylor and I do PR and Marketing for Mode 7 Games. If that sounds confessional, it is. I had an experience today which was a bit like someone offering me a beer with one hand and sticking a pencil in my ear with the other.
Kieron Gillen posted on RockPaperShotgun asking readers to nominate games that they thought were in dire need of PR assistance. we came out as very popular!
Here's one comment from Schaulustiger:
"Frozen Synapse. It's indie, it's from the UK and their PR is nearly as bad as it can get."
That pretty much sums up the general opinion of the thread; quite a few people wanted to jump in support that point of view. There is, of course, an irony here which you may be able to spot, but that's by the by.
Anyway, beer: we love the game! Pencil-in-ear: you're rubbish!
Firstly, what is Frozen Synapse? You probably haven't heard of it...
It's a fast-paced tactical game which has been called, variously, "turn-based Counterstrike" and "psychic chess". It has single player and multiplayer modes; it's on PC and Mac; if you pre-order it now you get the beta and a free copy for a friend. People like it a lot.
It looks like this: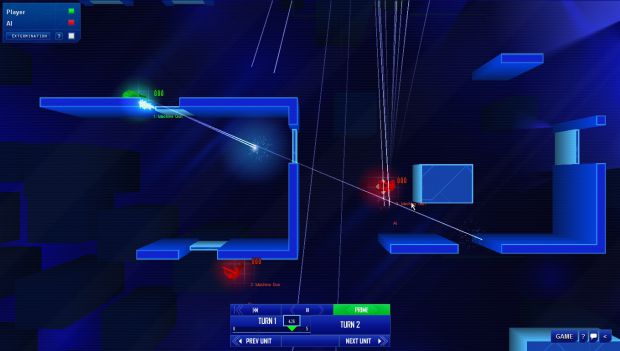 If you are interested, I wanted to break down our side of the story so far for your amusement, interest and criticism; maybe other indies will be interested from a practical point of view too.
Phases
Here are what I believe to be the phases of PR for pretty much any game...
Teaser
Announcement
In-development
Preview
Pre-order
Release
Post-release
Let's look at how we've tackled each of these so far...
Teaser
Teasers undoubtedly work best with popular properties or developers that already have some brand value and buzz around them. However, an indie could break through with some amazing bespoke art, or something very unusual.
We didn't do a teaser, because I didn't think sites would accept one from devs they'd never heard of, and we didn't have the money to pay for anything striking enough.
Retrospectively, I know I'm wrong about this. I think paying money for a teaser is a gamble, but one that could pay off for an unknown indie. If you have in-house art talent with spare time on its hands (we don't) then this is definitely something to consider.
We wanted to do something before we could talk about the game, so we started a podcast (Visiting the Village) and advertised it. People liked it and it did translate directly into some pre-orders. This is something we want to build up as our community grows: we just rebooted it and it's adding listeners each fortnight.
Announcement
By this I mean the "X developer is working on Y game"-type announcement.
At this stage, you will most likely only have concept art. Very few news sites are willing to post based on your concept art alone unless you are a well-known developer. Your announcement will effectively consist of, "[Someone you've never heard of] is working on [something you've never heard of]". If you've ever read Games Press you will know what I'm talking about.
That's not a reason to stay quiet about something at the concept art stage by any means, it just makes this one of the hardest phases and impossible to achieve widespread coverage.
This is where indies start getting into trouble through under-capitalisation. If you want to keep your art budget down, you keep concept art to a minimum - it's easy to burn cash on it, as it's expensive. But conversely you're screwing yourself over PR-wise through lack of assets: we didn't know that at the time.
I have identified this as a problem and taken steps to fix it: our promo art will be a lot better from now on.
Anyway, we did go with a concept-art-only announcement and this was worthwhile: we achieved some coverage and it opened some doors with quite a few journalists who said, "This looks cool - send me more info when you get further along."
At this point, I wanted to test some of my beliefs and assumptions about indie game marketing so I wrote this article for Gamasutra.
This actually got us quite a bit of attention and I still hold firm to many of the opinions I espoused there. I personally showed this to quite a few other developers and got some good feedback on it. Honestly, I was expecting people to pick holes, but nobody wanted to.
I've always tried to expose my marketing plans to scrutiny – I've talked in public about game marketing many times and I like getting picked up on points where I'm wrong – this helps me learn. We have a marketing mentor from a large publisher and I also take advice from other successful indies. The only other way of learning marketing is by messing up marketing, and this is not fun.
We also took an early version of the game to Nottingham's Gamecity festival, where we ran a competition to play the devs at it, which was sponsored by Novint, Warp Records and several other indie devs. We did a press release accompanying this and Gamecity also ran PR on it through their agency. After the event, we released a couple of videos and I wrote a piece for Gamasutra breaking down what we felt did and didn't work.
I was disappointed with the reaction to this: it was our attempt to do something unusual and striking, but for a number of reasons, we didn't get enough of a PR purchase on it. I'd put this down to not having a big enough list by this time, and, paradoxically, the game not being well-known enough. Gamecity was a fantastic event and I'm proud to support it – they weren't able to push our event because...well...nobody knew who we were. I'm pleased that we managed to keep the costs very low – that was important to me.
We asked Gamecity to be a bit more coordinated with getting events and journalists connected together, and I'm certain they'll take that on board for this year: we'll be there again.
I wrote about this, again for the indie-friendly and lovely Gamasutra, here.
The event did reach some people, and it was extremely useful in testing the game: as I mentioned in the article, it's all about scale and cost with these things.
Our PR list has been steadily improving throughout development. This is one area where having additional help would have been great: building a list is super time-consuming and it's hard to have a full list ready to go right before you announce anything. Now, I'd say that our list is much healthier, with real contacts in a lot of places that it's quite hard to get into. Some PR agencies make you pay lots of money (like more-money-than-our-entire-art-budget-lots-of-money) to just send out one press release to their list.
I don't think our problem at this point was reach: I think it was inertia. There was no reason for anyone to listen to us – we were extremely grateful to those who did.
Some sites are very supportive of indie developers – BoingBoing and Gamespot UK in particular are great places to go. Others, like IGN and 1UP for some reason are extremely resistant to opening lines of communication.
I don't hold this against anyone, by the way, it is just the nature of news. Also, we never give up trying to get covered by a particular outlet – I don't take any refusals personally because I know how things work– it's always just because there is more interesting news out on that particular day and persistence usually pays off.
So, did we struggle around the initial announcement? Yes. I have some ideas about what we should do differently next time, because I think we flunked this. My question is, "Can an unknown indie developer pull off a successful announcement without a video?" It will certainly be easier for us in the future.
In-development
If you're a major publisher, you will normally make your announcement accompanied by a pre-rendered movie that is honed and crafted with a specialist team working only on marketing assets. I sound like I'm turning my nose up at that - I'm not - this can be very, very effective despite the large quantity of Internet whining which tends to accompany it.
Personally, I don't believe that it's helpful for an indie to come out with a huge pre-rendered monstrosity: I think promising the earth at this stage can be extremely damaging to your reputation.
However, I think a subtle concept video could really work well and kick off PR early on: it's something I'll consider. As we couldn't announce with a trailer, we made one while the game was approaching late-alpha. We tried to make something as compelling as possible...
We achieved 25,000 views on this fairly quickly. Retrospectively, I now see why many publishers pay for significant advertising of their first trailer but this discussion is about PR.
Although this trailer started to get us interest, we were hit hard by our lack of content here – once you've seen the game and all its modes, all that's left is really much of the same because it has a pared-down aesthetic. We do have some twists in mind for future trailers, but again lack of visual content is a hindrance.
The game's instant YouTube export does mean that it's easy for players to share their own videos, and we've definitely seen some pre-orders off the back of that. I'm expecting this effect to grow with the size of the community.
We did release media and info regularly through this ModDB page – this helped to build up a little community around the game. There was absolutely no way we could ever have got this content pushed out to big sites – us making a new model for the sniper was not news – however, the little group on here who were interested definitely helped us out a great deal. ModDB themselves were brilliant and featured us many times, nominating us for Upcoming Indie Game of the Year.
For games that have more visual content, I'd advocate a progressive series of video releases throughout development. This is actually our plan during the pre-order phase...
Pre-order
...which is where we are now.
This kicked off with our major pre-order trailer in April which got us a very good response...
Off the back of this, we started previewing as widely as possible. We tried to visit everywhere in the UK we could (and have anyone visit us who wanted to) – places like Eurogamer, RPS, Gamespot, Resolution and all the Future magazines were very welcoming. Everywhere else that we can possibly get to in the UK is under constant battery from me to cover the game!
After that, we were inundated daily with requests to do previews and get hold of beta code – this was brilliant and I really hope we managed to get code and info out to people quickly enough.
We struggled initially to get on some of the major sites in the US: Joystiq would only cover our initial announcement, not our release, which was vexing. We would love them to do a "hands-on" – I keep asking! Destructoid are still silent. We've recently managed to get in touch with someone at Kotaku and we're excited to show him the game very soon. We had a very nice "Quick Look" on Giant Bomb recently which was very much appreciated and brought us a lot of traffic. These things are an ongoing battle, and I know we still have a way to go with US-coverage.
If you Google the game now you will see some of the fruits of this period. Please tell me if you spot a major site we've missed: it's very possible, and actually our community were very helpful with this at one point.
We've followed up our initial trailer with some other things – a lot more community involvement and a couple of sillier videos for Eurogamer among others. This sort of behaviour is definitely something we'd like to continue in future – I would really like to inject a bit more personality into our public face; a kind of PR-oriented non-poisnous Botox.
My metaphors were not responsible, but when sales dropped, we did a sneaky little promotion to tie in with the election.
This kind of thing is a great short, sharp PR point – I would recommend it, although it was so last minute that we struggled to get the news out in time. Planning further ahead is definitely something I need to do more!
Finally, we've done some coverage around the music for the game which I composed. Computer Music in the UK did a very extensive interview with me, including a look at my production techniques, and I also did a little thing with MusicRadar.
I'm currently working on an interview for the awesome CDM, which I'm hoping to finish later today. Finally, there should be a big, exciting announcement about the soundtrack coming very soon...
The state of play
When E3 hit, our sales disappeared. They have since recovered – it was a very odd effect to witness – the news channels simply got jammed and people were suddenly obsessed with new games that weren't out yet. When the excitement died down, they reverted to seeking out new games they can actually play right now!
We used this time to work exclusively on the game without talking in public, and plan our return to pushing the game soon. I think this was the right decision: I stand by my assertion that it's not sensible to compete with giant news stories. Indie game news is best for slow news days: sneaking onto the bigger sites when Microsoft aren't dropping meme bombs on the world.
Sometimes, you need to work on your game without talking about it, otherwise you start promising things. We've been extremely careful not to promise features that won't make it into the final game.
We got asked recently if we've "lost momentum": I don't think we have at all. In fact, I was delighted to see that people noticed when we did stop talking. I wanted to give everyone a little bit of a break from us before we came back with new things to talk about. There is now an awareness of our game, which gives us some leverage when we do choose to release new media or talk about things.
Future plans
This week, I took a look at things and saw a window to do some more PR: that's why we've now started to work on a brand new trailer.
I will be pushing very hard to get some coverage in countries other than the US and UK, as this is where we're seriously lacking. Despite coverage from our friends at Canard PC in France, BGAMER in Portugal and several other places, we should be doing more to reach a European audience. If we've not been covered well in your country, I'd love an email with some suggestions of websites and magazines you read.
The single player portion of the game is where I think a lot of our later-stage PR will come – the kind of stuff you'd expect from a much bigger game – there will be a lot more opportunities when we have more content ready to go. I'm very excited about this but we have to keep a lid on things until we're set with what we're doing.
I'd like to do some more development-centric content: why we designed things a certain way, what new features people can expect and so on. You will see some of this around the place soon.
You will see much more around the place soon.
I work on building the list every day if I can. I'm happy to talk to anyone who is interested in covering us.
We're looking into things like upcoming events, conferences etc. etc. We've entered Indiecade and the PAX 10. I'm desperately hoping we can get to PAX as that will definitely help us meet journalists in the US. We'll be entering the IGF; we'll enter anything. I'll speak anywhere that I'm invited.
We're still in early beta and we're a way off from release: our PR is out of the blocks and running, but we're by no means in full flow.
"Nearly as bad as it can get"
Do you want to read two poorly organised paragraph about my feelings? If not, please look away now.
I'm genuinely mortified by the idea that I'm under-representing Frozen Synapse, that people I've dealt with and members of our community think I'm terrible, that the job I do every day is a failure. Receiving this opinion is not fun. I want to know specifically what I'm doing wrong so that I can improve and give this game the attention it deserves.
Most of all, I'm hurt by the perception that we're not trying, that we somehow need to be shaken. All I can say is that I am completely committed to making this game a success, and I will listen with great eagerness to anything you have to say on that matter. Now, I'm aware that the sentiment is, "The game deserves more coverage", and that's lovely, but I seriously want to address the perception that we are not doing all we can.
(And we're back.)
Now, I open the floor. If there are sites you think should cover us, please let me know. If there are activities you think we should be doing, events we should attend, or places you think we should be spending money that we are not, please let me know. Break down our terrible PR and help us build it back up again.
If you are a journalist and I haven't talked to you yet, or I haven't talked to you enough, I apologise totally. I am talking to you now: interesting things are happening at Mode 7 Towers; drop me an email.
Finally, as Ian said on the original comments thread, thanks for the mentions. Nothing is more important to us than the fact that people feel passionately about our game.