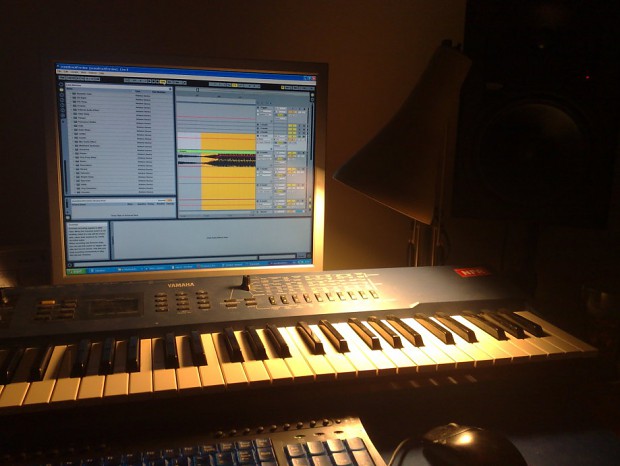 After many months of slaving away in here, the Frozen Synapse soundtrack is nearing completion. Here's a long preview of what it sounds like:
This was all written by myself. My role as "business guy + art director + musician + sort of single player sub-designer + sort-of-producer + guy who brandishes the QA whip" is often fairly bizarre, so it's good to actually focus on music exclusively for a while.
I wanted to do something that was "soundtracky" without being bland or just full of loud atonal banging noises like a lot of action game soundtracks. Also I wanted a very synth-oriented texture with some nice warm sub bass and quite punchy drums - I hope I've achieved that.
I'll be making ambient stems for all of these tracks to go behind the planning stages in-game so it's not too obtrusive, but you'll be hearing these full mixes during action and playback moments.
If you're interested in technical stuff, here's a list of some things I use:
Yamaha CS1x as a MIDI controller - win
Ableton Live...whatever we're up to now...version 8 I think
Focusrite Liquid Mix for compression and EQ - really highly recommend this
East West Symphonic Choirs, RA, Voices of Passion, Symphonic Orchestra and Stormdrum
Lots of other synths like Sylenth and V-station
An Edirol R-09HR stereo recorder for recording live bits and weird foley noises
I use a lot of the internal Live effects - I'm a particular fan of the Erosion effect as you will no doubt hear!
I've really invested a lot of time and effort in this soundtrack and I hope it serves to add a huge amount of atmosphere to the game. We're currently working with a new concept artist who is a long-term friend of mine, and I think his art coupled with the music and also the new single player stuff we're doing will add that necessary layer of immersion.
If you'd like to get hold of this soundtrack straight away, you can get it by pre-ordering the game and buying the Premium version on the far right. If you're an existing customer and you need to upgrade, then try this link.
In other news, Robin has been working very hard on the single player missions and by the end of the day we will have the first draft of the campaign. This will need some extensive work next week in order to figure out what we've got right and wrong about the structure. From there, it will be on to tweaking the individual missions, refining the difficulty curve and writing all the text and dialogue needed.
Ian has both worked on a new mapgen (as you can see from our previous news post) and started work on overhauling the YouTube export to make it a bit better. Hopefully that will be sorted soon.
Very busy times here but we're getting more and more excited about the forthcoming release of the game next year.
In order to add insult (no, that's the wrong word) to my current workload, I'll be speaking in Leamington at an IGDA event organised by Blitz Games next Thursday. If you are around then please come and say hello.