Steam (Steam)
Yay, basically!
We're pleased to announce that we'll be hitting Valve's world-leading distribution service when we release Frozen Synapse in Q1 2011.
This will give us a much better shot at hitting a really significant audience; we think the game will be a good fit for Steam.
I want to say thanks very much to everyone who has championed the game so far, especially those who specifically showed their support for a Steam release.
Now, here's some important info...
Valve have offered a free Steam key for Frozen Synapse to anyone purchasing it direct from www.frozensynapse.com, where it is currently available for pre-order.
This will enable everyone to receive the benefits of the Steam version with no extra cost, as all existing Mode 7 customers will all also receive a key.
This means that you will get any and all benefits of the Steam version, irrespective of where you buy the game. So please, go ahead and pre-order if you want to support us - you'll still get a free copy of the game for a friend and some other stuff too if you buy one of our bundles.
We're not yet ready to announce our specific plans for Steam integration, but things like achievements and easy matchmaking are definitely on the agenda. We'll be devoting some time to that as we get further towards the end of development. We really, really want to make sure we make the most of being on there and the cool community features we will have at our disposal.
Single Player Teaser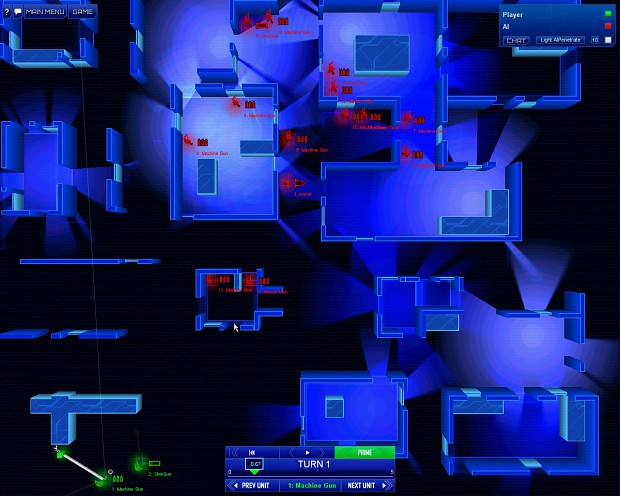 We're still not making the full announcement about this yet, but here are some things that will definitely feature:
Every mission will be different each time you play it
The unit positions, level geometry and mission objective locations will change each time, although the overall objective will remain the same. You kind of need to see this in action for it to be completely clear, but we're very proud of it. This works right now.
"But wait! What if I like one particular configuration of the mission and I want to play it again!"
You can! Every time you complete a mission, it's unlocked for you to score attack. We'll have online leaderboards as well, so you can see exactly how your friends did and even load up recordings of their plays.
There will be some variations on the current unit types in there
Although these aren't completely new units, playing around with some stat-tweaked units in different situations is really fun. These units will be unique to single player.
That's it for now - full details will be coming soon.
Stuff that isn't Single Player
As you can probably imagine, SP is taking up a lot of our time right now. Here are some of the other things we're working on...
This should total 8 in-level tracks, as well as menu and briefing music, end credits music and a couple of other bits. There's a lot of music at the 90% finished state at the moment, which is why I haven't added it to the music pack yet. Sorry about that! I hope to get some more out there soon.
I need to do a bit audio push to get the final SFX in there as well.
We're yet to do the final push on the UI - I will announce that in advance so you can all get your comments in. We're completely committed to making the UI as usable and fiddle-free as possible; I think we got quite a way there last time and it will take one big shove to get this sorted out.
Big menu tidy up / shakedown
I've got some interim designs ready for the new structure to the menus - this should make it MUCH easier to organise your games and friends. There are also some plans to improve chat and foreground it a bit. The main aim here is just to slap what we have currently into shape so it's a lot CLEARER.
We want to improve YouTube exports a bit, add Facebook and Twitter stuff, do a bit of a tweak to rankings, stick in a nice animated logo at the start and LOTS of other under-the-hood stuff...it's all coming soon.
Testing testing testing testing testing...
We're now gunning for a specific deadline for content completion so we can do lots of testing. It's really important that the game WORKS! There are still some quite annoying bugs in there and these will take time to track down.

How are we doing?
We're not putting out sales info at the moment, but suffice it to say that sales are good enough to allow us to continue development. The support we've had from people pre-ordering the game means that we're genuinely able to do Frozen Synapse justice and finish it off in the best way possible: thank you very much!
If you haven't pre-ordered yet, please think about doing so. As we just mentioned, you'll get a free key to add the game to Steam on release, so you won't miss out on any Steam-related stuff...


Support Frozen Synapse in the IndieDB Awards
If you want to support us, then please vote for us. Here's how...
1. Register for an IndieDB account
2. Sign in
3. Click the green "VOTE FOR THIS INDIE" button near the top of our profile
Please don't vote without an account or without signing in - Guest votes aren't as valuable in the competition. Cheers!
We could really use the boost of doing well in these awards - we've come close to winning things a couple of times now (we were nominated last year and recently got an Honourable Mention in RPS' awards at the Eurogamer Expo) - help us actually win!