Excitement is rising here at Mode 7 Towers in advance of what will actually be the first public showing of Frozen Synapse. Our artist Matt has added a few nice little touches just to give the beta some polish: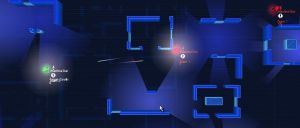 Once we've tidied up some of the unnecessary text around the characters, put in some nice new icons, given the menu a tweak, resized everything and finished off a little bit of colour tweaking, I think we'll have something that'll definitely look nice on a few screens in a tent!
Ian is currently working on our competition game mode for the festival: this is likely to consist of a set of "Endplays": single turn challenges. You have to look at your opponent's setup, then make a quick, instant plan to defeat him. This should work really well - there will be a few endplays to train on, and then the EVIL DADDY competition endplay where we'll personally craft the nefarious plan our challengers will be up against. Should be good! I'll keep you updated on that through the week.
We're planning on having a looping video playing as people come in, which should give some tutorial pointers on the game. I think this will really add to the atmosphere - ace video maestro Bin is wrestling with resolutions and codecs over in the corner right now.
Talking of Bin, here he is standing next to our awesome promo banner: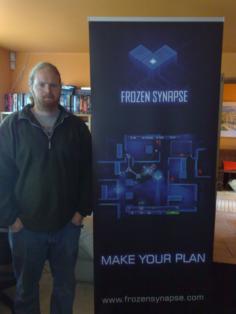 Bin is not a small man - this is a significant banner! It's going to go outside, or just inside the entrance to the event. Very cool for us to see the artwork blown up nice and big like that - we've always said indies should shout about their games more and this is...a visual shout. This thing will be schlepping around the world with me to every conference / expo we go to - really hoping to hit PAX next year...
Let's talk about prizes...I got into the office this morning to see this waiting for me...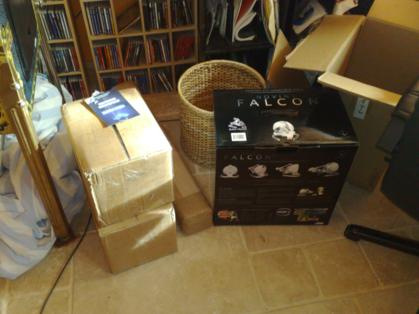 Various mysterious boxes! Contained within...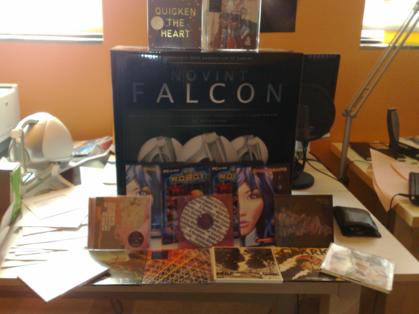 ...a massive prize haul! Note: my wallet is not a prize. So what do we have here? Well, there's the Novint Falcon, copies of Starscape and Mr Robot, a copy of AAAAahaAhahaAhAA - A Reckless Disregard for Gravity, CD's from Prefuse 73, Maximo Park, Clark, Squarepusher, Grizzly Bear and others!
For those of you new to these updates, I always like to provide a bit of a behind-the-scenes glimpse, so here we go...um...yeah.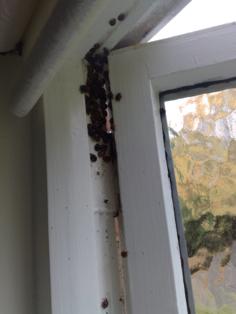 These are ladybirds. Loads and loads and loads of ladybirds. They have decided to "overwinter" in our house and must be endlessly encouraged to bugger off. It is vexing. They apparently lay down some kind of horrible insect SIGNAGE which prompts more swarming. Those of you following these updates closely will remember the small cluster of ladybirds from before. They have now EXPANDED.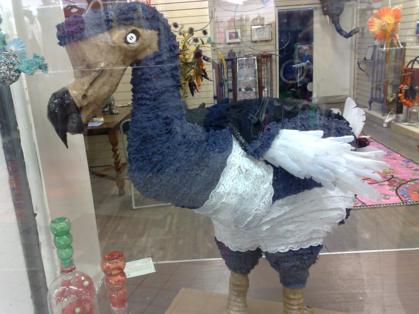 On Sunday I had to go to Coventry. Um...this was there.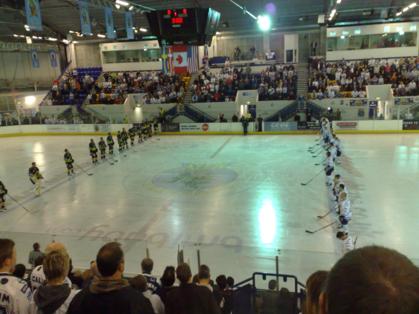 I also went to see the Coventry Blaze ice hockey team play the Nottingham PANTHERS. This was, generally, awesome, but a total ludicrous affront to the game of hockey. They have anglicised this deft game and tranformed it into a brutal slugfest. It was amazing. I witnessed the world's most girly fight as well - I would post but it probably violates some taste and decency criteria. Coventry Blaze won 5-2. Before the match, this gimpy, disturbing man came out and skated around. "How many goals did we score against Nottingham last time?" he bellowed. "Not one, not two, not three, not four, not five, SIX GOALS!!!!" This is a brilliant way to psyche out your opponents - I am going to start doing this when playing tennis.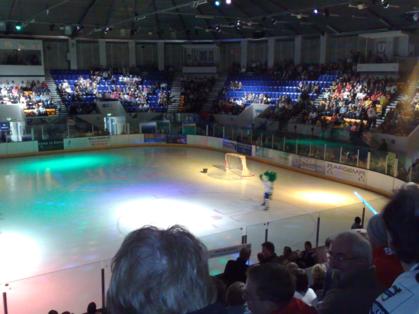 At least they managed to keep up a bit of HYPE in the true style of the game, with deafeningly loud music, stupid lights, and this terrifying dragon thing. It looks like there are about seven people at the game, but that is just because the stand in the corner was quite empty.
England is such a mixed bag. Sometimes beautiful, sometimes hatefully ignorant. I enjoy passing things like this amazingly S.T.A.L.K.E.R.-like post-apoc building when on the train, though...
I'll be posting more regularly this week as we descend into Gamecity Crunch - enjoy!