Greetings all and thanks for your recent feedback on the background - we've made some progress...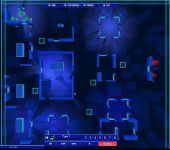 The background is still interfering with the foreground a bit too much, but that should be fixed with our new floor layer (coming soon). I'm planning a few things like glow and fading lights to add a kind of lattice effect behind these cuboids too, and Johan should be working on a design to accompany them. That will be it for this iteration of the BG, I think - I'm pleased with progress.
There are so many art tweaks that need to happen: I want to add some flicker to the glow, and also some colour cycling effects for specific events, then there are all kinds of little touches that need to happen. Matt's currently working on integrating the particle system with projectiles, so bullets will throw off little sparks and light up the area they're in a bit more.
While examining things closely for art I came across this amusing animation bug we're calling Sniper Bunny-hop...
Despite protestations, this is unlikely to make it into the final version!
Ian is currently working on something really special for multiplayer. We wanted not just to have random matches between players but set things in more of a context...a world, if you will. Initially, we thought this kind of thing was too ambitious, but I've seen Ian's new design doc and it completely blew my mind. He's come up with a system that is 1.) practical and 2.) might just allow everyone to contribute to a kind of persistent world. I won't say any more right now, I don't want to promise anything as this is in the very early stages, but it could be very exciting. It has something to do with this...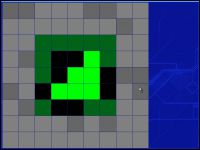 Ambiguous, huh? I'll keep you posted!
Finally for today, here's the latest episode of our podcast Visiting the Village...


(This button will take you straight to our IRC chat room where you can talk live with the developers of Frozen Synapse!)

(Please track our updates! We try to make each one as amusing and informative as possible. Remember, don't click this button if you are already tracking - it will make you stop tracking! This is the opposite of what we want!)


(If you join our mailing list, we will use it only to send you important Frozen Synapse and Mode 7 Games updates. These will be very infrequent and guaranteed to be interesting! We will never, ever give or sell your precious juicy email to any naughty people - promise).