The state of play
Videos speak louder than words, as absolutely no sages of old would have us believe, so here is a quick gameplay vid that shows the precise state of the game RIGHT NOW...
I'm happy to reveal this - our policy with videos has been "no bullshit" so far and we're sticking to that. We want to give you a good look at the game as it develops.
A lot of new graphical stuff is on the way (including very nice things like blood splattering walls, a new shotgun effect and the full force of the background generator) but we're pretty happy with how things are looking at the moment.
Pre-order beta announcement
We have decided that the game will definitely be released as a "pre-order-gets-you-the-beta" very soon. This means that you will pay for the full version of the game in advance, but get immediate access to the beta and every single update we put out until the full release version.
The feature list is basically finalised: I will reveal the whole thing in the next few weeks.
PR!
We had a great visit from Henry Winchester from PC Format magazine this morning - we should have a preview in there very soon. On Tuesday next week, we'll be heading to Bath to visit PC Gamer, Edge and anyone else from Future Publishing who wants to turn up! These occasions are always really fun and we hope this will be no exception.
Testing...testing...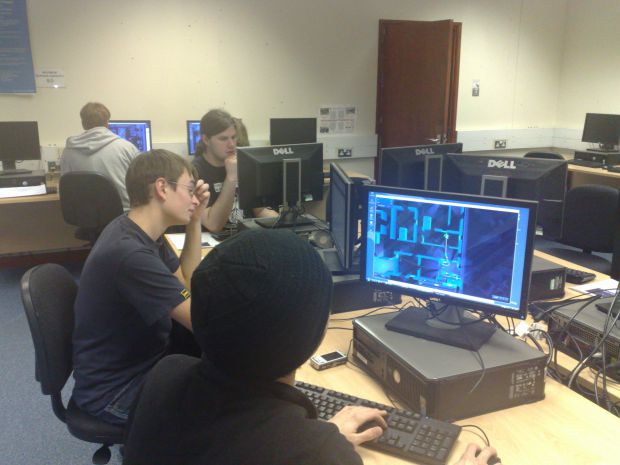 Our big beta test at Reading University was a great success! We'd like to thank the staff and students there for making the experience great all round and run really smoothly. A massive amount of very useful data was collected. Here is a quick vid...
We were very pleased that all of the testers rated the game very positively; they also flagged a lot of useful issues with the UI that we are working on every day, trying to make the game as usable as possible.
You can do an incredible amount in Frozen Synapse: move a unit to a pixel-perfect position, make him wait, aim, set his stance, tell him to ignore certain enemies, cast a glance across the room, duck in and out of cover....Giving the user all this power but keeping the interface tidy is a really huge challenge and we're facing up to it - it's tough, but we'll get there eventually.
More soon! We're back into UI crunch to get some of the fixes we've identified in there and polish the game even more - I will keep you updated.
Thanks for the ongoing support and please come and visit the Facebook page for unbelievably frequent updates.


(This button will take you straight to our IRC chat room where you can talk live with the developers of Frozen Synapse!)

(Please track our updates! We try to make each one as amusing and informative as possible. Remember, don't click this button if you are already tracking - it will make you stop tracking! This is the opposite of what we want!)


(If you join our mailing list, we will use it only to send you important Frozen Synapse and Mode 7 Games updates. These will be very infrequent and guaranteed to be interesting! We will never, ever give or sell your precious juicy email to any naughty people - promise).