International Roguelike Development Conference (Europe)
I've set up the venue, the time, the dates, and the format, of this year's IRDC! I'm trying something a little different this year and I invite everyone to come along. You can read about it here on my website, on Reddit, or on Roguetemple, and please get in touch if you're planning on coming along! The more the merrier, and this year's will be something really different and, hopefully, something really awesome.
URR Development
The past two weeks I haven't been able to get as much coding done as anticipated – partly from spending a lot of time travelling, partly from some truly baffling real-life events, and partly from other commitments – but I've been turning my attention to the other civilizations in the world of URR (primarily the nomads, but I've also put together some early work on hunter-gatherer building interiors) and also the generation for some of the other buildings in cities, like mansions and jails. So, here we go:
Mansions
Manors come in four sizes – small, medium, large, and "massive" (one of which the player will begin in, as a lesser noble). The images below show one medium and three large (the massive are not yet finished). The smallest manors can be found in upper class districts, potentially sometimes in middle-class districts once I rewrite middle-class district generation (but there would only be one in the district), and in the future will also be found in towns if the civilization has the Vassalage policy (I'm continuing to work on making the variation from policy choices more and more explicit). The medium size, then, can only be found around the edges in upper-class districts, where the "second tier" of families live (I might call these "lesser houses"?); the next size up can be found in upper-class districts only, where they are also for lesser houses, but those with real aspirations to becoming a major family in that nation; and the largest can only be found in upper-class districts; each district contains three, which house the most important families in that nation, one of which will be the ruling family. Manors contain living and dining rooms, at least one "special" thing – which might be a portrait, an ancient book, a valuable piece of armour, and the like, and which will likely be mentioned in books and other NPCs as a valuable family heirloom – and also store rooms, and quarters for servants (or, if the nation is a slaving nation, that room will be less pleasant and for slaves). The storage room is the only current "empty" room on the pictures below, simply because I haven't yet implemented the various item types that will soon spawn there.
You'll also notice a little visual difference in the floor – since all of these buildings have the "ornate flooring" terrain type as their default, I decided I wanted this to be very visually clear and explicit, and I really like how this looks. Cathedrals also had the same floor type, but I found they would be slightly too visually busy if they were displayed in the same way since cathedrals generally have more stuff, so I decided to only make this change here. Personally, I think they look bloody gorgeous. Be sure to click on them to really appreciate the colouring used in these! In the first picture, the floors are the upper floor, the ground floor, and the cellar, in that order from left -> right.
Citadels
In the centre of every nomadic fortress is a "citadel", a last retreat for that nomadic people in case of disaster, war, and so forth (within which the nomadic rulers will dwell, along with various other unusual and rare rooms). I wanted to model these on a lot of palaces from northern Africa and southern Spain, so they have a certain "oasis" feel to them as well as being places of fortification; one will often find extensive gardens within the walls of the fortress, and within these gardens you'll find things which spawn nowhere else on the map – intriguing stone stele, nomadic graveyards (a rare thing indeed), and if in the "capital" fortress of the nomadic nation, you'll find some other intriguing stuff on the upper floor, according to the policies the "government" of that particular nomadic people pursue. I tried to make these citadels quite "oasis-like" – they have open areas, trees, and fountains and water, and with some interior/exterior areas, and with appropriate areas that the game can use to place slaves, servants, weapons, guards, etc, in future releases. There are two different floor types here – both are "ornate" floors, but they are displayed differently; which do people prefer for citadels? I'm definitely going to keep the "minimalist" ornate flooring for cathedrals, though.
I've also put in the code for the game to create gates inside the fortress, which will then form balconies you can walk over on the higher floors, although I haven't yet got around to generating the upper floors: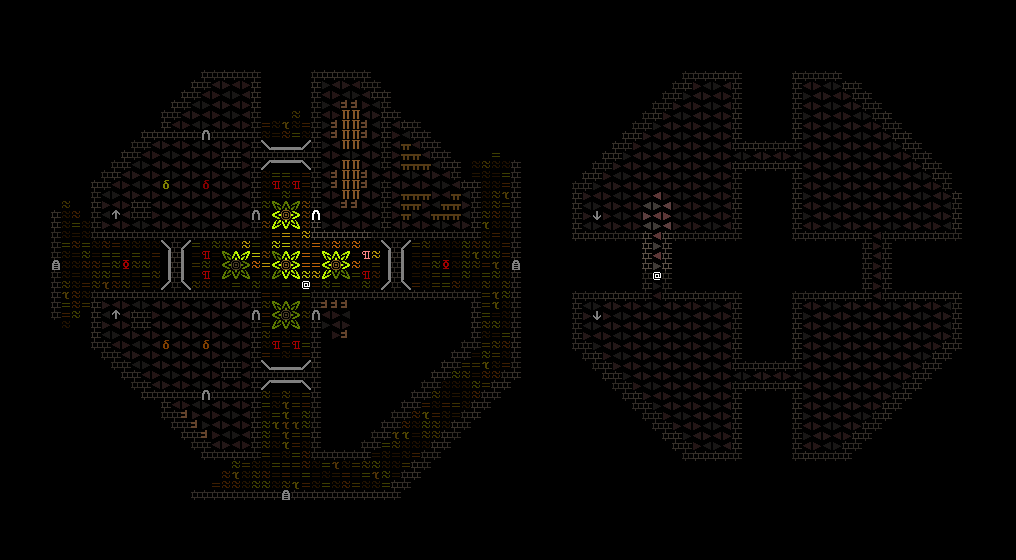 Jails
The first picture is from one jail "shape" showing how the stairs link, and then the other two show the player actually wandering around two variations of the "sideways pyramid" jail archetype, and in the latter case, I didn't explore many of the cells (which, after this release, will of course be locked and require the jailer's key) but just opened up a couple. As you can see, each floor is always similar, but with a slightly different layout of pillars, corridors, etc, and the empty room on the ground floor will be the jailer's office:
Barrels, Candles, Miscellany
Also just threw together some of the new lookup graphics required for this release. Have a procedurally-generated ale barrel, and candle stands: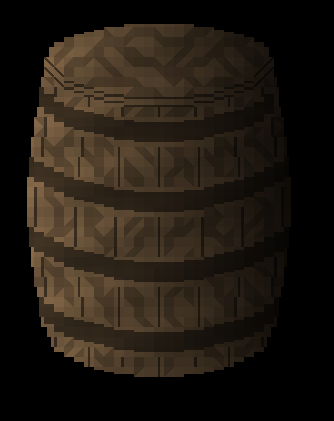 What's Next?
Well, next week we'll probably have a very in-depth and detailed entry about altar generation, the one I mentioned a little while ago. As for this release, I've definitely crossed the 50% point in these past two fortnights. By the update in a fortnight's time, I'll also have the massive mansions done, and most of the remainder of this release (I hope). I'm still aiming to release 0.7 in March. It's… a stretch, as I have two academic papers I need to finish and submit this month, as well as beginning the preparation for my thesis defense, but it's the target. Meanwhile, go and sign up to this year's European IRDC and help us bring roguelikes to a wider audience than ever before!