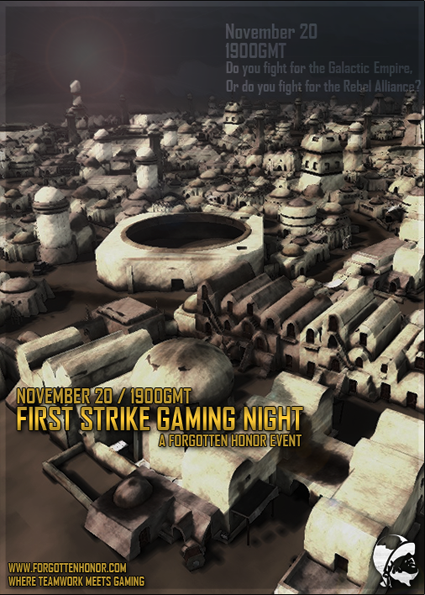 First Strike Gaming Night
Saturday - November 20 - 1900GMT
Server IP: ts.forgottenhonor.com:(to be updated, check back here for details)
First Strike Gaming Night
Fight for the Galactic Empire or the Rebel alliance with the weapons, vehicles and locations of authentic Star Wars settings. This gaming Night places you in the shoes of a standard trooper. Be an AT-ST Driver, fly a TIE-Fighter or even command your own Rebel Nebulon-B Frigate. Fight battles from Tatooine to Endor, Rhen Var to a dogfight over the Death Star.
Join our Gaming Night and play with your friends on the First Strike Modification over at Forgotten Honor.
About Forgotten Honor
Forgotten Honor is an international gaming community that has a great amount of experience in arranging online events for games. Founded in 2004 by several players who wanted to organize ''teamwork'' emphasized battles for video games, Forgotten Honor has been growing until becoming one of the leaders in online events market. Nowadays hosts several tournaments and campaigns for different games, organizes multiple events, has its own modding development unit and is supported by an active community.
Teamspeak 3: ts.forgottenhonor.com:9987
Server IP: ts.forgottenhonor.com:(to be confirmed)
www.forgottenhonor.com
It gives us all at First Strike the greatest pleasure to have an experienced and respected gaming community such as Forgotten Honor taking an interest in our mod and we'd like to thank them for offering to host a games event showcasing First Strike and introducing their members to the FS experience. We do hope you all turn up in your droves for this event whether you're new to the mod and trying it for the first time or just returning to us to see what new developments have been made with the release of 1.5. Either way there could not be a better opportunity to play the mod as intended with large numbers of players going hard at it across the galactic battlefields, on land or in space.
It is going to be a lot of fun, so see you out there troopers!
Plus, if you enjoy yourself at the event this weekend don't be shy, cast your votes for First Strike in this year's ModDB Awards.
May the Force be with you.