Hello ModDB folks. Announcing, a little later than I'd planned for, the demo version of my latest opus, Fish Fish Bang Bang. A one switch game of chicken with more colours than your average rainbow to bridge the gap between Squid Harder and the upcoming SYNSO3.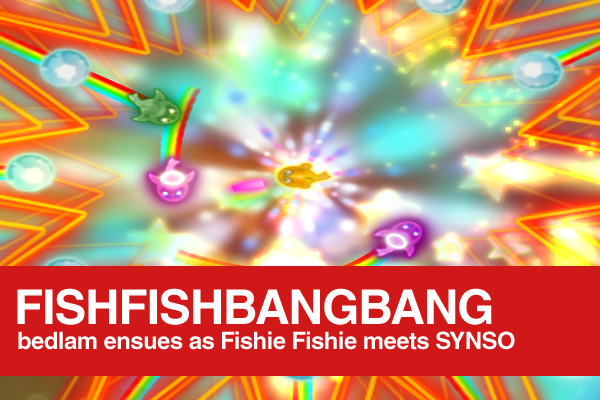 What is Fish Fish Bang Bang?
Fish Fish Bang Bang is a videogame. Collect gems. Shoot fish. Rainbow stars!
Throughout July both myself and the uber lovely Farbs of Captain Forever, Fishie Fishie Fifty and Playpen battled to the death to make the best game from each others work over at Indie Kombat.
Controlled using a single button, help Fishie Fishie defend the universe from errant fish invaders determined to give him a hug. A deadly hug of poison fish love.
Stop the hugs by blowing their fishy faces off with multicoloured lasers.
Fish Fish Bang Bang features:
Insanely colourful effects.
Play with only one button or switch
Look ma, no hands! A game that plays itself if you don't want to
Full version will contain configurable effects levels and many more stages
Awesome music by Swith
Laser beams and fish
Flashing lights. Lots of them
Indie Kombat?
I know, I know. It's a silly name but in fairness, it's a silly place.
The idea behind Indie Kombat is to pit developers against each other. It's a bit like a deathmatch but with development instead of gibbing. Probably.
It was inspired by my initiative to get people creating games using what I've created to date. Both Farbs and myself took the inaugural rounds to kick things off.
Fish Fish Bang Bang was the fruits of my labour, Farbs produced Fish Squid Time Machine for the Xbox Indie Channel. Naturally enough meaning he was bound to lose.
The Trailer
Because no demo announcement would be complete without something pretty to look at, here's the trailer for Fish Fish Bang Bang.
The Future
At the moment, I'm busying myself putting the finishing touches to Fish Fish Bang Bang. Given the rules of Indie Kombat meant I had only 1 hour a day for 4 weeks to put into coding the game up, a lot of stuff I wanted to include never made it into the IK release version. Hence calling that the demo version. As it is, you've still got 15 levels of increasing insanity (and it does get quite bonkers the further you progress) to busy yourselves with and aim to score as much as you can.
I'm aiming to get the full version out by the end of September as part of The Bundle Of Wrong (short version, it's a pay what you want scheme where you get access to everything I write for Bagfull in the forseeable future.)
As ever, I'm absolutely open to feedback on what you like/dislike and would love to hear from folks what they think of the game. It's quite the departure from my normal stuff as it does, admittedly, lean a tad towards the more casual end of the scale and I'm interested to hear what people make of it.
So, y'know, feed-me-back if you try the demo and if there's any issues about things I can do something about, I'm more than happy to get to work and make the game better than before.
In the meantime, please, give the demo a blast and let me know what you think.