Hi,
We took part in the recent Ludum Dare 31 competition. We made a game in 72 hours (or less), and it's multiplayer, too!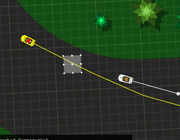 Multiplayer only!
The game is a multiplayer game. Try it with friends at your next LAN-Party!
Post-Competition, we've added a dedicated server (online now - to connect, use germanunkol.de as the IP address), fixed some bugs and added a new map.
Custom Maps:
In GridCars, you can easily create your own maps - stay tuned for a tutorial on how to do that in the next few days!
Voting:
If you took part in the Ludum Dare as well, feel free to submit a vote on our game, and let us know about your game in the comments so we can rate it as well!