Happy Easter Troopers!
Yes, we are still alive and kicking. Many apologies for the delay, that of this news update (has been almost two months since the last), and for the ongoing delay in the next release of First Strike. In the final stages of testing on Jundland Wastes it was decided that some additional tweaks were needed to further hone the gameplay design of this map. These tweaks would involve a number of time consuming changes. Unfortunately there has been some further disruption within the development team with a key member having to withdraw from the team before these changes could be made. With already dwindling resources this was a bit of a blow, but we have regrouped, and are heading full speed forward again with a new mapper and coder, further polish is being applied to all elements of the map ensuring that this release will be well worth the wait. We're currently implementing these new changes in testing, and those results will determine what state we are in, and how good things are looking in terms of getting this new content out to you guys. So bear with us, and we'll have something quite special out to you before you know it.
In addition this seems like a perfect time to remind you that we are actively recruiting this year as we have need of artists and mappers and coders. Texture artists would be particularly useful, as would prior knowledge of working in the Battlefield engine. We are looking beyond the next release and forward to the most ambitious in game rendering of the Battle of Hoth that there has ever been. We already have an expansive Echo Base modelled, we're mainly looking at texturing and object population of that asset, the AT-AT Walkers are also pretty much ready to go with just interior modelling, texturing, and some coding to be done, we still have to look at the overall terrain mapping for the map, but we really just need the man power to put it all together and we'll have an immense detailed and lore accurate representation of that most iconic of Star Wars battles.
If you have the skills and the passion for all things Star Wars?
Then sign up here:
Lastly as a little Easter present here is the full image of the Jundland loading screen to whet your appetite for this imminent release.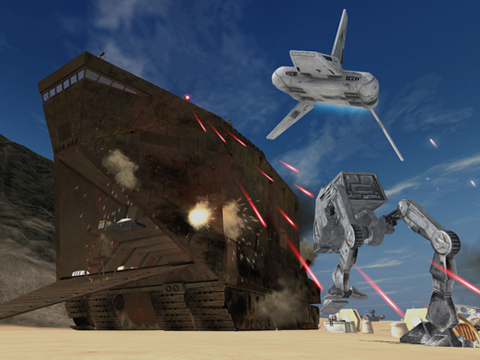 Enjoy.