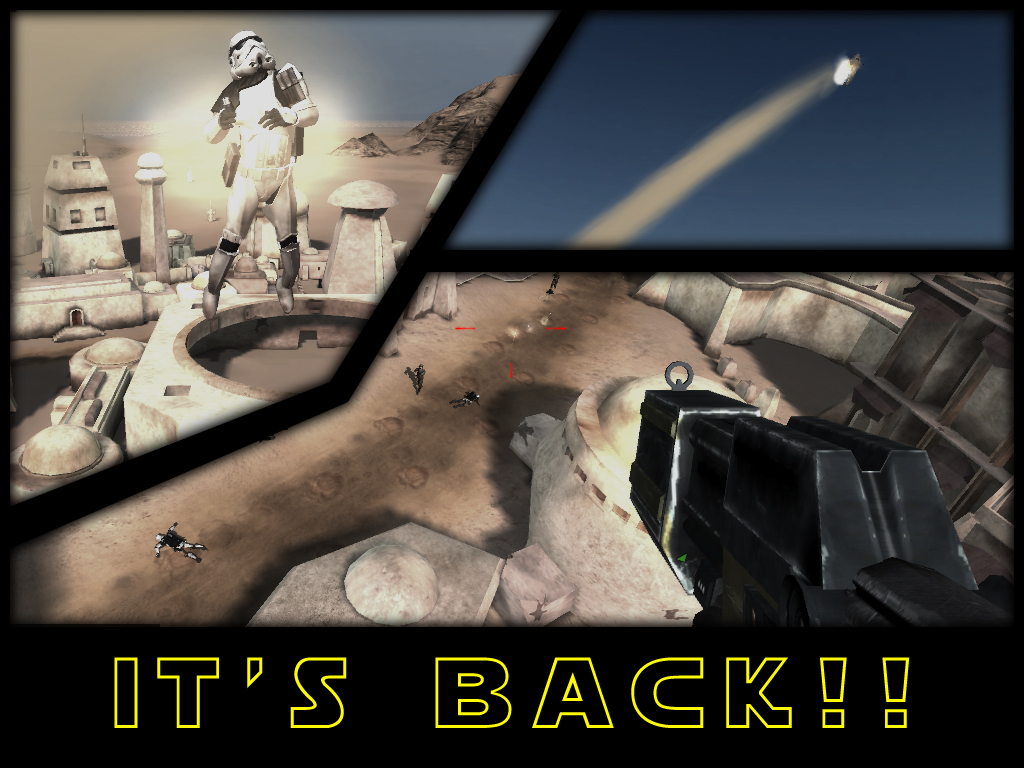 Greeting Troopers,
It's taken a while to get things set back up, but thanks to a huge fan, Allumette, hosting a server for us, we will have the first big multiplayer event this weekend. The Revive team has been graciously hosting a coop server, but this is the first time we have had a big event where we can play those multiplayer only maps, of which three new ones were released shortly before the final release of the mod when development ended over two years ago: Dathomir Prison Break, Parmel Invasion and Silver Station. Since many of you may not be familiar, I will provide some background and eye candy for each one.
Dathomir Prison, secluded on the the planet Dathomir, has a long history of use as a penal colony. The Galactic Republic had used the planet as a place to send various criminals and outcasts of society. These people were left on the planet with no possible means of escape to live out the rest of their lives in solitude.
The Imperial prison is overseen by the Imperial Inquisitor Olof. Prisoners kept here are some of the most dangerous to the Empire, and as such were left in this remote facility to be forgotten about. The prison is guarded by a regiment of Stormtroopers.
'Following a critical victory for the Rebellion, Alliance forces have captured a key Imperial advanced starfighter research station at Parmel. The occupying force must now capitalize on their good fortune by securing all the data they can regarding the facilities advanced starfighter program. Unfortunately an Imperial carrier group patrolling the sector has been diverted to the system to investigate after receiving a distress call from the station. Now the Alliance forces must defend the installation until they've completed their mission, and on seeing multiple landing craft launching, prepare for boarders.'
With Parmel Invasion we address a long sought after desire among First Strike players, and that is to produce a dynamic boarding map which takes in all the scope and complexity that a Star Wars battle can offer. Space conflict featuring capital ships and star fighters, boarding craft objectives for you to defend or destroy, and the thrill of landing a boarding craft on a space installation and disembark with the intent of invading and capturing that installation, with all the dynamic complexities and game play choices that scenario suggests.
The station itself, a fantastic asset built by FSDev Redmonkey some years ago has undergone an overhaul to get it up to date with new statics and other dynamic effects to really breathe life into the thing and add atmosphere. The game play within the location should prove most interesting too, with wide open hangars, cargo bays and a multi-level central core to fight over, not to mention claustrophobic compact corridors and broad sub hallways and observation decks littered with makeshift barricades to assist in the defense of the installation. There are also a few little surprises in there for you to look out for, so keep your eyes peeled.
As far as the space aspect of the map is concerned there should be a lot of interesting and unique elements to the game play choices on offer. Taking on the role of boarding craft the Lambda Shuttle and Sentinel Landing Craft make their First Strike space map debut. Ever wondered how the Lambda handles in the vastness of space? Or how a Sentinel would fare going toe to toe with a capital ship? Well on this map you'll find your answer
In addition to this we are proud to announce another First Strike debut, with the inclusion of a new carrier model of the Imperial Carrack Cruiser equipped with fully operational TIE racks. This means that for the first time in the mod you'll be able to launch fighters from a playable capital ship. This should add a very interesting dynamic to the flow of the map's game play. The capital ships do not re-spawn. Once they're gone, they're gone. So if the Imperial faction want fighter support for their landing craft they'd better keep their Carracks in one piece. Similarly, for the Rebel faction several CPs are linked to the various landing platforms and hangars of the station. If they are captured they lose their ability to wage war out in space, with the exception of their capital ships and a small number of starfighter reinforcements in the form of a squad of B-Wing starfighters. So things should get very interesting indeed.
What this map is going to be all about is choice. Do the Rebel defenders commit all their forces to the battle in space, fielding the maximum number of space assets possible in the hope of vanquishing the Imperial forces before they have a chance to set foot on the station? They could, but they risk the chance of someone getting through only to find there is no one home. Or do they deploy ground troops at key locations around the station in preparation for the imminent arrival of Imperial boarding parties? Do you focus your Sentinel on making it to the station to help facilitate that boarding action, or do you turn its powerful weapons on the capital ships defending the station? It is all about choice, and we fully expect this to become another fan favorite map.
Silver Station, an important Alliance supply depot protected by stolen Imperial technology finds itself under attack. The heavy Imperial bombardment sends a power surge through the defense net scrambling automated sensors and creating targets on both sides. Suddenly new signals appear on the sensor scopes as both Alliance and Imperial ships respond to the growing distress calls. This region of space now faces a new threat, one that takes no sides...
With this map, FSDev Twigs continues his one man crusade to create innovative and interesting additions to First Strike's collection of space maps, and this one delivers very nicely, giving us something new from both a game play perspective and visually as well, utilizing many assets from the First Strike library not yet featured in any publicly released maps, not to mention many new assets developed specifically for this map. So what is different about this space map? Well all other First Strike space maps have tended to be objective based. Destroy specific targets, escape to the jump beacon, destroy all enemy capital ships, etc, with the exception of Strike at Parmel which is essentially a Team Death Match game with starfighters. In Silver Station, like with most ground based maps you'll have tactical areas you need to gain control of to win the map. So basically the Conquest game mode has gone to the stars.
In addition to this there are other factors that have been added to make things more interesting. As the back story notes, this is a Rebel Alliance supply depot, essentially a huge space station hidden from all but the most focused of prying eyes by its proximity to a nearby sensor jamming nebula, it is surrounded by container yards floating in space, which are in turn encompassed by a defense grid of stolen Imperial automated weapons platform satellites. The engagement on this map takes place after the depot has been discovered and has already been attacked by Imperial forces who knock out essential computer control systems aboard the space station causing a power surge which sends the defense grid loopy. Now these weapons platforms could target any ship in the depot's vicinity, and this has resulted in the devastation of the Rebel ships guarding the installation and the Imperial ships attacking it. Now that reinforcements from both factions have arrived on the scene they'll find themselves falling prey to these pesky weapons platforms, or being assisted by them. So do you go in all guns blazing and take out all the malfunctioning turrets before they can fire on you? Or do you go in more tactically, and wait and see if the turret acts friendly or not before engaging? These devices come in two flavors, Ion Cannon and Turbolaser. Getting caught in the crossfire between an Ion Cannon and Turbolaser weapons platform doesn't even bear thinking about, and if you're about to engage enemy ships, just be aware of your surroundings, as one shot from an Ion Cannon turret could leave you a sitting duck for your intended victim. It certainly spices things up, that is for sure.
Finally there are some tactical advantages to be had at some of the control points. In addition to gaining tickets to win the map, some of them offer advantageous properties such as ship repair and ammunition replenishment, so get to those container yards while they're hot. All in all we expect this map to give you a unique space combat experience to what has gone before, as you hold and defend positions against enemy attacking vessels, dive into dizzying arrays of floating freight containers as you perilously dogfight with enemy starfighters hoping to shake them off your tail with a timely collision. Or sweat it out as you tensely await the sound of your ship's power systems coming back on line after you've just been hit by an Ion Cannon while helplessly watching that enemy vessel moving in for the kill.
So head on over the files section and grab a copy of the installer, and then run the updater to patch to the latest version. We even included a zip version of the current mod for those having issues with the installer or the updater: Moddb.com
Revive Launcher: Battlelog.co
Good Luck and see you on the battlefield Troopers!