INTRODUCTION
Welcome, this guide is intended to help you install and solve the most common problems reported with First Strike. First Strike is a total conversion mod for Battlefield 2142, placing the game in that galaxy far far away.
Some quick notes:

The path directories mentioned here are the default ones created when Battlefield 2142 is installed. If you install Battlefield 2142 to any other file path you must ensure that First Strike also extracts to that location.

The mod does not alter ANY BF2142 files, it creates it's own directory folder in C:program files/electronic arts/battlefield 2142/mods.

The mod is built to run on a valid licensed version of Battlefield 2142 patched to 1.50. Cracked copies of the game are not supported and this mod will not help you bypass any of the games security checks.

The mod will install its own autopatcher and launcher program. This should be used to launch the game, do not attempt to launch the game through the First Strike.exe found in the Battlefield 2142 folder.

INSTALLATION
Ok, with those bits out of the way, it's time to crack on. For users running Windows XP, installation is straightforward. Simply run the downloaded installer, ensuring that the program installs to your Battlefield 2142 directory. You must ensure you allow it to also install the First Strike autolauncher and updater.
Installation under Windows Vista and Windows 7 can be a little more involved. It certainly helps to turn off User Account Control, if you are not happy to turn off User Account Control, then you must ensure you have administrative rights in order to install.
Install BF2142 and update to 1.5
Install First Strike 1.5 (at time of writing this is the latest version)
Right click on both BF2142 and FS icons, then set to run as administrator.
Run First Strike and allow it to update.
*Note, when clicking on the installer for either game, you may need to right click and select run as admin.
When running First Strike for the first time you may get some firewall warning pop-ups, remember to allow First Strike through your firewall!
If still encountering problems on Vista or Windows 7, right click on First Strike and check if it is running under compatibility mode for earlier versions. If it is, disable compatibility, if not, try setting it to run under compatibility mode for Windows XP.

CRASH WHEN LAUNCHING
A common problem reported is a crash to desktop when first starting First Strike. This is most often reported by users running widescreen resolutions. In order to allow First Strike to run widescreen, and show widescreen resolution options in game, we have included the ability to enable it from the First Strike launcher.
Open the launcher but do not hit deploy.
Click on file then preferences.
In the small windows is a field titled Arguments, in this field you can enter ANY resolution you wish. To enable widescreen options simply enter: +widescreen 1
Click apply then ok.
You can also use this same field to enter any resolution not supported from the in game options. To do this, again find the arguments field as above. This time enter +szx **** +szy **** substituting the asterisks for your resolution, eg +szx 1920 +szy 1080.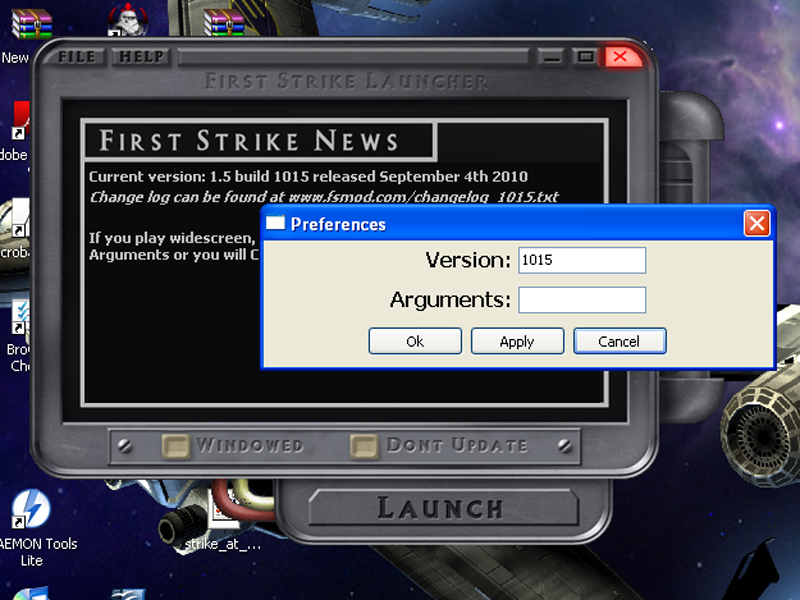 CANNOT FIND SERVERS
Some users are unable to find servers when in game. To find servers running First Strike, first click on First Strike servers tab from the multiplayer menu. Ensure all buttons along the bottom are unchecked except for same version and same mod. Click update, the menu should now populate with all servers running First Strike.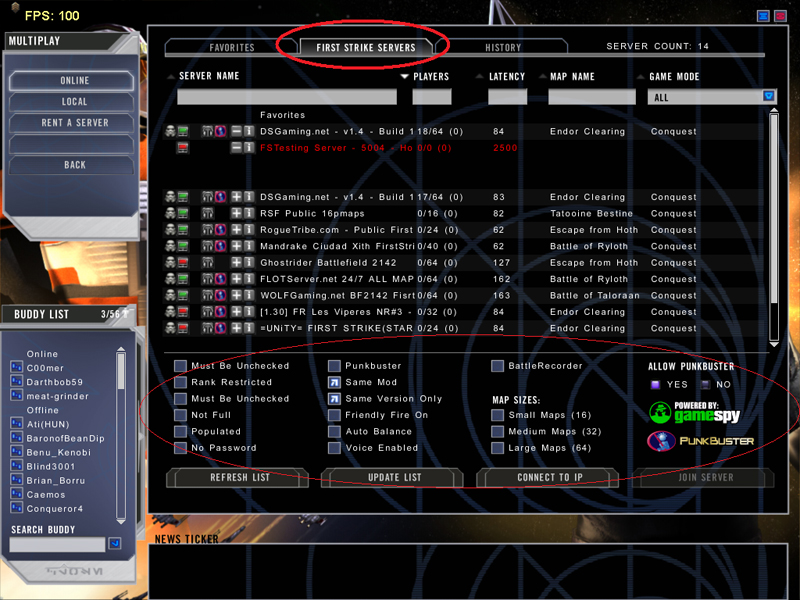 ISSUES WITH PUNKBUSTER
If you find you are getting disconnected from servers with a punkbuster error you can try the following. Ensure punkbuster is installed on your system and running, you can do this by starting taskmanager and under processes look for pnkbstrA and pnkbstrB. You may need to tick the checkbox titled 'Show processes from all users'. If you cannot see those processes then you will need to reinstall Punkbuster. Go to the EvenBalance website (just Google it), and download punkbuster. It will ask you what games you have installed, direct it to look for Battlefield 2142. It should then correctly identify the game, instruct it to check for updates. Once updating has finished you should then be able to run the game with no further problems.
CRASH WHEN USING SOME VEHICLES
There have been reports of game lock ups when using some vehicles, particularly the AT-ST. The symptoms are game freezing, with a constant looping of recent sound. No game response, and user may have to alt tab or ctrl-alt-del to bring up task manager and halt the game. This seems to be a compatibility issue between some soundcard hardware. To fix this, in the game options menu disable audio hardware and set it to software, then disable EAX.
CRASH WHEN CLICKING DEPLOY
When a map loads and you click the deploy button it can be one of a number of reasons.
1) The server is running a different version of First Strike. Check you are running the latest version of First Strike (1.5 at time of writing). As First Strike has the ability to download incremental builds produced by the development team, you must ensure you allow these to install. You can check which 'build number' you have installed by clicking on File, Preferences in the launcher window, the build number is displayed in the field 'Version'.
2) A recent patch has not yet been applied to the server you attempted to join, try a different server.
3) You have attempted to join the Development server. This server is used to test new content by the First Strike team. Attempting to join it using the publically released files will result in a crash to desktop.
Other crashes and game freezes can often be solved by clearing your cache, this is found in My Documents, Battlefield 2142, Mods, FirstStrike. Just delete everything in the cache folder. The game will repopulate with contents but it will cause you to load shaders again when you first start loading.
UNABLE TO RUN FIRST STRIKE WITH DIGITAL COPY OF BF2142
Those who have a digital copy of BF2142 from the EA Store may have problems running First Strike, it may even ask you for the BF2142 disk. In order to get around this, you need to navigate to your BF2142 directory, usually this is program files/electronic arts/battlefield 2142. In this folder you need to find two items, BF2142.exe and FirstStrike.exe. Copy your BF2142.exe somewhere and then rename it to exactly match the FirstStrike.exe. Delete FirstStrike.exe from your BF2142 directory, then place your newly named .exe in the folder.
CAN'T SEE ANYTHING IN SPACE MAPS
In order to fully appreciate First Strike and play all maps you need to ensure that you have View Distance set to 100% in game options.
MAPS NOT LOADING, STOPPING AROUND 60%
1) Go to your BF2142 folder, eg C:Program FilesElectronic ArtsBattlefield 2142
2) Locate the file "radial.cdb"
If you do not see this file in the folder then you need to go to folder options tell Windows to show hidden files. You also (or instead) have to uncheck the box just a little bit below it, which is "Hide protected operating system files".
(For some reason this is a protected file and will not show if you ask to show normal hidden files.)
3) Rename the file to oldradial.cdb (or something similar so you know what it is) and start your game.
The game will create a new radial.cdb file on it's own.

FIRST STRIKE GAMEPLAY
This section will briefly cover some of the more common mistakes players may make when they first play First Strike.
Many maps in First Strike use a set sequence that flags must be captured in. The loading screen will always tell you if the map you are about to play has this, if you check the map once deployed you will often see lines or arrows connecting flags. These lines and arrows indicate which order flags must be captured in. Arrows also indicate the direction flags may be captured in, for example on the map Endor Strike Team, the arrows indicate the capture order, but also show that only Rebels may capture flags. In this case Imperials may only defend the areas. If in doubt, please ask in game by pressing the Talk key (default 'J' key) and typing your message.
Other maps have what it known as an objective mode, this means that items such as ships must be destroyed to achieve victory. In the map Battle of Yavin, the four deflector towers must be destroyed before Rebels will be able to attempt the famous Death Star Trench Run. Other maps require ships to be destroyed or to reach a certain location, again check the map loading screen for more details or ask in game.
First Strike is a very teamplay orientated mod. In order to emphasise this, certain kit items may only become available when in a squad with a set number of players.
The Officer kit found on infantry maps is only available to Squad Leaders, if you are not a Squad Leader and you select this kit you will end up with a spawn in count of 1000, so choose one of the other available kits.
First Strike does not have kit item descriptions, although some items such as guns and knives are self explanatory, other items may not be immediately obvious. You can often pick up some items such as droids or shields, but be careful when selecting something for the first time! Squad members may not take kindly to you throwing a frag nade in their midst while attempting to capture a point!
Although some vehicles may seem difficult to destroy, all weapons in First Strike will do some damage to them, but a pistol will obviously not be as powerful as a rocket launcher. By utilising good squad play, four or five people can quickly bring down an AT-ST or tank.
Some vehicles feature spawn points, such as the Lambda shuttle or APC Freerunner. Be careful when spawning in these vehicles, if you appear in the drivers seat do not be tempted to suddenly drive off, you could end up killing team mates, or remove a valuable asset from a strategic area.
On atmospheric maps, aircraft have a VTOL (vertical take off and landing) capability (default S key), remember to use this, it can be embarrassing to throttle up and suddenly crash your ship. When using the Lambda Shuttle or Sentinel Landing Craft this is doubly important. These craft have folding wings for landing, attempting to land with the wings down will topple your ship and result in a number of teamkills. Always remember to land using the repulsorlift hover (S key!) to fold the wings and set her down gently.
For further information on all things First Strike, including descriptions of weapons, gadgets, vehicles and maps check out the: