Welcome to our dream as it becomes reality
This is becoming real. We didn't realize when creating this page, that our journey toward realizing our dream would actually feel like it was starting.
After having our page be approved, we have consistently been climbing upward in the rankings, and we're completely stunned by it. We didn't expect to have so many visitors so quickly, nor did we expect to have so many appreciate our game.
Your support matters
Since Lee J left his job as a high school computer science teacher, he's felt a lot of internal pressure to return to a "real" job. Your interested in Rogue Invader has helped him regain the belief in RI's development process as well as some amount of self-confidence. We're both grateful for that, because he programs better when he's a bit conceited.
Without further ado, lets get to the real news.
Feature announcements
We wanted to use this first post to announce several features that Rogue Invader will have.
A fully comprehensive head's-up display that provides everything you need to know about your current invasion.

Your HUD provides information about the normal stuff: active weapons, number of clips remaining, number of shots remaining in the current clip, armor points, number of grenades left (and type of grenades left), but we added some less-standard views for things we feel are important: stamina remaining and your current movement capabilities based on the current weight you're carrying.
We're currently working on balancing the stamina and weight effects, but there will be nice tradeoffs for being lighter or heavier.
Simple, effective controls
We've spent a few weeks--off and on--developing what we think are the most effective combinations of basic controls. We want to provide easy access to the most-used keys as well as quick access to the other keys. Most are fairly common across WASD-type games, but we included a visual for keybindings in our alpha builds anyway.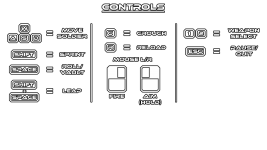 Multiple types of weapons
Currently we've only implemented two types of weapons: terran pistols and terran rifles, but we're planning to include several other mainstays as we continue development, including
terran minigun

terran flamethrower

alien light rifle

alien sniper rifle
(Please forgive the lack of 1-bit in several of these images--they are design images. When they were implemented in the game, they became 1-bit).
We hope to provide more updates each day as we progress toward our final product.
Check us out at SquishyGames.com and follow us for more frequent updates at @SquishyGamesCo on Twitter.
Also don't be shy. Watch Rogue Invader here at IndieDB and stay up to date.
--Nathan and Lee J