First off – I'm planning to host this year's IRDC (International Roguelike Developers Conference), either at the University of Lincoln, or possibly at the National Video Game Arcade in Nottingham (both in the UK), at some time around the end of June.There's some more information in this thread (though only about the UoL option, since the NVGA option hadn't appeared when I wrote it) – if you're interested, and if you would attend, please let me know so I can gauge interest/numbers. The conference is an "unconference" and open to everyone from developers to fans, academics to journalists, and whoever else fancies coming along. It's entirely free. There will probably be one day of talks, one day of demos, and general socializing/eating/other human activities.
.
In the mean time:
.
Cathedrals:
.
Cathedrals, at last, are finished. They took the best part of the week to make as varied and interesting as I wanted – and to put in place features that will be needed in 0.8, such as quarters for the priests, potential for a cathedral to lead to a crypt, etc – but now they're done, and I think there's around 20,000,000 possible variations, give or take. Whereas the smaller religious buildings for each religion have names chosen from a large set, so you might get churches, pagodas, stupas, parsonages, etc, the largest building for each religion is known as a "cathedral" always – this is not out of an attempt to be christian-focused, but simply because there aren't enough specific words for "a larger than normal religious building" to allow every religion to have its own! Whilst there may be dozens of lesser religious buildings around towns, cities, monasteries, etc, there will only be one cathedral, always positioned (as those who have explored 0.6 may have seen) in the city center of that religion's home nation.
.
Here's the cathedral I unveiled last week (just repeated here for the sake of comparison) and two of the others that have been generated this week, to give some idea of the variety. I spent around two hours just generating cathedrals over and over – it worked through pretty much every archetype and highlighted a small number of bugs, but with those fixed, I'm pretty confident they're all generating correctly and cathedrals, finally, are DONE.
.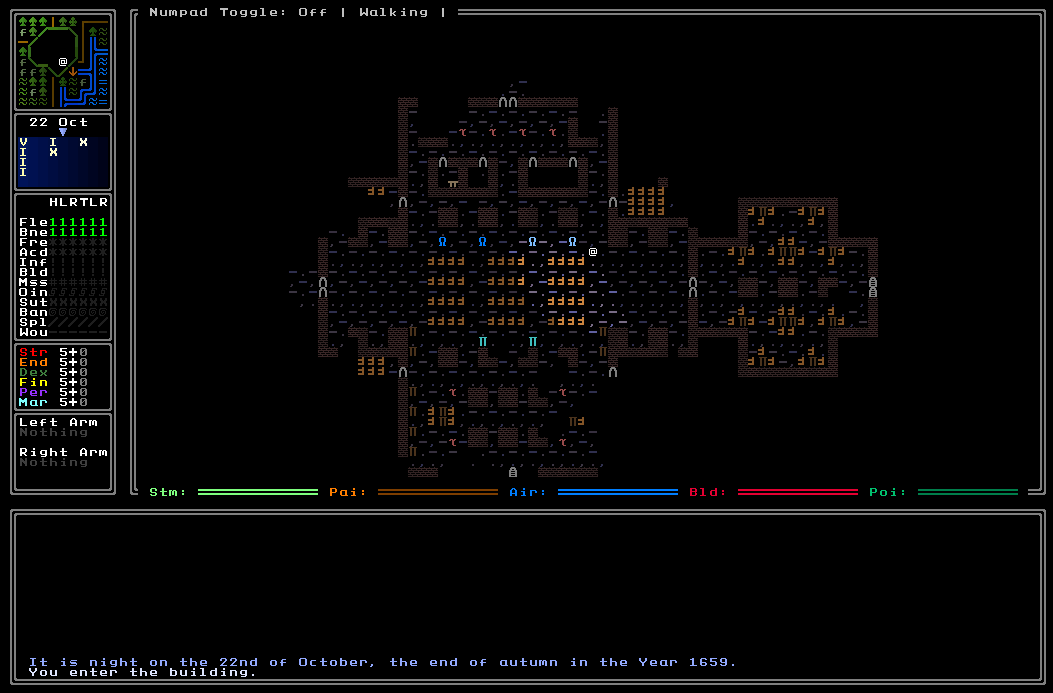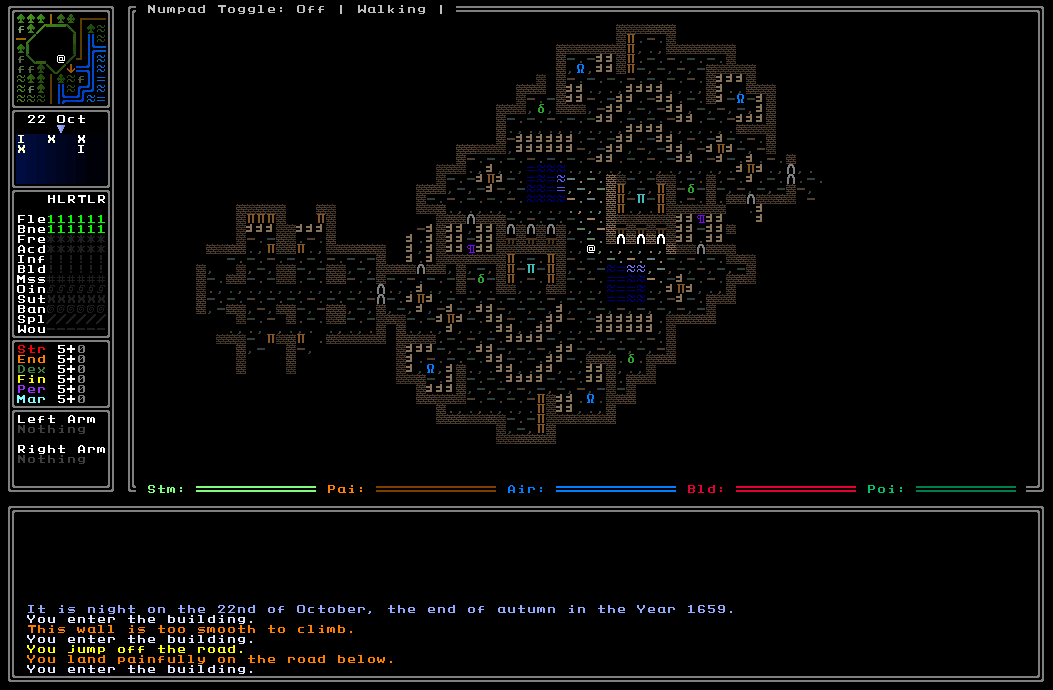 ..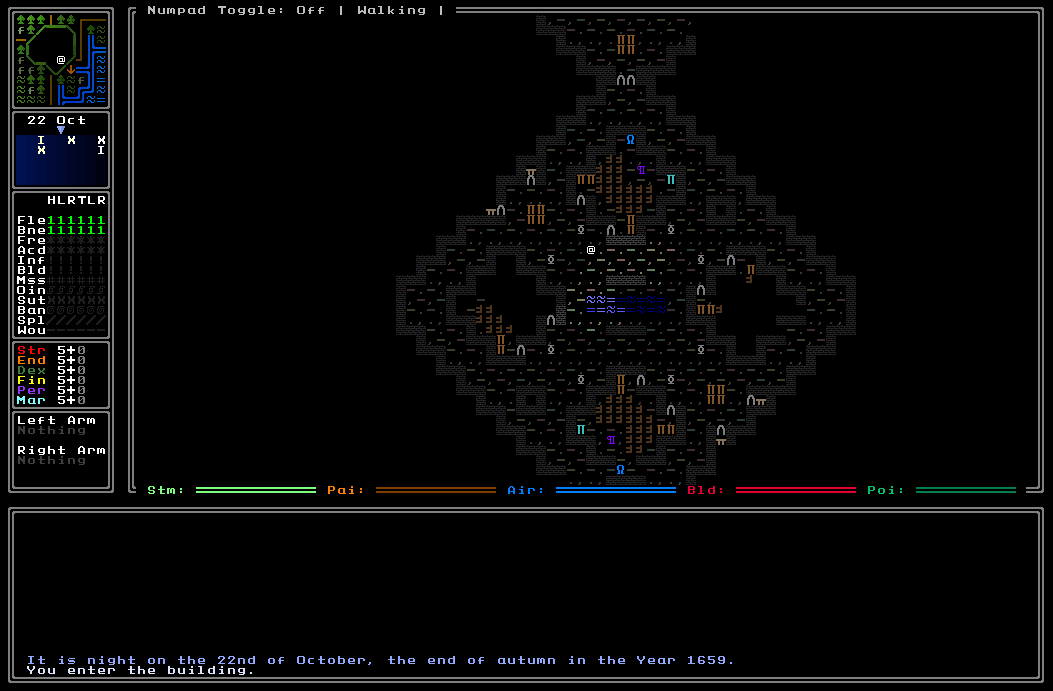 ./.
Altars:
.
I've finished off the remaining religious altar graphic generation this week, and next week's blog entry probably is going to be a detailed update about how I went about generating them, the variety across altars, the relationships between altars and the particular kinds of deities they represent (different deities have different archetypes), and so on and so forth. The last set of altars that needed coding were what I (perhaps harshly) call the "standard altars" – these are for the more "ordinary" gods who do not fit into one of the rare archetypes, and are therefore given this set of altars. However, there is still significant variation in this altar archetype – here's a couple of examples. There are twenty bases, twenty materials the base of the altar can be made from, seven altar shapes, thirty "edge" patterns, thirty "inner" patterns, around fifty possible items that can be placed on top, and twenty colour schemes:
.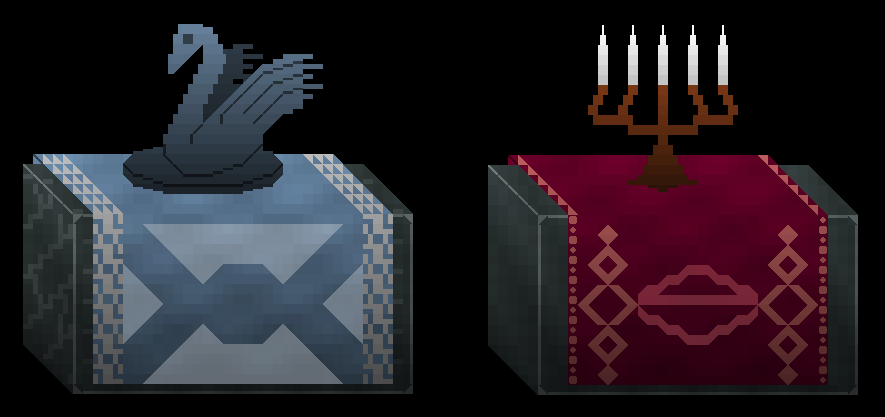 .
Crypts (Planning):
.
I have begun design work on crypts, and these will be one of the next things I'll show on the blog. At this point I've figured out how I want them to generate, and the differences between the two locations they can appear – crypts can be found in graveyards, in which case it will be a broadly "secular" crypt for important figures from that nation's leading family, particularly important/noble knights/etc; and they can also be found under cathedrals, in which case it will be a "religious" crypt containing past religious rulers, saints, etc. Of course, some of these bodies might be missing if they died far from the home nation, and if you happen to read in a book somewhere that they died carrying a particular relic…
.
Anyway. I've been planning this out, and also the far less likely things that will generate in each crypt to add variation, and also how the graphics for the specific cadaver tombs and sarcophagi in crypts should be generated, and also just the technical stuff of making sure this ties correctly to figures in world history. This week has only been planning, but in the coming week crypts are one of the things I'll be working on. Since that might be quite a big task, I'm also aiming to generate a whole bunch of the smaller/lesser buildings out there as well – I'm thinking military barracks, slave quarters, prisons and asylums, and maybe some hunter-gatherer buildings should all be done this week, but we'll see what takes my fancy.
.
In the mean time, you can keep up to date on my devlog, Facebook page, or Twitter.