Welcome to our final update before release :)
For those who have been following us from the start, you may have seen the relatively rapid evolution Cheeks of Steel has undergone in the past several months. Well, I can now say that Cheeks of Steel... is finished! We now have a fully working game which plays from start to finish, complete with all features and gameplay elements. So why isn't it on ModDB yet? Well, our goal was to finish development for version 1.0 of the project by Friday 8th May 2009, which we achieved confidently. However, before we release the game to the public, there are one or two additions which we wish to add to the game, to make both the experience more enjoyable, and the game itself even tidier. This includes Harry model v.2 with fur, and more fluent animations that seem much more lifelike. All this will be complete and available for download in June, as promised in the previous 2 updates.
So, what do we have for you today? Well the first thing is the 'University standard' poster which we were required to create. Some of you may have seen this already as it has been up on the site for past few days. We do have another, much more elaborate poster to distribute, which will be up on the page roughly the same time as the final game. Anyway, here it is;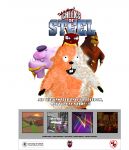 Secondly, and most importantly, we have our final release trailer. This was designed to give you a final supplement of the gameplay included in the game, whilst also emphasising the nature and atmosphere within it. So without further delay, here it is, the final trailer (Make sure you have your sound turned on) ;) ...
Thank you all as always for taking the time to view all our hard work, and we'll see you at release!