As you all know, its been some time since the last update. The mod has been going a bit slow, the members have other things to do... Looks like we might need a helping hand... scratch that.. a helping army.
However, dont you all sweat, this mod is NEVER gonna go south! Were just facing a bit of hard times right now. Mualama, our mapper, and my right hand man, is constantly working on Domestic Disturbance. If you haven't checked out already, we have new pictures of it's development!
Still a bit of work to be done, but it will get done. In other news, Moogabe has redone the beast we have dubbed Thousand Eyes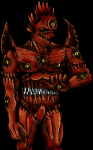 I'd say the new version is better, dont you?
Till next time!