Engineer is the obvious replacement of SCV in the game. He will be the primary unit a player starts with (and the only unit that you wont be able to train at the barracks). Engineers will be built at base. Once base is lost you wont be able to make any more engineers and... hush! hush! less about the different game modes, more about the engineer right now:
Engineer will be able to gather resources as well as repair mechanical structures. Since all units in Fortress Craft will be biological (no space crafts or robots) so, engineer wont be any good at keeping your units alive. Instead they will be making structures and providing resource for the troops. Currently there is no plan for "teleporters" but there will be sentries.
Right now the model of engineer is almost done. For animation first time I am using bone animations (no experience before in that). so, as you can expect the animation is not as fluid as a real human being. But going to do it again and again and fill the in between frames till its done right.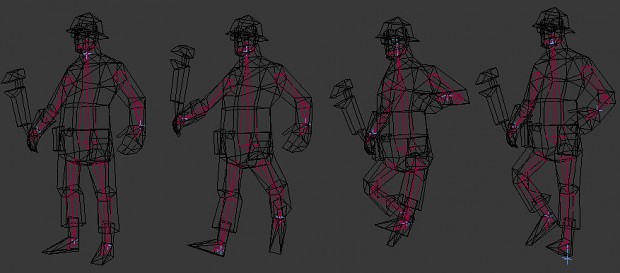 Engineer will have fixed weapon: Wrench only. So, as a fighter he will be melee class. His attack will be though more powerful than standard SCV. In my mind his attack > spy attack. So, he will be a powerful foe for them when going melee vs melee.
Starcraft engine supports multiple animations for characters like what they do when they stand (for that I will be doing animation of engineer pounding wrench in his other hand in wait), walk, gather resource etc. So, lots of stuff to do. Next time we meet, how about we show an in-game video demonstration; eh?